Grand jury transcript gives chilling account of O.C. mansion slayings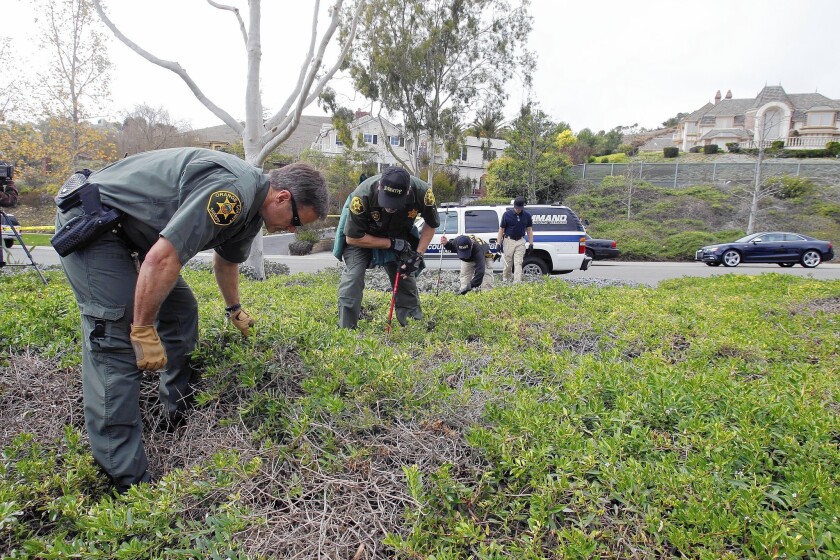 Running on at least four sleepless nights and with his heart racing, Ashton Sachs allegedly scaled the wall that ringed his parents' mansion and — clutching a rifle — let himself in the front door.
At the top of the staircase, authorities said, he paced, pondering his next move.
Finally, he allegedly opened the door to his parents' bedroom and fired repeatedly. Investigators said he next opened the door to his little brother's room and fired twice. Finally, they said, he fired a single shot into his sister's room before letting himself back out and disappearing into the darkness.
The chilling account of Sachs' alleged rampage in the San Juan Capistrano home is detailed in a newly released transcript of a grand jury investigation into the Feb. 9 slayings.
During the hearings, investigators said that Sachs confessed to killing his parents, critically injuring his 8-year-old brother and then trying to erase any evidence that he had come to Orange County. Sachs, now 20, has pleaded not guilty, and his attorney has declined to discuss the case.
Authorities testified during the grand jury hearing that Sachs got away with the slayings for nearly a month before investigators found the clues on his cellphone that helped them crack the case.
Sachs has been indicted on murder and attempted murder charges. He could face the death penalty if convicted.
During the grand jury hearings that resulted in the indictment, detectives testified that when they searched Sachs' phone as part of their investigation they discovered he had looked up Wikipedia articles on the different degrees of murder, searched for flights out of John Wayne Airport and made arrangements to have his car transported from San Juan Capistrano back to Seattle, where he lived.
The vehicle, registered to Sachs, was later recovered in Seattle, along with a loaded rifle, according to a transcript of the indictment.
Justin Montano, an investigator with the Orange County Sheriff's Department, testified that Sachs told him he had felt "horrible" and wanted to kill his parents, whom he blamed for his depression and lack of direction in life.
Sachs had dropped out of college in Seattle, and spent his days smoking marijuana and playing video games, Montano said.
"He said that he felt like his parents didn't trust him and that he was the least favorite child out of the family," Montano testified.
In 2013 Sachs tried to kill himself by taking an overdose of pills, Montano said, and he believed his parents had failed to take his suicide attempt seriously. It was the third time that Sachs tried to kill himself, the investigator testified.
Sachs told deputies that he began contemplating killing his parents four to five days before he allegedly drove from Seattle to the family's house.
Investigators, who said they found 24 bullet casings inside the San Juan Capistrano home, testified that Sachs said he pondered killing himself rather than his parents when he first entered the home.
According to the transcript, when Montano asked Sachs what was going through his mind when he shot his parents, the then-19-year-old said he was "going through a rush."
In the days after the slayings, Sachs and his older brother attempted to gain custody of their siblings and the family's estate, according to court records in San Diego County, where the pair were then living.
Sachs' 17-year-old sister testified during the grand jury hearing that she never saw the gunman who fired into her room, and that she stayed in bed until she heard her younger brother calling for help and went to find him. He had made his way to the hallway and into his parents' bedroom, she testified.
"He was bleeding. He couldn't feel his legs," the sister said. Authorities said the boy is now paralyzed.
The sister, who was not injured, testified that she went to her parents' room and tried to wake them up. She then called 911 and waited for deputies to arrive.
Acquaintances and divorce records paint a dark picture of the Sachs' home life.
The couple filed for divorce in 1999, a combative ordeal detailed in Orange County court records that included heated arguments and physical behavior in front of their children.
In one of the divorce filings, Andra Sachs said during one altercation that her then-husband yanked her so hard that she flew 10 to 15 feet before landing on the pavement.
Despite divorcing, the couple continued living together.
Twitter: @AdolfoFlores3
---
The stories shaping California
Get up to speed with our Essential California newsletter, sent six days a week.
You may occasionally receive promotional content from the Los Angeles Times.