O.C. burn areas under mandatory evacuation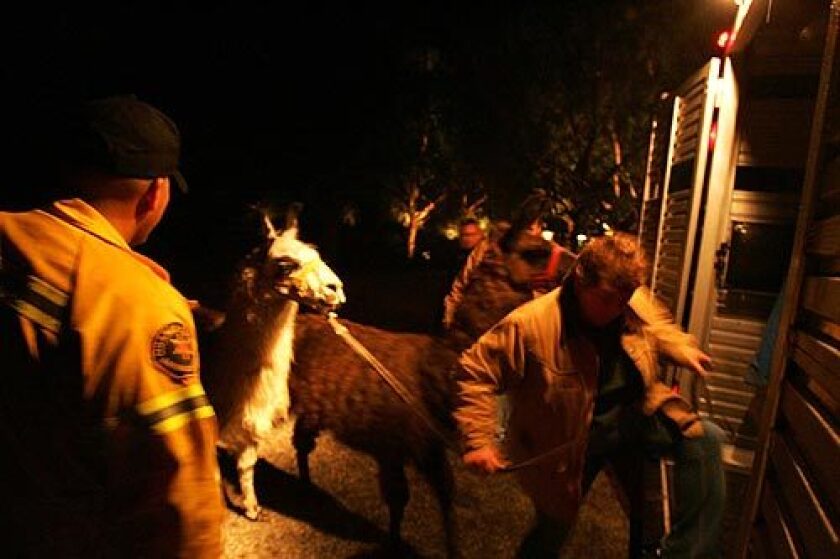 Orange County Sheriff's Deputy Debbie Morris prepares to load a pair of llamas into a trailer, with assistance from Orange County Animal Control Sgt. M.A. Ramirez, while helping to evacuate animals from the Batesby farm in Modjeska Canyon.
(Genaro Molina / Los Angeles Times)
The water in Lake Arrowhead reflects a temporary calm before the weekend storm, which is expected to hit hardest in Southern California's mountain areas.
(Richard Hartog / Los Angeles Times)
The sign says it all in Running Springs, where the arrival of heavy moisture in advance of rain reminds residents of the threat of mudslides and debris flows in areas devastated by October's fires.
(Richard Hartog / Los Angeles Times)
Larry Burkhart of La Conchita fills sandbags that he will use to protect his home on Bakersfield Avenue, just below the unstable hillside in the seaside enclave north of Ventura. A mudslide there in January 2005 killed 10 residents.
(Stephen Osman / Los Angeles Times)
Alex Gunning, 15, braves the rain to continue practicing as a member of the Hart High School cross-country team in Valencia.
(Gary Friedman / Los Angeles Times)
Rain arrived in Southern California a bit later than forecast, and with it the potential for mudslides from hills exposed during the fall wildfires. The sign in Malibu reflected in these raindrops serves as a reminder: "Thanks to all those who fought the fires."
(Spencer Weiner / Los Angeles Times)
Welcome to L.A.: Visitors from Canada -- Warren and Jennifer with their children, Janet and Victor -- race back to their car after checking out Will Rogers State Beach at the start of rain that finally arrived Friday.
(Ken Hively / Los Angeles Times)
Amid intermittent sprinkles, Vikki Paulisin, left, helps Jan Sukrau evacuate her horse Hope from the Step-N-Style Ranch in Modjeska Canyon in Orange County. County authorities have issued a mandatory evacuation of large animals from the mudslide-prone canyons where 15 homes were destroyed in the Santiago fire in October.
(Allen J. Schaben / Los Angeles Times)
Heavy moisture rolls into a residential area of Running Springs that was devastated in October's wildfire. Mountain areas are expected to bear the brunt of the weekend storm, with forecasters predicting as much as 10 inches of rain.
(Richard Hartog / Los Angeles Times)
Paddle surfer Robert Franklin, 55, of Huntington Beach surveys the stormy skyline as he waits for a wave to roll in near the Newport Beach Pier. The coming storm was expected to bring high surf.
(Allen J. Schaben / Los Angeles Times)
A pedestrian struggles against the wind and past fallen tree branches in downtown Sacramento, where the storm had already arrived.
(Robert Durell / Los Angeles Times)
Cautionary tape surrounds the ruins of a home destroyed by fire in Malibu's Corral Canyon area. Southland residents were bracing for mudslides that could be triggered by heavy rain.
(Spencer Weiner / Los Angeles Times)
Malibu resident Lenny Goldsmith, right, and Peter Demetriou fill sandbags outside the Carbon Canyon Road Fire Station.
(Spencer Weiner / Los Angeles Times)
Lisa Schlender and daughter Ava, 2, brave the rain at Cemetery Park in Ventura.
(Stephen Osman / Los Angeles Times)
Wolfgang Otto-Cramer, 3, plays in the surf as storm clouds pass overhead in Malibu late Thursday afternoon.
(Genaro Molina / Los Angeles Times)
Clouds are visible on the horizon between the burned branches of trees along Modjeska Grade Road in Orange County.
(Mark Boster / Los Angeles Times)
Scott Grevious, 33, of Huntington Beach watches as clouds roll across the ocean at dusk Thursday at the Huntington Beach Pier.
(Allen J. Schaben / Los Angeles Times)
Los Angeles Times Staff Writers
Orange County officials have ordered mandatory evacuations, beginning tonight at 7 p.m., of four canyon communities hit hard by the October fires -- a move they said is necessary in advance of expected heavy downpours.
The evacuation orders for residents of Modjeska, Silverado, Williams and Harding canyons come as forecasters said heavy rains are expected to start falling in Southern California during the evening commute.
The storm hitting the region tonight wreaked havoc earlier in the day in the San Francisco Bay Area, where wind gusts topped 100 mph in mountain areas, forcing the closure of bridges to car and truck traffic and shutting down U.S. 101 in San Rafael. Weather up north was so poor that California Highway Patrol officials closed I-80 at 5 p.m. from the town of Applegate to the Nevada border, citing blizzard and whiteout conditions.
Locally, rain and the possibility of mudslides in canyon communities remained the top concerns. "It looks like the main threat is going to be at 6 p.m. this evening through Saturday morning," said Stuart Seto, a weather specialist at the National Weather Service office in Oxnard.
Seto said rains could fall at rates as high as half an inch to an inch per hour with the storm, with forecasters expecting 2 to 4 inches along the coasts and in the valleys, with up to 10 inches in the mountains.
By midafternoon, the front -- the second in a series of expected storms -- was dropping a steady drizzle on downtown Los Angeles.
Officials urged motorists to avoid driving through flooded roadways.
"Do not underestimate the power of floodwaters. Only a few inches of rapidly flowing water can quickly carry away your vehicle," the National Weather Service said in a bulletin.
The heaviest rains are expected to begin around 10 p.m. in L.A. County, and about midnight in Orange and San Diego counties.
Residents of Orange County under evacuation orders can go to a center set up at Villa Park High School in Villa Park, officials said. Residents of those affected canyon communities were ordered to evacuate large animals to the Orange County Fairgrounds in Costa Mesa earlier in the day. At noon, Orange County activated its Emergency Operations Center and said the public can call (714) 628-7085 for information about storm-related matters.
Earlier, the first of three anticipated storms passed through the region with little impact after stalling overnight along the Central Coast, forecasters said.
The second storm will hit Southern California hard, but probably not with as much force as it struck Northern California, said Philip Gonsalves, a forecaster with the National Weather Service in San Diego. Bay Area residents grappled with high winds and flooding that disrupted traffic. Officials closed the Richmond-San Rafael Bridge in the morning and barred truck traffic on the Golden Gate Bridge after wind speeds on the landmark bridge registered as high as 70 mph. The greatest concern, officials said, were gusts of winds above 40 to 45 mph gusting from the east and west over the bridge.
On Kregor Peak in Contra Costa County, gusts of 107 mph were recorded, and the San Francisco Airport saw wind speeds as high was 66 mph.
Meanwhile, preparations were underway for expected heavy rainfall, expected to be the most precipitation to fall in the region in two years. Gov. Arnold Schwarzenegger met with emergency response officials in Los Alamitos to get briefed on efforts.
"It's very dangerous. We want people to be prepared. We want people to be ready and work ahead of time rather than be behind," Schwarzenegger said under dry skies this afternoon. "I love to overreact. We want to be ready for any kind of scenario."
Steve Sellers, the regional administrator for the state's Office of Emergency Services, warned residents of areas considered at high risk of flooding and mudslides to take evacuation orders and recommendations seriously.
"It's too late once the rain starts happening ... you're risking your life and your family's life."
A flash-flood watch was issued for fire-hit areas for this afternoon through Saturday morning.
Meanwhile, winds and flooding wreaked havoc in San Francisco, forcing bus service to shut down and knocking out power in several areas, authorities said. About 750,000 customers from Humboldt County to Bakersfield were affected by outages, said Pacific Gas & Electric representative Katie Romans.
Winds battered the highest elevations of the Sierra with gusts of 163 mph, forecasters said.
"It's really howling," said Kelly Redmond of the Western Regional Climate Center at the Desert Research Institute in Reno.
High winds on the 5-mile bridge connecting Richmond and San Rafael overturned five big rigs during the morning commute. The bridge remained shut down as of midafternoon.
On nearby Angel Island, wind gusts were reported at 84 mph.
Strong gusts also started whipping around construction material at the bridge's interchange with the U.S. 101 in San Rafael, blowing plywood and other debris all over the freeway with such ferocity that officials had to wait several hours before it was safe to begin clearing debris. The 101 was closed for about five and a half hours.
"Marin County really got hit hard, freeway-wise," said Sgt. Les Bishop of the California Highway Patrol's Golden Gate Division in Vallejo. "There's a big mess out there."
Crews were also battling to keep the winding Highway 17, the main artery connecting Santa Cruz to the Bay Area, open. The road was pummeled by falling trees and downed power lines, Bishop said.
In Southern California, officials noted several websites and emergency information lines that are available for residents seeking the latest information on flooding and road conditions, authorities said. Debris and mudflow forecasts, which are updated at least twice a day, are available at dpw.lacounty.gov/wrd/fire/, where residents can also sign up for e-mail alerts, Los Angeles County officials said.
L.A. County Department of Health officials advised residents to stay out of the ocean for at least 72 hours after the rainfall ends because of concerns about bacterial contamination from runoff, which is highest where storm drains and creeks dump into the ocean.
This advisory will be in effect until 5 p.m. Wednesday.
The final wave in a series of storms is expected to hit Sunday and clear out by late Monday.
Two to 4 inches of rain is now expected for the coast and valleys, with 5 to 10 inches in the mountains, forecasters said.
Even without these storms, the region has seen more rain than it did during last year's entire rainy season, officials said. From October 2006 to April 2007, 3.21 inches of rain fell. From October 2007 to today, 3.24 inches have been recorded.
---
The stories shaping California
Get up to speed with our Essential California newsletter, sent six days a week.
You may occasionally receive promotional content from the Los Angeles Times.