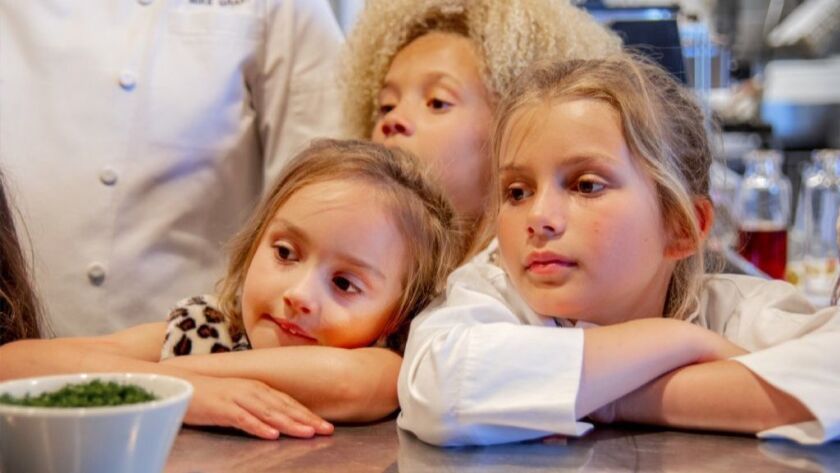 On a recent afternoon, a Dana Point restaurant opened its kitchen to a group of Girl Scouts, perhaps sparking an interest in cooking, becoming an executive chef or owning a small business.
For the owners of Coastal Kitchen, that's been a practice for nearly two years: allowing children a chance to work in a professional kitchen and learn the speed, accuracy, cleanliness and perfection the trade requires.
"They love it!" said co-owner Christina Grant, who opened the New American restaurant with her husband, Mike, three years ago.
Coastal Kitchen is located in a Spanish Colonial Revival structure that dates to the 1920s and once served as a cafe and a gas station. The Grants first opened their kitchen to kids after their daughter Sophia, now 9, was earning a merit badge in cooking. Soon enough, other Girl Scouts — and some adults — wanted to visit in search of a mini culinary education.
On that recent afternoon, Brownie Troop 3532 and some other young guests learned to make Coastal Kitchen's popular buttercake and French fries.
"It's a low-calorie event," Christina joked.
Mike showed the second-graders how to crack eggs and add flour to make the yellow cake mix. Then they added a special type of sugar.
"What do we call this sugar?" Mike asked the group.
"Turbinado!" came the reply. Mike then explained how the topping lends crunch to the outside of the cake.
When the cakes were ready for baking, Mike explained how theirs would go in the oven for 45 minutes. Knowing that would be an eternity for a kid to wait, Mike unveiled a pre-made batch.
"We have some ready for you," he said.
The group then learned to apply raspberry drizzle and scoop vanilla ice cream, completing their desserts.
"Who wants to eat the cake?" Mike asked.
"Me," they exclaimed in unison.
Next came the fries, cut in a metal slammer, then rinsed and spun in a barrel (to remove water).
"They're raw," Mike explained, adding that his kitchen staff sometimes make 30 batches of fries a day.
After a trip to the freezer, the Scouts watched their fries go into the fryer for three minutes before getting whisked out piping hot. But what about dipping sauces?
"Homemade ketchup?" Mike asked.
This one was OK.
"Who wants spicy mayo?" he added.
That one was not.
Mike then guided the girls outside to the dining area, where they were given chicken fingers, cheeseburgers and, of course, their homemade fries.
"Who's got questions?" Mike asked.
No one replied, their mouths full.
*
If You Go
What: Coastal Kitchen, a New American coastal restaurant
Where: 34091 Pacific Coast Hwy., Dana Point
When: Sunday through Thursday, 11:30 a.m. to 9 p.m.; Friday and Saturday, 11:30 a.m. to 10 p.m.
For more information, visit coastalkitchendanapoint.com.
Support our coverage by becoming a digital subscriber.
Bradley Zint writes about food for TimesOC. Follow him on Twitter at @bradleyzint
For more news and features about Orange County, visit TimesOC.com or follow us on Twitter @timesocofficial.
---