L.A.-area carpool lanes may be opened to everyone during off-peak hours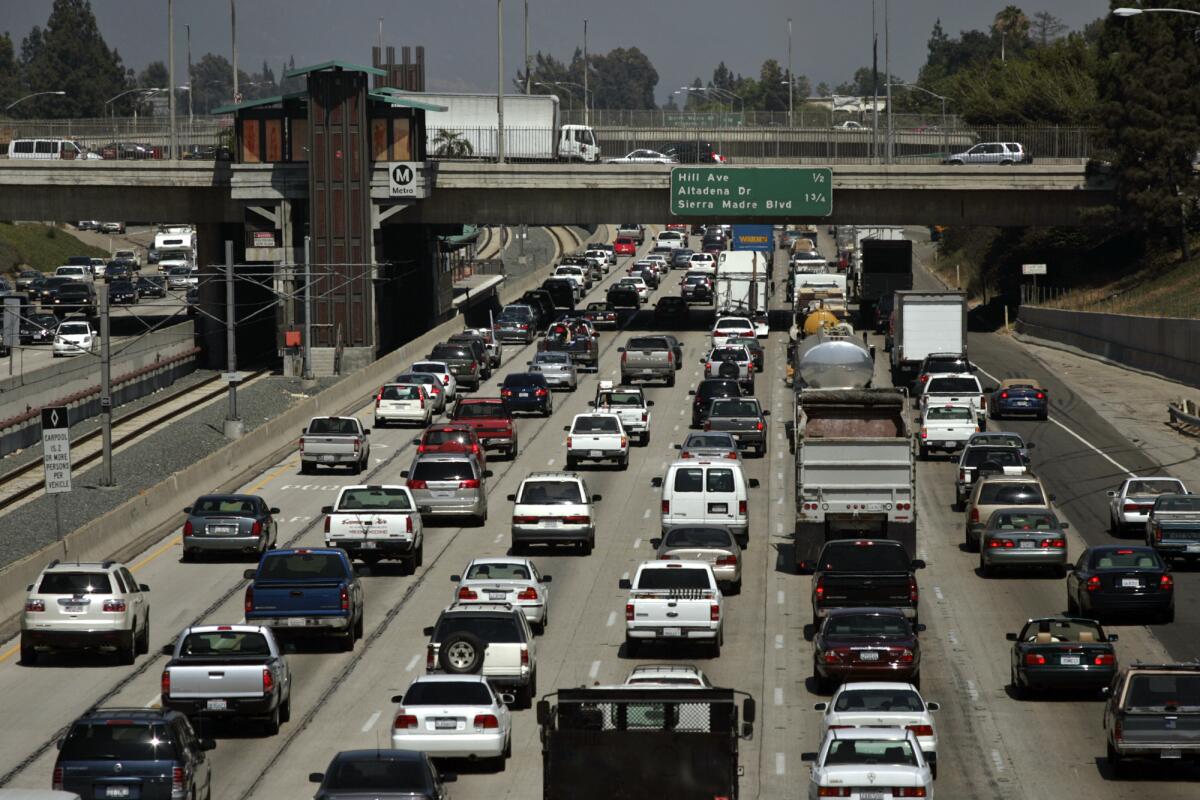 Reporting from Sacramento —
The state Senate sent the governor separate bills on Thursday — one that would allow all motorists to use carpool lanes on some Los Angeles County freeways during off-peak hours, and another that would increase penalties for sex offenders who remove court-ordered GPS tracking devices.
The carpool lane measure was proposed as a way to reduce the frustrating congestion that plagues L.A. freeways even after the daily commutes.
The measure would open access to cars with single riders in high-occupancy vehicle lanes during off-peak travel hours on the 134 Freeway from North Hollywood to Pasadena, and on the 210 Freeway from Pasadena to Glendora, as well as allowing the state Department of Transportation to test the change on other freeways.
Interested in the stories shaping California? Sign up for the free Essential California newsletter >>
Assemblyman Mike Gatto (D-Glendale) said Northern Californian carpool lanes already allow off-peak access. The hours for the Southern California lane openings would be determined by Caltrans.
Gatto said many Southern Californians have experienced the same frustration: "A late-night accident or mysterious slowing clogs the rightmost freeway lanes, while the carpool lane sits empty," he said.
He said that policy "doesn't make much sense. I hope this (bill) will bring to Southern California the same sensible freeway management that Northern Californians enjoy."
The measure would take effect July 1, 2016, and Caltrans would report on how the change worked after a couple of years before deciding whether to continue the program.
A similar bill in 2013 was vetoed by Gov. Jerry Brown, who wrote then: "Carpool lanes are especially important in Los Angeles County to reduce pollution and maximize use of freeways. We should retain the current 24/7 carpool lane control."
Gatto said he hopes the governor will now support the new bill, noting some minor changes have been made to the legislation and a Caltrans study since the veto has indicated it would be warranted to improve the use of carpool lanes.
The legislative staff analysis of the bill cited a 2014 study by Caltrans that found usage of the 134 HOV was "below the optimum volume," and that data for both freeways found that "HOV lane usage drops substantially after the 6 p.m. hour."
The Senate also sent the governor a bill that would create a new prison felony for certain sex offenders who are on parole or community supervision and willfully disable the global positioning system device from their ankles that are meant to allow them to be tracked.
The new offense would carry a prison sentence of up to three years and would apply to those convicted previously for rape, lewd or lascivious acts against children, sodomy, oral copulation and continuous sexual abuse of a child.
"The circumstances of some sex offenses are so aggravated that the state imposes a life sentence to avoid the potential of another victim," Sen. Patricia Bates (R-Laguna Niguel) said. "When a rapist or child molester cuts off his GPS device and evades the law, the state has been put on notice that others are at great risk."
She cited two cases in which sex offenders who had been assigned GPS devices evaded the tracking units and are now accused of murdering four women.
The Senate also gave final legislative approval to a bill that would allow felony charges for those convicted of possessing "date rape" drugs, including Rohypnol and GHB with intent to commit sexual assaults.
The bill, by Sen. Cathleen Galgiani (D-Stockton), plugs a loophole created by the passage last year of Proposition 47, which reclassified many crimes from felonies to misdemeanors.
"When a ballot measure of this type is placed in front of voters, the potential for unintended consequences arise," Galgiani said. "I firmly believe that voters in California did not intend to weaken sexual assault statutes."
ALSO:
3 Santa Clara County correctional deputies are arrested in inmate's death
ACLU asks Justice Department not to give LAPD money for body cameras
California SAT scores show 41% of test takers are ready for college
Sign up for Essential California for news, features and recommendations from the L.A. Times and beyond in your inbox six days a week.
You may occasionally receive promotional content from the Los Angeles Times.