California measures target racial profiling and excessive force by police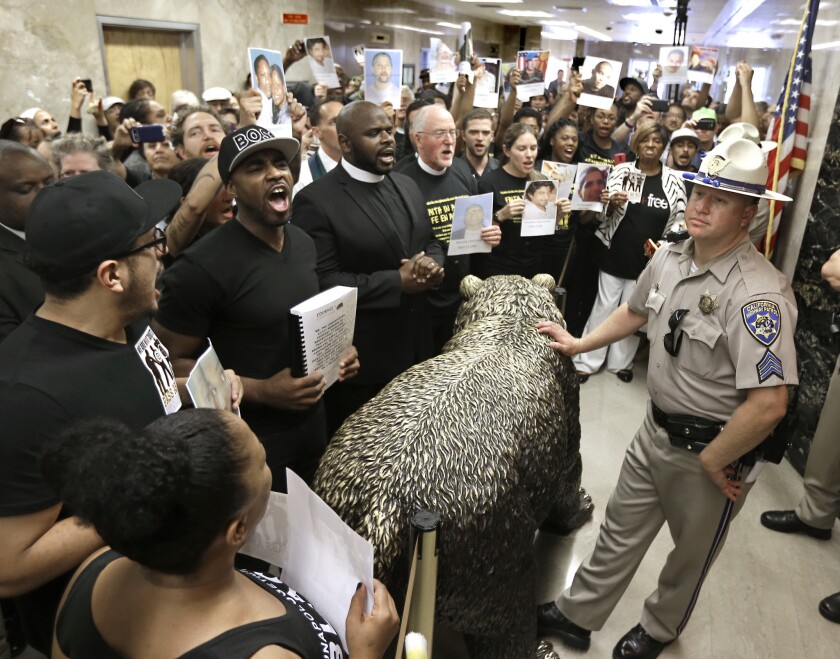 Reporting from Sacramento —
Gov. Jerry Brown on Saturday signed bills aimed at reducing racial profiling and the use of excessive force by law enforcement officers, problems that have been elevated into a national debate by recent incidents across the country.
One of the bills, AB 953, requires police officers to collect data on the people they stop, including perceived race and ethnicity, the reason for the encounter and the outcome.
In addition, the governor signed a requirement that law enforcement agencies provide annual reports with details on all cases in which officers are involved in uses of force that result in serious injury or death.
Those and others bills signed by the governor will "strengthen criminal justice in California," according to a statement by the governor's office.
NEWSLETTER: Get the best from our political teams delivered daily
The state attorney general's office will determine how the reporting will be done and how the data will be stored, under AB 619.
Assemblywoman Shirley N. Weber (D-San Diego) introduced the bills in response to "the deaths of unarmed black men and other people of color by police," which she said "have forced us to confront some ugly truths about the persistence of racial bias in law enforcement."
Weber thanked Brown in a statement, citing his work in civil rights issues in the past.
"AB 953 will be the state's first step toward not only understanding the problem of racial profiling, but also toward formulating policies to reduce the practice and its devastating consequences," Weber said. "California is going in a new direction on this issue; hopefully, this will set an example for other states."
The new law will help restore trust in law enforcement by the community, according to Patrisse Cullors, founder of the civil rights group Dignity and Power Now.
"Our communities have lived experiences with biased policing -- ranging from racial profiling, to excessive, and sometimes lethal, use of force. This inevitably breeds distrust in law enforcement, which in turn undermines the safety of all Californians," Cullors said.
The governor also signed a bill that requires police agencies that have officers wear cameras on their uniforms to follow rules on storing and using the video collected so it is not mishandled.
That measure, AB 69, was introduced by Assemblyman Freddie Rodriguez (D-Pomona).
The racial profiling bill has drawn vigils by dozens of activists from groups including the Communities United Coalition, supporters of the "Black Lives Matter" movement, outside Brown's office in recent days. That movement began with the fatal shooting of an African-American man by a white police officer in Ferguson, Missouri in August 2014.
Jerron Jordan, an activist with the group LA Voice-PICO, welcomed Brown's action.
"These are historic times we are living in," he said. "I applaud the efforts of all of those who worked tirelessly to pass this bill and especially to the families who lost loved ones due to police violence. I am glad that our Governor had the moral courage to sign our bill."
ALSO
California's toxics enforcer is given sharper teeth
Los Angeles waterfront gets help from Gov. Jerry Brown
The terminally ill lobby Brown and his staff as governor faces tough decision
---
The stories shaping California
Get up to speed with our Essential California newsletter, sent six days a week.
You may occasionally receive promotional content from the Los Angeles Times.