Lawmakers seek 'gun violence restraining order' after UCSB slayings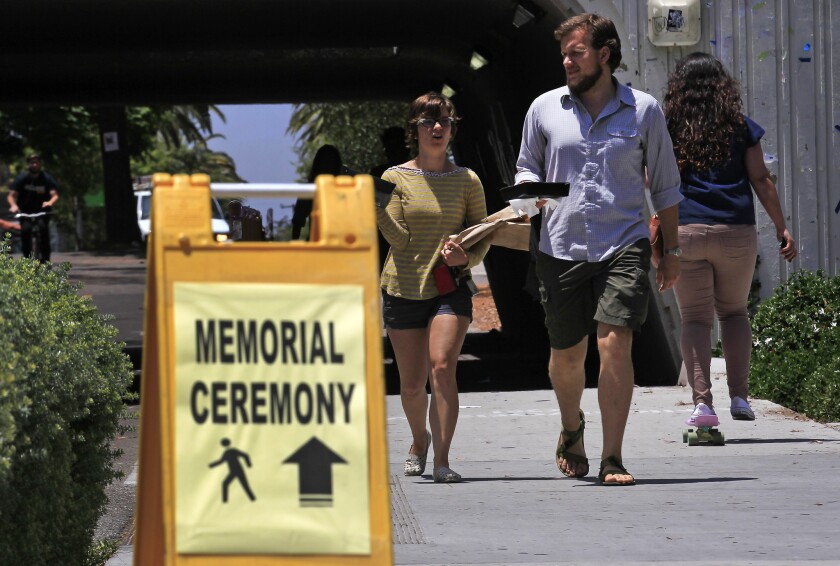 Reporting from Sacramento —
Last weekend's mass killing near UC Santa Barbara has spurred action in Sacramento, with lawmakers announcing Tuesday that they are seeking a new route to temporarily prevent potentially violent individuals from owning or buying guns.
The measure, by Assemblyman Das Williams (D-Santa Barbara) and Assemblywoman Nancy Skinner (D-Berkeley), as well as state Sen. Hannah-Beth Jackson (D-Santa Barbara), would create a "gun violence restraining order," using the same process that restraining orders are granted in cases of domestic violence.
Family members, partners and friends would have the ability to alert law enforcement if they believe someone poses a threat to themselves or others. Law enforcement officers would then be able to petition a judge to grant a restraining order that could prohibit possession or purchase of a gun.
Skinner said last weekend's mass shooting near UCSB illustrated gaps in the state's gun and mental health laws. The family of Elliot Rodger, who police say was the shooter, had raised concerns with law enforcement about his mental state; Santa Barbara sheriff's deputies visited Rodger at his apartment in April, but did not take any action against him.
"Here we had a situation where a mother was aware that her son was a danger to himself and others. She tried to intervene," said Skinner in an interview.
"Because California doesn't have a gun violence prevention restraining order, she didn't have the ability to go to law enforcement or petition a judge, and ask to have, in effect, his ability to either possess or buy guns revoked," Skinner said.
The bill, AB 1014, is currently in the Senate. Should the measure pass, California would be the first state in the nation to have a gun violence restraining order system, according to Josh Horwitz, executive director of the Educational Fund to Stop Gun Violence.
"The person who can identify when someone is in crisis the best is a family member. It's important to have a family member have an option go directly to court," said Horwitz.
Sam Paredes, executive director of the Gun Owners of California, said the proposal was a "knee-jerk reaction" that ignores that California already has a system in place to prevent mentally ill individuals from accessing weapons: an involuntary psychiatric detention known as a "5150."
Officers did not believe Rodger qualified for a detention when they met with him in April.
"We don't need to do another bill to solve this problem," Paredes said. "The tools are there -- the Legislature and the professionals involved need to be willing to understand and take advantage of the system that is there in place."
---
The stories shaping California
Get up to speed with our Essential California newsletter, sent six days a week.
You may occasionally receive promotional content from the Los Angeles Times.