State Sen. Leland Yee drops out of race for secretary of state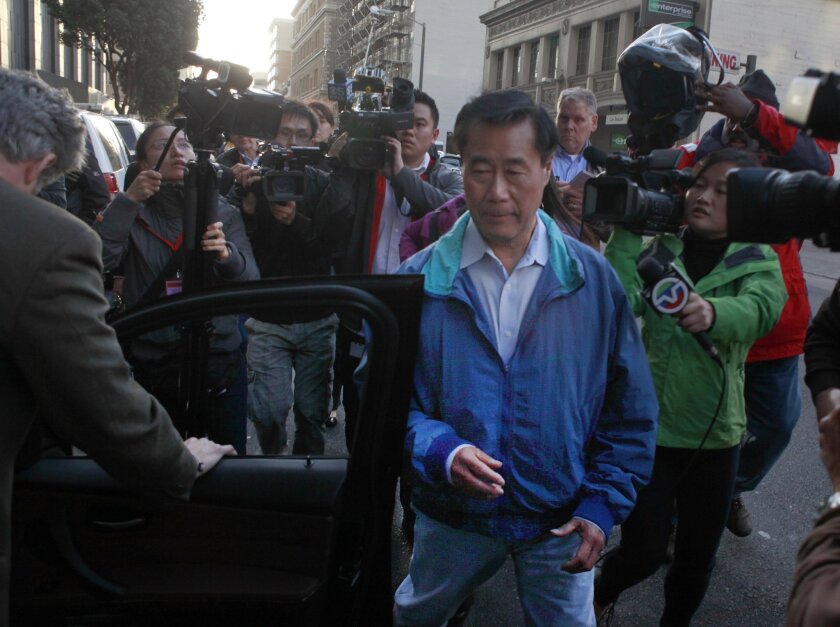 SACRAMENTO – A day after he was arrested on suspicion of wire fraud and firearms trafficking, state Sen. Leland Yee (D-San Francisco) said Thursday he is dropping out of the race for secretary of state in this year's election.
However, Yee's decision came too late to take his name off the ballot for the June 3 primary, where it will appear along with seven other candidates seeking to become California's top elections official.
"I hereby withdraw my candidacy for election of Secretary of State, effective immediately," Yee wrote in a letter to Secretary of State Debra Bowen.
The state election code says that no candidate can withdraw from the ballot after their declaration of candidacy is filed, according to Shannan Velayas, a spokeswoman for the secretary of state.
But Yee is not going to be campaigning for the post, an advisor said.
Richie Ross, a political consultant who had been advising Yee's campaign until Wednesday, confirmed that the state senator was bowing out of the race.
"I am sure Sen. Yee came to the same conclusion as everyone else has regarding his political viability," Ross said.
Yee was arrested Wednesday in San Francisco by FBI agents who alleged Yee had conducted wire fraud and had engaged in a conspiracy to deal firearms without a license and illegally import firearms.
State Sen. Alex Padilla (D-Pacoima) is the leading fundraiser in the contest for secretary of state, but Yee's withdrawal could help other candidates get into a November runoff.
Other candidates, including Democrat Jeff Drobman, were already planning to attack Yee and his actions in the campaign as a sign of deeper problems in Sacramento.
"This sad case of Sen. Yee strongly points out the poisoning affect of raising funds, especially after so many years of it by old-time politicos, who get jaded," Drobman said.
ALSO:
Gov. Jerry Brown reports more than $11,000 in gifts
California lawmakers report meals, sports tickets, other gifts
Assembly speaker got nearly $38,000 in gifts, travel last year
---
The stories shaping California
Get up to speed with our Essential California newsletter, sent six days a week.
You may occasionally receive promotional content from the Los Angeles Times.