Democratic convention: Loretta Sanchez apologizes for Native American 'war cry'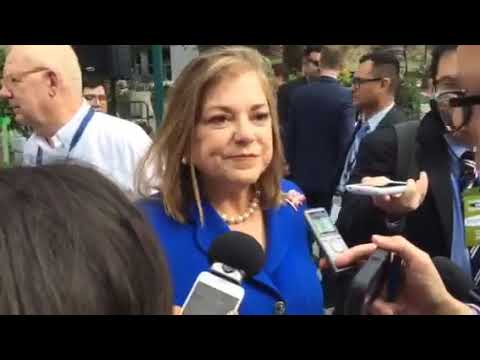 <p>Rep. Loretta Sanchez (D-Santa Ana) discusses making a Native American "war cry" gesture. (Peter Jamison / Los Angeles Times)</p>
U.S. Senate candidate Loretta Sanchez apologized Sunday for making a stereotypical Native American "war cry" gesture that disrupted the opening phase of her campaign.
In remarks to hundreds of delegates at the state Democratic Party convention in Anaheim, the Orange County congresswoman said Native Americans "know that I have always had their backs."
"And they know what many of you don't know -- that like so many Mexican Americans, I am proudly Native American on my mother's side," Sanchez said.
Sanchez, the daughter of Mexican immigrants, made the controversial gesture Saturday while joking with a group of Indian Americans about confusing an Indian American with a Native American. Video of the gaffe on Twitter and YouTube showed Sanchez tapping her hand to her mouth in an imitation of a war cry.
Sanchez's stumble was the talk of the convention Saturday night. Her apology overshadowed the rest of what was supposed to be her first major speech framing the Senate campaign that she launched on Thursday.
For political figures who open their hearts and don't hide behind handlers, Sanchez told the delegates, it's hard "to put yourself out there and to do what leaders need to do."
"And yes, sooner or later, we make mistakes," she told the crowd. "Because you know what? We're all humans."
The world can't be changed "from behind a desk," she continued. "So in this crazy and exciting rush of meetings yesterday, I said something offensive, and for that I sincerely apologize."
California Atty. Gen Kamala Harris, Sanchez's chief Democratic rival in the contest to succeed incumbent Barbara Boxer, thought Sanchez was "right to apologize," said Harris campaign spokesman Nathan Click. Harris "hopes this campaign will be about uniting all Californians," he said.
On Saturday, Harris said Sanchez's gesture was "shocking, and there is no place for that in our public discourse."
For Sanchez, who already has an uphill challenge in trying to catch up to Harris' campaign fundraising, the distraction was a setback.
"The question now is whether Loretta Sanchez survives this serious misstep," said Rose Kapolczynski, a former Boxer campaign advisor who is unaligned in the 2016 Senate race. "Because she is largely unknown, this could be a character-defining moment and preempt her chance to run an insurgent campaign," Kapolczynski said.
Twitter: @finneganLAT
Sign up for Essential California for news, features and recommendations from the L.A. Times and beyond in your inbox six days a week.
You may occasionally receive promotional content from the Los Angeles Times.