State senator wants Sally Ride statue in U.S. Capitol's Statuary Hall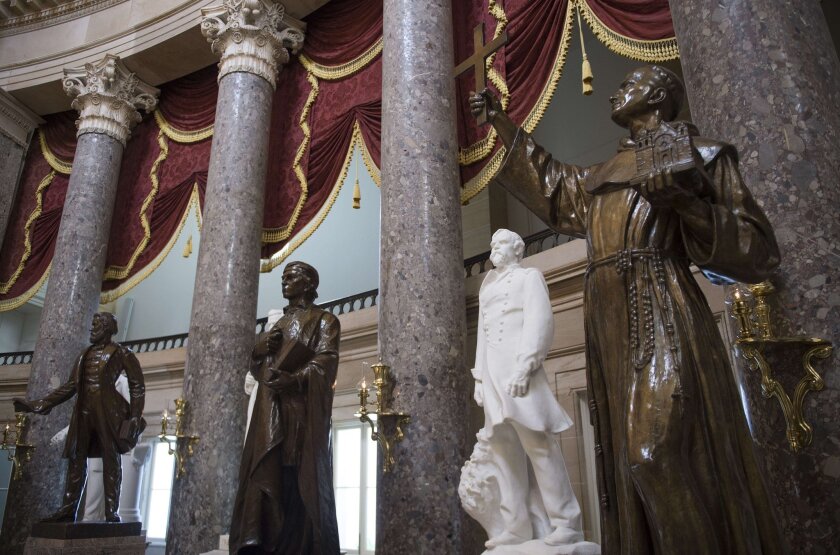 Reporting from Sacramento —
A California state senator is proposing to place a statue of pioneering astronaut Sally Ride in the U.S. Capitol's Statuary Hall, which would make Ride the first woman to represent California and the first known gay person to be included in the collection.
The statue, if approved and commissioned, would replace a likeness of Father Junipero Serra, the 18th century Franciscan monk who founded nine Catholic missions in California. Pope Francis announced last month he plans to canonize Serra, an announcement that has stirred controversy among those who say Serra's conversion campaign harshly affected the state's Indian population.
Sen. Ricardo Lara (D-Bell Gardens) described Ride as a "California native, American hero and stratospheric trailblazer who devoted her life to pushing the limits of space and inspiring young girls to succeed in math and science careers."
"She is the embodiment of the American dream whose accomplishments and life work will encourage future generations to reach for the stars and celebrate diversity and inclusivity," Lara said in a statement.
Tam O'Shaughnessy, Ride's partner, said in an interview that the astronaut served as a role model to a number of underrepresented groups: women in science fields, as well as the LGBT community.
"What has been missing in many programs around the country is diverse role models in science and engineering," said O'Shaughnessy, who runs Sally Ride Science, a company dedicated to getting more female and minority students interested in science and math.
"Having Sally's image turned into a statue in our nation's Capitol -- that's an important message. It has a chance to be an inspiration to young people the world over," she said.
Each state has two statues depicting famous citizens in Statuary Hall. California has swapped out one sculpture once before; in 2009, the state replaced a sculpture of Thomas Starr King, a traveling preacher, with Ronald Reagan.
Lara's measure, SJR 4, proposes relocating Serra's statue to the grounds of the California Capitol. Despite Serra's recent resurgence in the headlines, Lara said his measure was more focused on Ride, the first American woman in space, who died in 2012.
"Though Father Serra is a controversial figure, this effort is about recognizing the invaluable contributions of an accomplished Californian and American pioneer: Dr. Sally Ride," Lara said.
If it is approved, the Legislature can then ask the congressional committee that oversees the collection to replace the Serra statue with one of Ride. California's Commission on the Status of Women and Girls would lead the search for a sculptor, as well as raise funds for the statue.
O'Shaughnessy, who has never visited Statuary Hall, already has an idea of how she'd like to see her longtime partner depicted: in her iconic, light blue flight suit.
"It just sort of cries out 'astronaut' and 'adventure,' " O'Shaughnessy said. "I like that image."
Follow @melmason for more on California government and politics.
---
Get breaking news, investigations, analysis and more signature journalism from the Los Angeles Times in your inbox.
You may occasionally receive promotional content from the Los Angeles Times.