Boyle Heights politics blamed as mariachi-themed 5K is blocked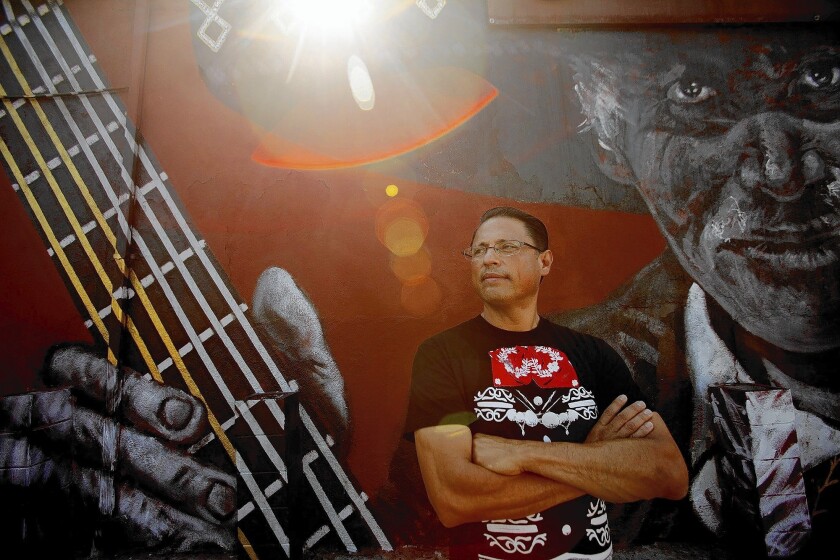 The organizer of a mariachi-themed fun run said local politics forced him to indefinitely postpone the event.
The 5-kilometer run, scheduled for Sunday in Boyle Heights, was supposed to start and finish at the historic Mariachi Plaza, with mariachis playing along the way.
But last week, amid dissent by a local mariachi leader and the office of City Councilman Jose Huizar, L.A. officials informed the organizer, Carlos Gaspar, that the city was denying him permission.
Gaspar said his plans were originally met with enthusiasm in the neighborhood, as he collected about 100 signatures from business owners and residents along the route as part of his application for an event permit.
He canceled plans for a beer garden and a costume contest after concerns were raised.
In an e-mail, a city official told Gaspar that his application was denied because he had failed to contact the Boyle Heights Neighborhood Council.
But Gaspar said he was never instructed to do so.
Gaspar, who is from Jalisco, Mexico, and now lives in Downey, said he was resented as an outsider by the political powers in Boyle Heights.
"I did get a lot of support from people in Boyle Heights," he said. "It's just the powers didn't like it."
Arturo Ramirez, the mariachi leader, told The Times last week that the event would disparage his profession if runners dressed up in mariachi costumes. He also said he was concerned that Gaspar had hired outside mariachi rather than musicians from the plaza.
Rick Coca, a spokesman for Huizar, said, "We're going to back the community and the community didn't want it. [Gaspar] also didn't go through Neighborhood Council like we asked him to do."
As for the 277 runners who had each paid as much as $50 to enter the event, Gaspar said they would have their choice of receiving a refund or waiting for him to find a new location and date for the run.
"It's going to happen," he said. "Just not in Boyle Heights."
Or they can wait until Oct. 11 for the Boyle Heights 5K Run/Walk, to be held on the same course.
The organizer, Juan Romero, a Boyle Heights native who owns a coffee shop there, said that the event is being held in conjunction with a local health fair and that it has the backing of Huizar.
---
The stories shaping California
Get up to speed with our Essential California newsletter, sent six days a week.
You may occasionally receive promotional content from the Los Angeles Times.