Capitol Journal: Is it wise to give regulators the power to impose cuts in state's gasoline use?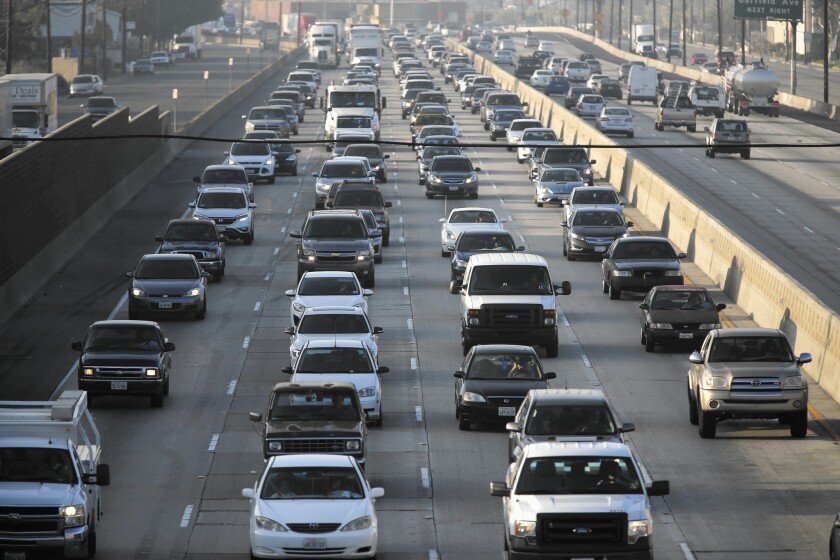 The biggest bill still moving through the state Legislature this summer is backed by the Senate leader, the governor and essentially the pope. So opponents — mainly oil companies — don't have a prayer.
The measure, which attempts to fight global warming by significantly reducing greenhouse gas emissions in California, is on track to pass before lawmakers adjourn for the year shortly after Labor Day.
The oil and business lobbies are waging an aggressive fight against it. If the bill required a two-thirds majority vote, it might be doomed. But it needs only a simple majority, so there seems little that can stop it, given the influential support.
Pope Francis isn't exactly a co-author, but he might as well be. In a powerfully worded encyclical last month, the pope called for immediate changes in human behavior to combat global warming and spare future generations from a world of filth. He chastised the deniers of human-caused climate change, which he largely attributed to a culture of instant gratification.
"The pace of consumption, waste and environmental change," Francis wrote, "has so stretched the planet's capacity that our contemporary lifestyle, unsustainable as it is, can only precipitate catastrophes."
That has a ring similar to the "era of limits" warnings that Jerry Brown preached when he was governor the first time in the 1970s. The former Jesuit seminarian recently tweeted: "Climate change is not a hoax, but an existential threat. Get with the science, get with the @Pontifex."
Brown is leading California's fight against global warming — a somewhat lonely fight among the states — which his predecessor, Arnold Schwarzenegger, began nine years ago.
The pope never mentioned SB 350, the legislation that embodies the governor's climate change goals and is being shepherded by Senate leader Kevin de León (D-Los Angeles). But SB 350 includes the sort of action the pope advocates.
The bill would require California, by 2030, to generate half of its electricity from renewable sources, double the energy efficiency of older buildings and — most controversial — cut gasoline use in half.
It'll be too early to present the pope with a signed copy of the bill when Brown flies to Vatican City next week to meet with the pontiff and other dignitaries to discuss climate change and modern slavery.
But the measure is nearing final passage, having cleared the Senate and two Assembly committees.
The oil lobby — one of the biggest donors of campaign fuel in Sacramento — obviously worries about potential California profit losses. That's not what it's saying, of course. What it is saying, however, does have some logic.
It expresses concern about the Legislature relegating to an unelected body — the California Air Resources Board — the authority to decide how to reduce gasoline use.
The board is appointed by the governor, who can fire a renegade member any time. Appointees must be confirmed by the Senate, but since there's one-party rule in Sacramento, this governor can get just about anything he wants from the Legislature.
"The bill is silent on how the Air Resources Board is going to achieve that [gasoline reduction] mandate," says Tupper Hull, spokesman for the Western States Petroleum Assn. "This bill is reckless in its lack of direction and guidance to the board…. There was discussion at one committee hearing about rationing gas, and there's nothing in the bill that prevents it."
Yes, you'd think something as serious as halving gasoline consumption would be the province of our elected representatives.
Even a Democrat, Assemblyman Roger Hernandez of West Covina, voiced objections at a committee hearing last week.
"This kind of unregulated, unlimited power is concerning," Hernandez told the committee. "We are the ones who make the law…. This is giving them a blank check … a complete transfer of power."
De León calls this argument "a red herring…. Scare tactics that have been purposely used to mislead and distract."
"The Legislature created this bill and [the air board] will execute it under legislative directions. We have built in safeguards that provide for accountability, transparency and reports back to the Legislature."
De León and his staff say they know exactly how gasoline use will be cut in half by 2030. Most of it will be accomplished, they say, by more fuel-efficient cars. Already, they say, the vehicles coming on line will reduce gas pumping by 40%.
The remaining 10%, they contend, will be achieved by blending more bio fuels with gasoline and shortening commutes by building more residential housing in urban cores.
But "there needs to be a defined legislative oversight plan," says Rob Lapsley, president of the California Business Roundtable. "We can't just leave this up to a regulatory agency. You think it's going to do what's right for the economy?"
That seems a legitimate and achievable goal: At least a biannual hard look at how the air board is performing. But it's doubtful the Legislature would want to fight this battle every session.
Another piece of De León's bill is less contentious: Generating half California's electricity from renewable sources by 2030. The law already requires one-third by 2020 and we're on target to hit that.
Here's my suggestion that would stir up controversy: Turn some thirsty San Joaquin Valley nut orchards into solar farms, subsidized with state cap-and-trade money that's raised by selling licenses to emit greenhouse gases. Less water use, less fertilizer runoff, less crop dust. More renewable energy.
But that's too simple for government.
Twitter: @LATimesSkelton
---
The perils of parenting through a pandemic
What's going on with school? What do kids need? Get 8 to 3, a newsletter dedicated to the questions that keep California families up at night.
You may occasionally receive promotional content from the Los Angeles Times.