Brown's tunnel plan looms over effort to pass water bonds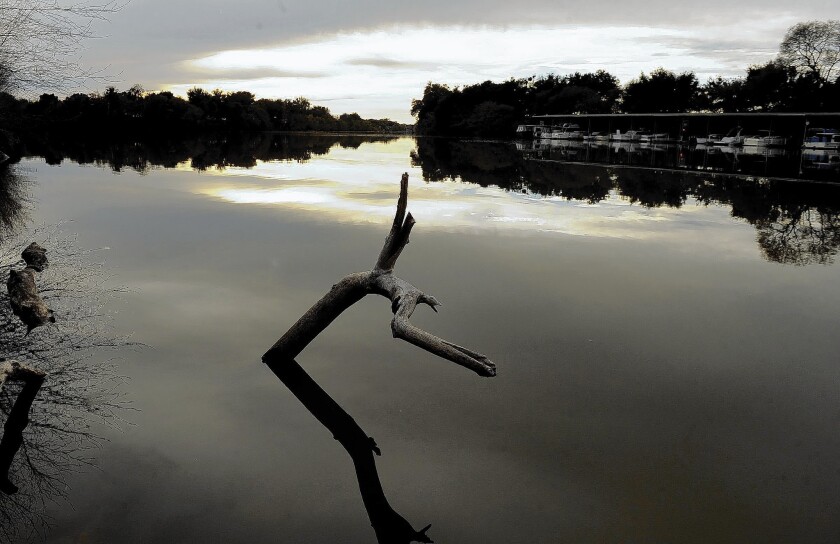 From SACRAMENTO —
As lawmakers struggle to craft a water bond proposal for voters, there's a huge reservoir of wonderful, non-controversial project ideas. But practically everyone is suffering from tunnel vision. Literally.
Not just the politicians, but — especially — the warring water interests.
The overriding question for most is what effect any bond would have on Gov. Jerry Brown's highly controversial, very costly plan to bore two gigantic water tunnels under the Sacramento-San Joaquin River Delta.
Would it help or hurt the $26-billion project? Expedite it or slow it down?
And, like most political issues, where you stand depends on where you sit. If you sit in the delta or thereabouts, you're opposed to other regions grabbing more of your fresh water. If you sit to the south, especially in the parched San Joaquin Valley, you're thirsty for other people's water.
The delta is a source of drinking water for 24 million people and irrigation for 3 million acres. Most any Californian who relies on clean tap water, has a lawn, washes a car, enjoys fresh produce and savors salmon has a stake in the delta.
The monumental fight for the ages is over the governor's plan to dig two 40-foot wide, 35-mile long tunnels to siphon fresh Sacramento River water downstream from the state capital and funnel it into south-bound aqueducts.
San Joaquin farmers and the Metropolitan Water District of Southern California are desperate for a more reliable stream from the north. Federal and state exports of delta water have been stymied in recent years by court decisions protecting endangered fish, including chinook salmon. Hence the twin-tunnels, which would be paid for by increased water rates.
Delta farmers — aligned with environmentalists and many northerners — contend the tunnels would leave them defenseless against crop-killing salt water from San Francisco Bay. Not to mention muck up a bucolic paradise.
But wait! There are many other smaller, non-controversial projects all over California that could help local regions survive droughts and global warming.
Projects like purifying drinking water, capturing storm water, recharging aquifers, recycling, desalination and watershed restoration. Also, shoring up delta levees. And, although there's some controversy, the project list includes building reservoirs.
That's the sort of stuff a state bond issue could help finance.
But there's a hitch. Every bond proposal also includes money for delta ecological restoration. Fish habitat is in dire need of a fix. And it's necessary before federal and state wildlife agencies will permit the tunnels to be built.
Tunnel backers insist the bond money pay for restoration that will help expedite the permitting. And they don't trust a bond proposal supported by delta interests. That measure, SB 848 by Sen. Lois Wolk (D-Davis), would empower a state commission called the Delta Conservancy — whose mission is like it sounds — to allocate the restoration money.
Tunnel supporters demand that the Brown administration choose the restoration projects. And tunnel opponents don't trust that notion at all. They want to keep the whole tunnel turmoil out of the bond discussion. But that's probably impossible.
"We want a bond with no controversy — one that doesn't harm any part of the state," Wolk says. "Tunnels are where we leave the area of non-controversy and move into a north-south war. There's no reason to fight over the tunnels today. We can fight over them next year or for the next 30 years.
"Everyone acknowledges there are tremendous needs statewide. In a north-south war, we all lose."
Wolk's bill seems to have broad Senate support. President Pro Tem Darrell Steinberg (D-Sacramento) and his replacement-elect, Sen. Kevin de León (D-Los Angeles), are coauthors.
The Wolk bond is "tunnel neutral," Steinberg claims, adding that "the Achilles for any bond is a north-south water war."
But Jeff Kightlinger, general manager of the Metropolitan Water District, contends that Wolk's proposal is "anti-export of water, period. And as a water exporter, we're not going to support it."
Wolk's bond could have another problem: Its size — $10.5 billion.
In 2009, the Legislature placed an $11.1-billion bond on the 2010 ballot, but later took it off because the proposal was so bloated and saturated with pork. Lawmakers also removed it from the 2012 ballot. Now, it's on this November's ballot. All polling shows it would be rejected by voters.
The ballot measure could be shelved again on a simple majority legislative vote plus the governor's signature. But a two-thirds vote would be required to substitute a new bond.
If there ever was an opportune time to seek voter approval for a water bond, it's seemingly now. The economy is recovering and we're in the midst of a historic drought. People are being asked not to water their lawns. Farm fields are being fallowed.
But Wolk's price sticker is raising eyebrows.
Assemblyman Anthony Rendon (D-Lakewood), chairman of the water committee, is offering a more digestible $8-billion bond.
"It definitely has to be under $10 billion," Rendon says. "To voters, a lot of these bond issues seem like a run on the store. I'm concerned about debt. We really need to be responsible."
Rendon said his bond "is silent on the tunnels."
Another bond proposal, by Assemblyman Henry T. Perea (D-Fresno), is supported by tunnel backers. Its price tag: $10.2 billion-plus.
Nobody knows exactly where the governor stands because he hasn't engaged. In fact, for a long time Brown didn't even want a bond on the ballot while he was seeking reelection. But apparently he has acquiesced.
"No bond will succeed without the governor," Wolk says. "People adore him and respect him and listen to him."
Brown had better talk fast. The Legislature wants to wrap this up before it goes on vacation July 3.
Follow @LATimesSkelton for more columns about state government and politics.
---
Get breaking news, investigations, analysis and more signature journalism from the Los Angeles Times in your inbox.
You may occasionally receive promotional content from the Los Angeles Times.