Legislature leaves anti-tobacco measures and health plan tax on the table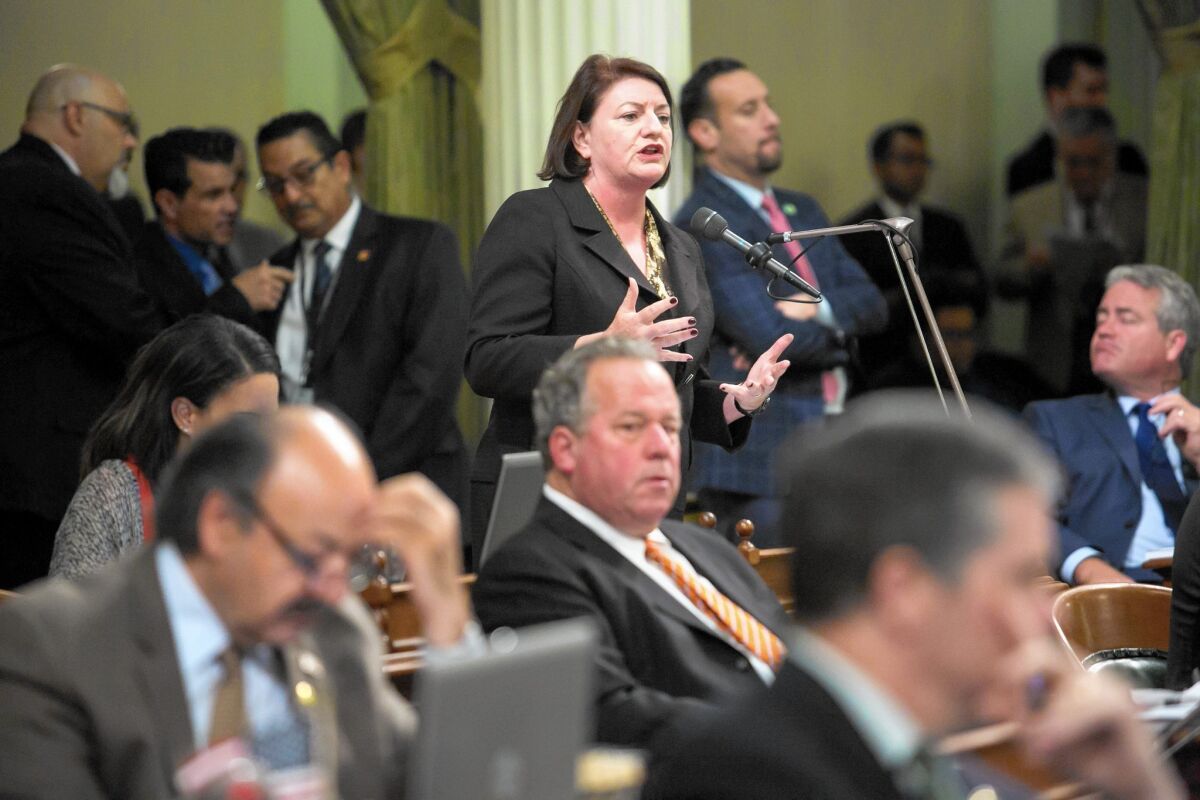 Reporting from SACRAMENTO —
California lawmakers headed home Saturday after a breakneck end to their 2015 session, having passed landmark bills on climate change and assisted dying, among others. But they also left behind a pile of unfinished business.
They adjourned at midnight Friday, pushing off votes on a package of hotly contested anti-tobacco bills, including proposals to raise the smoking age to 21, restrict the use of electronic cigarettes in public places and raise the tobacco tax by $2 a pack.
An effort to craft a new tax on health plans to stave off a looming plunge in federal funding for Medi-Cal, the state health program for the poor, stalled as well.
The measures remain alive and still could be acted upon when lawmakers reconvene in January. The proposals are part of a special legislative session on healthcare that remains open, leaving the remote possibility that lawmakers could return before January to act on them.
The delay stung for supporters of the measures. Among them was Assemblyman Jim Cooper (D-Elk Grove), who had one of the bills to regulate electronic cigarettes.
"It got vaporized," Cooper said. "It's very disappointing, but that's the process."
Sen. Mark Leno (D-San Francisco), who also had a bill to regulate e-cigarettes, expressed his dismay more strongly. "Unfortunately, it's not the first time the Assembly has disappointed us," he said.
Assembly Speaker Toni Atkins (D-San Diego) said after adjournment that the Legislature just ran out of time.
"Tonight we just weren't ready to continue to move forward on those [bills]," Atkins said. "The good news about special session is that we have the time."
The proposal to increase tobacco taxes, intended to raise funding for Medi-Cal, is among a number of levies being considered during the healthcare special session convened by Gov. Jerry Brown. The proposed tax on health plans remains at the top of the agenda.
California currently imposes a tax on plans that accept Medi-Cal patients, and the revenue goes into the state's general fund to help pay for Medi-Cal and other services. But the Obama administration has said California's tax needs to be changed, or the state could lose federal funding for the public healthcare program.
Attempts to broker a deal acceptable to the Brown administration, lawmakers and the healthcare plans have thus far failed. But they will continue.
"We did everything to make this work," state Health Secretary Diana Dooley said in a statement Friday.
Bills introduced in a concurrent special session on how to fund road repairs in California had already been tabled for a later date.
Lawmakers did send the governor dozens of bills on their final day, many just before the midnight deadline.
Among them was a measure to allow the Los Angeles County Metropolitan Transportation Authority to seek approval from voters for a half-cent increase in the sales tax. The money would be used to continue projects aimed at reducing the region's traffic gridlock.
Another bill would improve the response to oil spills, such as the one that fouled Refugio State Beach this year, with a study of the potential hazards and effectiveness of chemical dispersants used in cleanup efforts.
State maritime officials also would develop plans to recruit commercial fishing boats, tugs and other vessels near a spill for a quick response to contain future spills.
patrick.mcgreevy@latimes.com
Twitter: @mcgreevy99
melanie.mason@latimes.com
Twitter: @melmason
Times staff writer Phil Willon contributed to this report.
For more politics coverage, go to www.latimes.com/politics.
The stories shaping California
Get up to speed with our Essential California newsletter, sent six days a week.
You may occasionally receive promotional content from the Los Angeles Times.