Election technology, business key issues in secretary of state race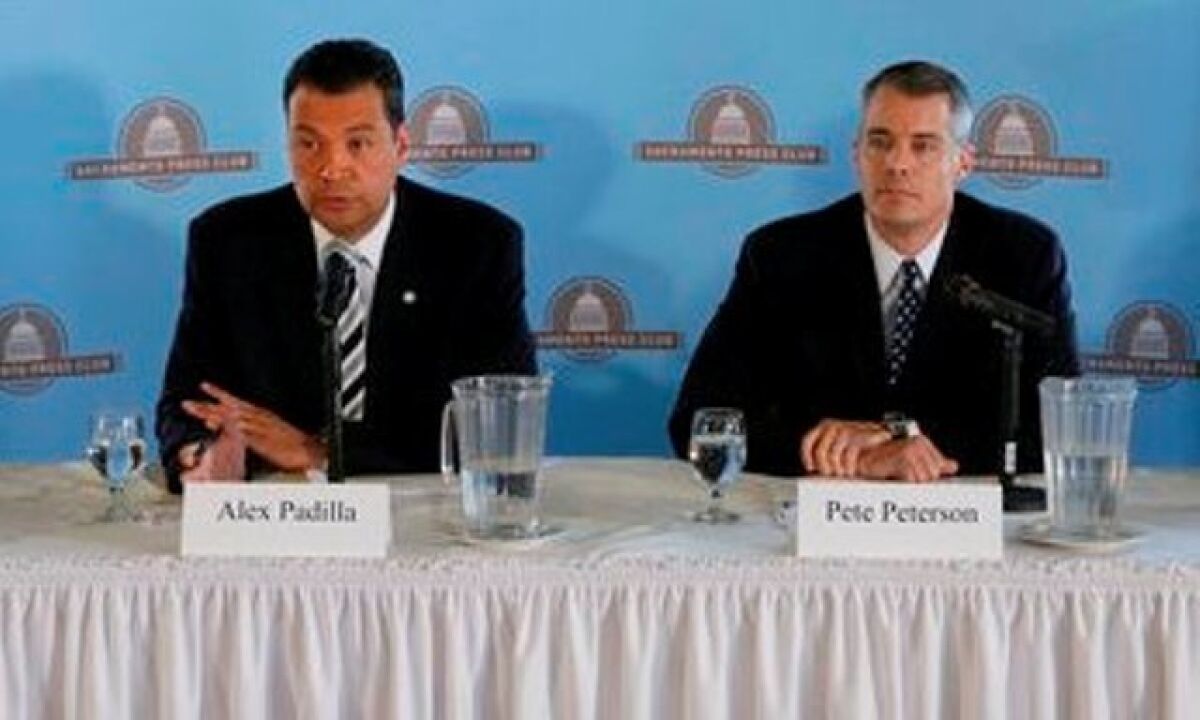 Reporting from SACRAMENTO —
The two candidates for California secretary of state sparred Thursday in their first match since the primary election as they outlined their plans for improving voter participation and upgrading the office's technology.
Voters will decide Nov. 4 whether state Sen. Alex Padilla (D-Pacoima) or academic Pete Peterson should replace current Secretary of State Debra Bowen, whose term ends in early January and who revealed last week that she suffers from depression and has been in the office sporadically.
The two men agreed that outdated technology has meant too few Californians are voting and it is too hard for businesses to register and operate in California. But they differed over who is best qualified to fix the problems.
Padilla, 41, cited his 15 years of experience in public office, first on the Los Angeles City Council and the last eight years as a state senator. He cited a recently enacted law he supported that will allow election-day registration once California's voting database is modernized, and another, on the governor's desk, that would allow consideration of mail ballots postmarked on election day, rather than just those received on that day.
He said he was inspired in part to run for the chief elections office by his concern about attempts around the country to infringe on citizens' rights by purging voter rolls and requiring identification at polling places.
"Protecting voting rights is absolutely going to be a priority of mine," Padilla said.
Peterson is the executive director of the Davenport Institute for Public Engagement and Civic Leadership, a think tank at Pepperdine University. He said he is the "outsider" with technological experience in the race, and he criticized Padilla for having a lot of support from the "third house," or lobbyists and special interest PACs.
Peterson proposed that the secretary of state spend more time marketing participation in the electoral process, in part by improving technology so voters can go to a state website to get better information on candidates and issues, including videos. "One of the areas where we are failing most desperately at is in the use of technology to inform voters," he said.
Peterson, a 47-year-old Santa Monica resident, said his goal would be to increase voter turnout by as much as 10% in his first term. That would mean 1.03 million more Californians going to the polls than did so four years ago.
Padilla said he wants to add 1 million Californians as active, registered voters.
Although neither candidate mentioned Bowen's illness, both were highly critical of the office during her tenure for the slow move to modern technology and innovation.
Both candidates criticized the Cal-Access computer database operated by the secretary of state, which provides the public with information on campaign contributions and spending, but which has occasionally crashed and is not easy to use.
"It's not fast and it's certainly not user-friendly," Padilla said. "It's long overdue for an upgrade."
Peterson said he would not be issuing requests for proposals to buy a major technology project to upgrade Cal-Access but instead would seek to use systems already being developed by nonpartisan groups such as Maplight. "The role of the secretary of state should be as a provider of data," he said.
Neither candidate said the state is ready to have online elections, but Peterson supports a move to balloting with electronic machines. One of his goals is to improve the state's standing in a Pew Charitable Trusts review of state elections systems, now at 49th in the nation.
He said the secretary of state's office has to improve the speed with which it processes business registrations and use updated technology, moving away from faxes and paper. He also said he would survey those who start businesses, and those who end them, to get an idea of what the state can do to improve the business climate.
"We should be exit-interviewing businesses," Peterson said.
Padilla said he would set a goal of having business registrations completed within five days, rather than the weeks that some registrations have taken.
The forum was hosted at a Sacramento hotel by the Public Policy Institute of California, a nonpartisan think tank. The group's president, Mark Baldassare, moderated.
The stories shaping California
Get up to speed with our Essential California newsletter, sent six days a week.
You may occasionally receive promotional content from the Los Angeles Times.