Waiting for a decision in Stephon Clark's killing, they are ready to be disappointed — and to mobilize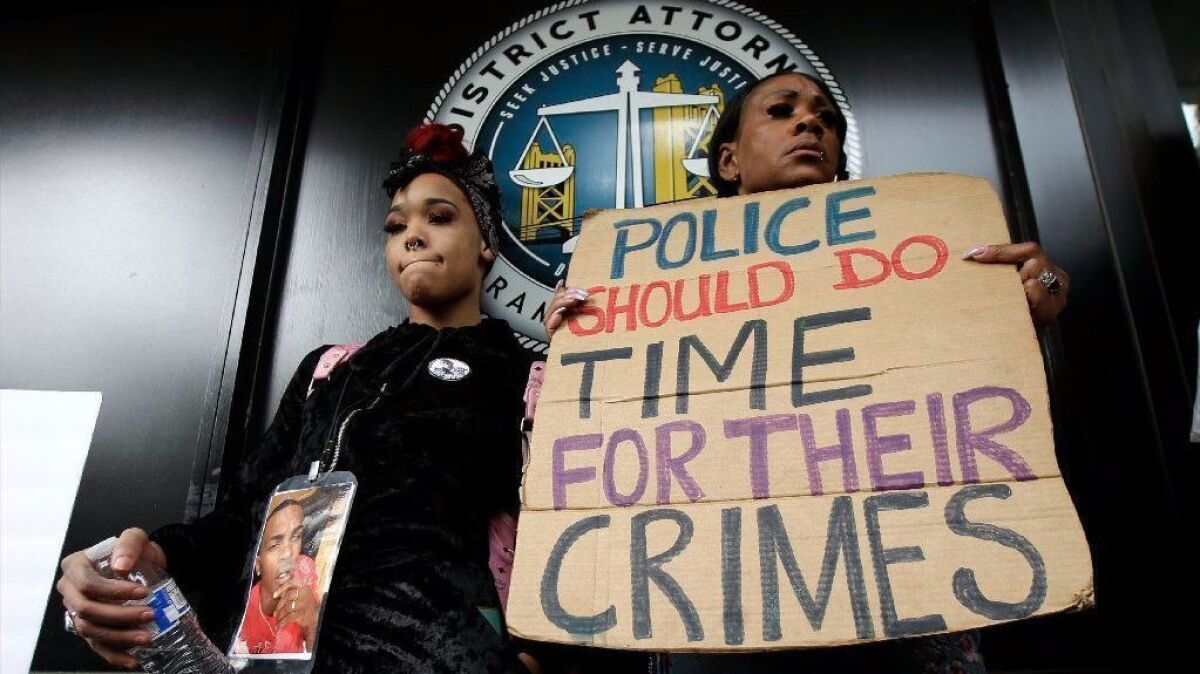 Reporting from Sacramento —
An 8-foot-tall chain-link fence went up around the Sacramento County district attorney's office, weeks after police shot and killed Stephon Clark — an unarmed black man whose cellphone they mistook for a gun. Demonstrators previously had blocked the front doors, chanting "Shut it down!" as protests erupted across the capital city.
Almost a year later, the fence has become a psychological barrier as well, a reminder of the frustration, distrust and racial tensions that are threatening to boil over once again in the state capital.
In the coming days, Sacramento County Dist. Atty. Anne Marie Schubert and California Atty. Gen. Xavier Becerra are expected to release reports on the criminal liability of the two officers who fired 20 rounds at Clark, striking him at least seven times.
To many here, the question isn't whether the officers will be charged, but what will happen when they aren't.
The shared belief among community activists, politicians and police is that the shooting probably will be deemed justifiable. There also is a growing determination that if no criminal action is taken, calls for statewide legislation curbing police use of deadly force should become the focus of protests.
"The outcome was wrong. He should not have died," Sacramento Mayor Darrell Steinberg said of Clark in his recent state of the city address. "The best chance we have for peace is for people to know and see that we mean to change what must change."
Case law provides strong protections for law enforcement involved in lethal incidents, and Schubert has never prosecuted an officer-involved shooting.
For 49 weeks in a row, protesters have shown up outside her office. Adrianne Pennington, a member of Black Lives Matter, recently brought a lawn chair and a grill. Her daughter, Jaelynn, 8, used plastic clips to hang a sign on the cyclone wire that read, "[Expletive] this fence."
Activists counting on Becerra to conduct an independent review of the Clark shooting soured on the prospect when the attorney general delayed the release of law enforcement records under a new state transparency law that went into effect last month — though he recently put out a review of the Sacramento Police Department that suggested more than 50 improvements in use-of-force policies, officer training and how investigations are conducted.
Local leaders including Steinberg are supporting the push for action at the state level as proof of a commitment to addressing racism and associated ills, including generational poverty.
Every Friday for more than a month, City Hall officials have held closed-door meetings with black community leaders.
Steinberg and Daniel Hahn, the city's first black police chief, have attended, trying to forge the connections needed to prevent protests should Schubert not charge the officers, according to attendees interviewed by The Times. The buy-in from the community has been mixed, but the purpose is clear: Give the anger a focus beyond the decision not to prosecute.
Protests over Clark's shooting helped spur last year's landmark police transparency law, SB 1421, which requires the release of investigative and personnel records in officer-involved shootings and some instances of substantiated misconduct. Becerra has said he is waiting to comply with the law until the courts decide whether it should be applied retroactively. He recently filed a brief in favor of retroactive document releases in a pending state Supreme Court case brought by the Assn. for Los Angeles Deputy Sheriffs.
This year, legislators introduced two competing bills to address when officers in California can be charged. One revived an American Civil Liberties Union-backed effort that would make it easier to prosecute police in instances of deadly force. The other, supported by police unions, focuses on internal training and policies.
The second measure, Senate Bill 230, has gained traction, with 17 Democrats signing on as co-authors. But in an indication that the more far-reaching measure, Assembly Bill 392, could encounter a tough fight, law enforcement decided to put forward its own legislation — which could make hard for voters to discern the difference between the two proposals.
In the weeks after Clark was shot last year, legislative hearings and City Council meetings were packed with community members demanding action.
At one of those meetings, Stevante Clark, Stephon Clark's older brother, jumped on the dais at City Hall and cursed at Steinberg. He says he regrets that outburst and now has reservations about new protests with no clear purpose. Instead, he is planning three days of events around the March 18 anniversary of his brother's death. He supports AB 392.
"My grandmother really believes the officers are going to be held accountable," said Clark as he sat in her living room, just feet from where his brother died in the backyard.
The night of the shooting, police responded to a call about a man in a hoodie breaking car windows. It remains unclear if Stephon Clark, 22, was the person the 911 caller was reporting. But he was spotted by a Sheriff's Department helicopter in a neighbor's backyard, where he allegedly had broken a sliding glass door before jumping a fence into the Clark property.
Two officers chased him down. One of them yelled that Clark had a gun. Both officers fired in an encounter caught on video by their body cameras and the helicopter, footage that was released by the department within days.
Though local philanthropists landscaped the backyard after the shooting, placing a memorial stone in the ground where Stephon Clark fell, neither Stevante Clark nor his grandmother step foot there anymore.
"Prosecuting the officers, that is what we want," Clark said.
Steinberg, who recently pledged to seek $200 million over five years for economic equity in the city's disadvantaged neighborhoods, stops short of endorsing AB 392.
But in an interview, he said use-of-force standards need to be stricter and that he would probably participate in protests supporting AB 392 if charges against the officers are not filed.
The alliance between leaders such as Steinberg and activists is a delicate one.
Sonia Lewis of Black Lives Matter Sacramento, which has spearheaded the protests against Schubert, said her group is concerned about "caving in to a big compromise."
And Clark is skeptical that the public response can be directed or contained once the reports on his brother's death are released.
"You can't contain raw emotion. Pressure bursts pipes," he said.
"Transparency without accountability is nothing."
More coverage of California poitics »
Follow @chabriaa on Twitter and sign up for our Essential Politics newsletter.
The stories shaping California
Get up to speed with our Essential California newsletter, sent six days a week.
You may occasionally receive promotional content from the Los Angeles Times.