Stephon Clark shooting: How police opened fire on an unarmed black man holding a cellphone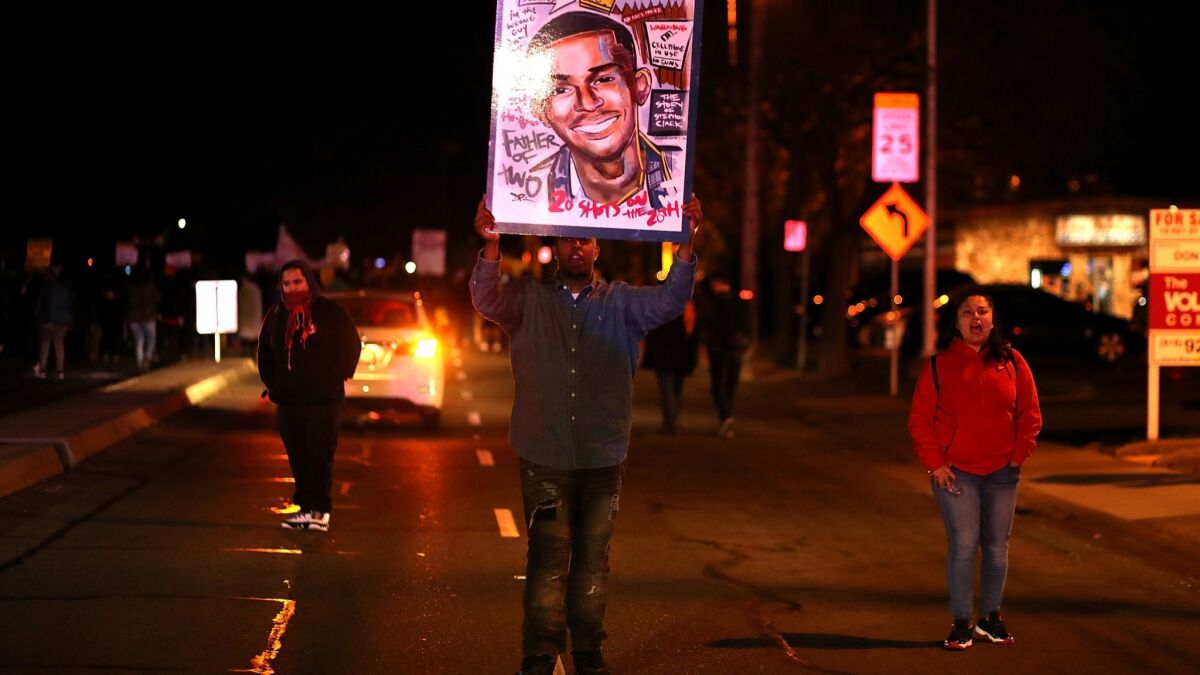 Stephon Clark was shot by Sacramento police in the backyard of his home Sunday.
Police said officers believed he was holding a gun, but all they recovered at the scene was a cellphone.
Here's a breakdown of the case that has sparked protests and outrage:
What happened?
The deadly encounter occurred Sunday behind the home that relatives said Clark shared with his grandparents and siblings. A 911 caller had reported to police that a man had "busted both my truck windows out, and he's in people's backyards right now." The caller said the man was wearing a black hoodie.
The officers arrived in the neighborhood at 9:13 p.m., the department said. About 9:25 p.m., the sheriff's helicopter spotted a man in a backyard and told police that the suspect had picked up a "toolbar" and broken a window to a home. As the man climbed a fence and entered another yard, the pilot directed officers to his location.
Police say Clark scaled a tall fence and peered into a vehicle before running into his backyard, where officers pursued and shot him.
Clark, it turned out, had no weapon, only a cellphone.
Body cam footage of officer involved shooting.
What do the videos show?
Sacramento police have released video footage from the body cameras worn by the two officers who encountered Clark, as well as from the sheriff's helicopter, showing the shooting after a chaotic nighttime pursuit last weekend.
Shaky body cam footage shows officers running up a dark driveway with flashlights. "Hey! Show me your hands! Stop! Stop!" an officer yells. As the officersrun into a backyard, they turn a corner and spot Clark in the glare of their flashlights. The officers take temporary cover behind the corner and then confront the suspect once more. This time, an officer yells at Clark to show his hands, then begins shouting, "Gun, gun, gun!" Gunfire then erupts.
A total of 20 shots were fired.
A department statement said that "prior to the shooting, the involved officers saw the suspect facing them, advance forward with his arms extended, and holding an object in his hands. At the time of the shooting, the officers believed the suspect was pointing a firearm at them."
The Sacramento Police Department released helicopter footage of the police shooting of Stephon Clark, an unarmed black man who was holding his cellphone in his grandparents' backyard.
What do independent experts say about the videos?
The Times talked to several experts, and they were divided about the police response.
Ed Obayashi, a deputy sheriff and legal advisor to Plumas County, specializes in examining police shootings. He called Sunday's shooting "reasonable," adding that "a cellphone can easily be perceived as a gun in that environment of poor light."
Obayashi said the officers' "threat radar is way high" after moving through backyards in pursuit of a suspect reported to have committed several dangerous felonies, including breaking into a home. "This guy wasn't complying with orders and raised his hands with an object in his hands," he said.
Geoffrey Alpert, a University of South Carolina criminologist who studies police chases and shootings, disagreed.
"It doesn't look good," Alpert said, noting that "the yelling of the word 'gun' here seems to trigger the shooting."
"The officers are going to have to explain all 20 shots. They are going to have to justify repeatedly shooting," he said. "The bottom line is we have a young African American man with a cellphone being shot dead by police."
What has been the reaction in the community?
Hundreds of protesters took to the streets Thursday, blocking a freeway and access to a Sacramento Kings game. At City Hall, members of Black Lives Matter and other activists condemned the incident as yet another case of officers shooting an unarmed black person.
More protests are planned for Friday.
Black Lives Matter protesters hold their fists in the air as they block the entrance to the Golden 1 Center arena during a demonstration in Sacramento.
(Justin Sullivan / Getty Images)
Black Lives Matter protesters hold signs as they stage a demonstration outside Sacramento City Hall against the Sacramento Police Department after two officers shot and killed Stephon Clark, an unarmed black man, in the backyard of his grandmother's house following a foot chase.
(Justin Sullivan / Getty Images)
A Black Lives Matter protester jumps on a California Highway Patrol car on Interstate 5 during a demonstration in Sacramento.
(Justin Sullivan / Getty Images)
Police said they are trying to be transparent about the shooting by releasing videos but urged patience as the department investigates.
"I urge our community to remain peaceful, to respect one another, to try and be extra kind to each other," Mayor Darrell Steinberg said. "Let us channel our anguish into healing and to justice."
House Speaker Nancy Pelosi of San Francisco said she was "sickened by the senseless shooting .… His life mattered, and he should be alive today. I extend my condolences to his children, family and friends."
The stories shaping California
Get up to speed with our Essential California newsletter, sent six days a week.
You may occasionally receive promotional content from the Los Angeles Times.