MTV VMAs: Seven presidential moments in Kanye West's first stump speech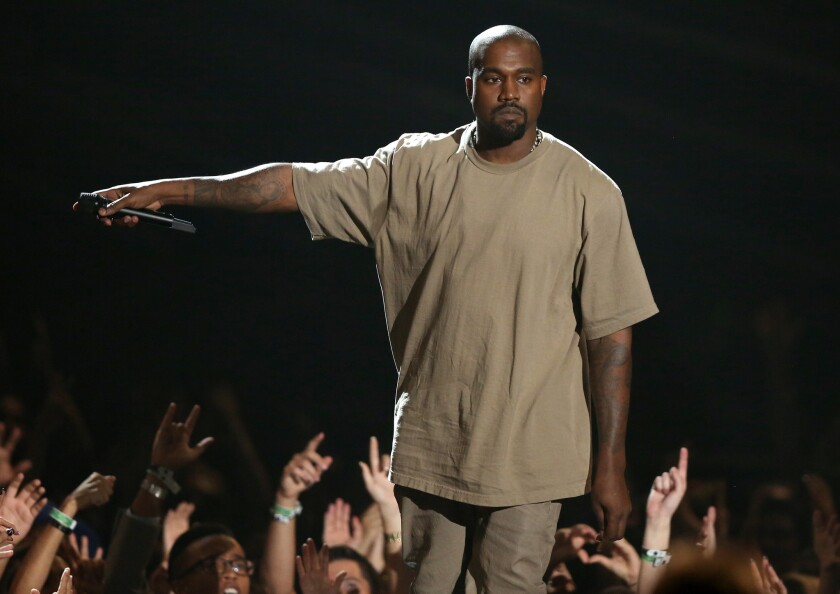 Los Angeles Times
When Kanye West stood on stage Sunday night during the MTV VMAs to accept the Video Vanguard Award, few doubted he'd have something to say. This is a man, after all, who first gained national attention nearly a decade ago when, in an unscripted moment during a Hurricane Katrina telethon, he declared that "George Bush doesn't care about black people."
The rapper didn't disappoint. On the contrary. In a rambling speech in which the musician discussed nearly every topic except music, West, 38, tackled his legacy and notoriety while rationalizing some of his more memorable onstage interactions. He then dropped a bombshell, one that presidential historians may be parsing for decades to come. Below, the highlights.
1. From the start, West had one notable moment on his mind: his stage-storming interruption of Taylor Swift's acceptance speech during the 2009 VMAs:
"I think, if I had to do it all again—what would I have done? Would I have worn a leather shirt? Would I have drank half a bottle of Hennessy and given the rest of it to the audience? Y'all know you would have drank that bottle, too. If I had a daughter at that time would I have went on stage and grabbed the mike from someone else?"
2. West addressed the incident while coming very close to apologizing to Swift. Except that he didn't. Presidents don't apologize. His take on his actions of six years ago:
"The problem was the contradiction. The contradiction is that I do fight for artists, but in that fight, somehow, was disrespectful to artists. I didn't know how to say the right thing, the perfect thing. I sat at the Grammys and saw Justin Timberlake and CeeLo Green lose. Gnarls Barkley and the ["FutureSex/LoveSounds"] album. And bro -- Justin I'm not trying to put you on blast but I saw that man in tears, bro. And I was thinking he deserved to win album of the year."
3. Illustrating a keen understanding of politics, West seemed to imply that rushing the stage during Swift's speech boosted both of their careers.
"You know how many times MTV ran that footage again? Because it got more ratings? Do you know how many times they announced Taylor was gonna give me this award? Because it got more ratings?"
4. Standing onstage to accept his Vanguard award, West questioned the whole awards ceremony enterprise. In doing so, he presented himself as a Man of the People.
"I still don't understand award shows. I don't understand how they get five people who work their entire life [to] sell records, sell concert tickets to come stand on a carpet and for the first time in their life be judged on a chopping block and have the opportunity to be considered a loser."
5. In a demonstration of accountability leadership, he admitted to a pre-show smoke, likely not of loose-leaf tobacco. (We've come a long way from Bill Clinton's "didn't inhale" in college controversy)

"Y'all might be thinking right now, 'I wonder did he smoke something before he came out here?' And the answer is yes, I rolled up a little something. I knocked the edge off."
6. Despite landing squarely in the Generation X demographic, West nonetheless connected with a key voting block, millennials, while preaching individual empowerment.
"We're not gonna control our kids with brands. We're not gonna teach low self-esteem and hate to our kids. We're gonna teach our kids that they can be something. That they can stand up for themselves. To believe in themselves. And if my grandfather was here right now, he would not let me back down."
7. In closing, West wondered about his future while laying the groundwork for his next career move.
"I don't know what I'm gonna lose after this. It don't matter though because it ain't about me, it's about new ideas, bro. People with ideas. People who believe in truth. And yes, as you probably could've guessed by this moment I have decided in 2020 to run for president."
One thing he didn't acknowledge? His as-yet unreleased but still upcoming album. Priorities, President West. Priorities.
---
Must-read stories from the L.A. Times
Get all the day's most vital news with our Today's Headlines newsletter, sent every weekday morning.
You may occasionally receive promotional content from the Los Angeles Times.