Endorsement: The Times endorses Marqueece Harris-Dawson in the 8th Council District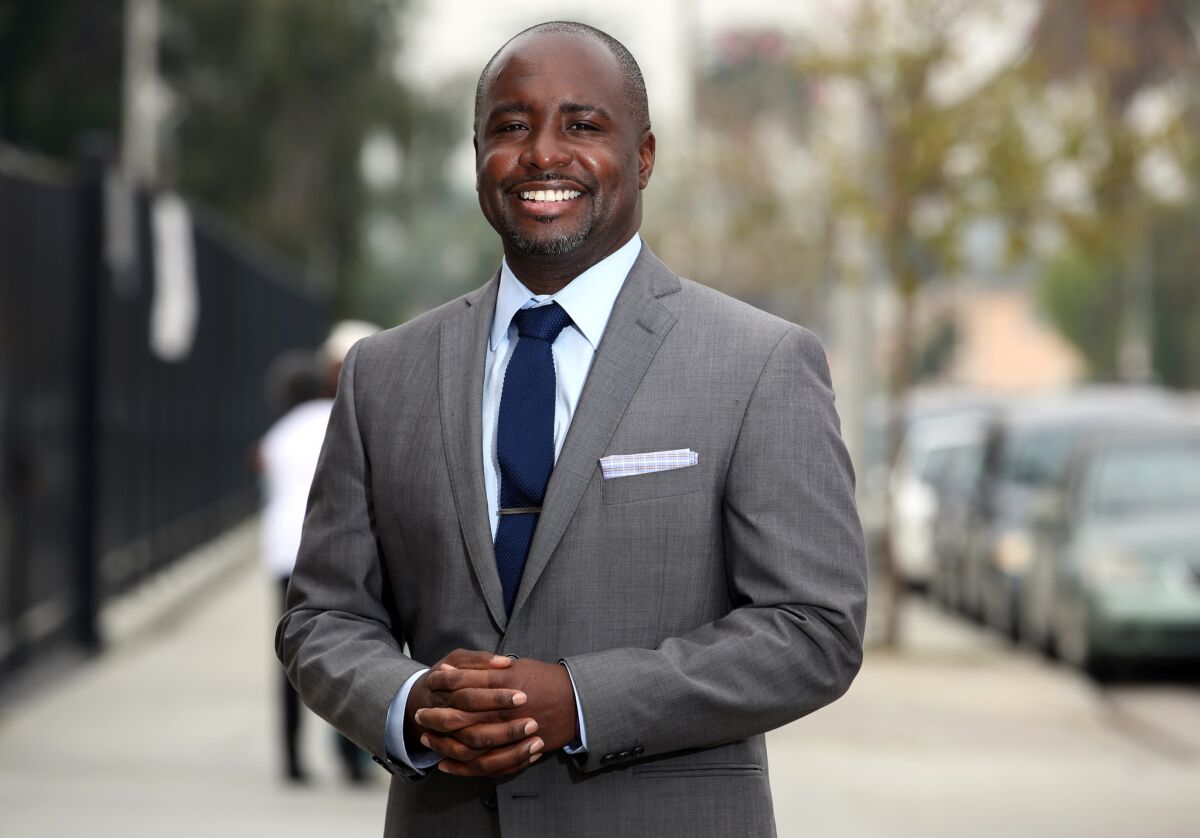 Los Angeles' 8th Council District stretches from Baldwin Hills, one of the greatest concentrations of African American wealth in the United States, southeast to Central Avenue and the front door of Watts.
In between lie middle-class neighborhoods of well-kept homes and carefully manicured lawns (many still green despite drought and watering restrictions) and once-mighty commercial thoroughfares: Crenshaw. Western. Vermont. Those streets contain far too many vacant lots, souvenirs of the fires of 1992 and of disinvestment that dates back even earlier. Also in ample supply are windowless motels that, activists say, cater to sex traffickers of underage girls and other criminal enterprises.
Councilman Bernard C. Parks was elected to serve this district 12 years ago following a career in the Los Angeles Police Department capped by a term as chief. Elsewhere in the city, residents complain about broken sidewalks that haven't been repaired in decades. Here, Parks has put discretionary funds to use fixing more miles of sidewalk than any of his colleagues.
Parks made a name for himself on the City Council as a stern budget-watcher and skeptic of public employee unions. While the majority of council members enjoyed the support of labor and resisted various demands for layoffs and salary and benefit cuts, Parks went the other way, warning of insolvency and criticizing labor demands. He often found himself on the losing end of 13-2 or 14-1 votes.
Four years ago, labor put its money behind challenger Forsecee Hogan-Rowles, who very nearly pushed Parks into a runoff. Now, with Parks termed out, Hogan-Rowles — who heads an organization that helps small businesses with micro-loans — is running for the seat. So are Bobbie Jean Anderson, whose career in activism began with a fight over freeway expansion; community leader Robert Cole; and Marqueece Harris-Dawson, who heads the Community Coalition following his tenure as an able lieutenant to the organization's founder, Karen Bass.
The Times appreciates the independence that Parks has shown on the council, especially on budget matters, and we will miss him for that reason. And we are looking for someone with the savvy and drive to reduce the district's joblessness and fill those empty lots with retail businesses that offer the services that nearby residents are too often denied.
In vetting the candidates, though, we did not find another Parks and discovered that we weren't necessarily looking for one. The Times is impressed by, and endorses, Marqueece Harris-Dawson for the 8th Council District.
The choice is in many ways counterintuitive. Harris-Dawson presents an economic development strategy that does not emphasize private investment but rather the public payroll. He argues that the city and other local governments, downsized during the Great Recession, must now refill positions once cut, and they must do it by hiring residents of South Los Angeles. City Hall, Metro, the school district, the county — Harris-Dawson says these are the employment opportunities for the 8th District.
He sounds even less like Parks when it comes to city employee salaries and benefits. Pension crisis notwithstanding, Harris-Dawson says he is not planning to go to City Hall to reduce the compensation of his constituents.
He is, in many ways, the anti-Parks candidate. If The Times supported Parks, why would we now back Harris-Dawson?
The answer lies in the individual candidate. At the Community Coalition, Harris-Dawson has shown himself to be a talented and energetic leader capable of quickly grasping the challenges that face neighborhoods and mobilizing people to demand better treatment and more resources from government.
He is rooted in community activism, but his record, and that of the coalition, demonstrates that he understands city government and how to make it work. He has mastered the art of winning nuisance abatement orders, for example, and getting enforceable conditions applied to businesses — especially motels and liquor stores — that were once centers of crime and blight.
He knows how to forge productive relationships with problem businesses, a case in point being Century Liquor on Western Avenue, where fresh and locally grown fruits and vegetables are now sold along with the cigarettes and beer, and where residents come every Friday for a farmers market in the parking lot.
We appreciate his candor. He is not one to craft statements or positions that soften his true positions merely to win support.
If Harris-Dawson is elected, and we hope he will be, we expect that he and The Times editorial page will often be at odds. We question an economic strategy based expressly on public jobs — although it can't be denied that such a strategy is based on the facts on the ground in the 8th District. Decades of efforts to entice grocery stores and other services and employers to fill those vacant commercial lots have so far ended mostly in heartbreak.
The Times believes — we insist — that the work to bring business here be stepped up. We are cheered by the fact that Harris-Dawson, although a community activist, is no novice when it comes to business or real estate. His family has a real estate company. Harris-Dawson worked, and learned, there.
We won't be shy about criticizing Harris-Dawson when we differ with him. And we know he is a thoughtful and principled leader who can give as good as he gets. Sometimes — not always, but sometimes — the quality of the candidate and the potential for what he can accomplish trump approach or ideology. This is one of those times. Harris-Dawson is the best choice for the 8th District council seat.
Follow the Opinion section on Twitter @latimesopinion and Facebook
---
Must-read stories from the L.A. Times
Get the day's top news with our Today's Headlines newsletter, sent every weekday morning.
You may occasionally receive promotional content from the Los Angeles Times.