'The sounds of the bombs will be heard in the streets': A journal found with New York bombing suspect
Law inforcement officers secure the area where they allegedly arrested bombing suspect Ahmad Khan Rahami following a shootout in Linden, N.J, on September 19.
(JEWEL SAMAD / AFP / Getty Images)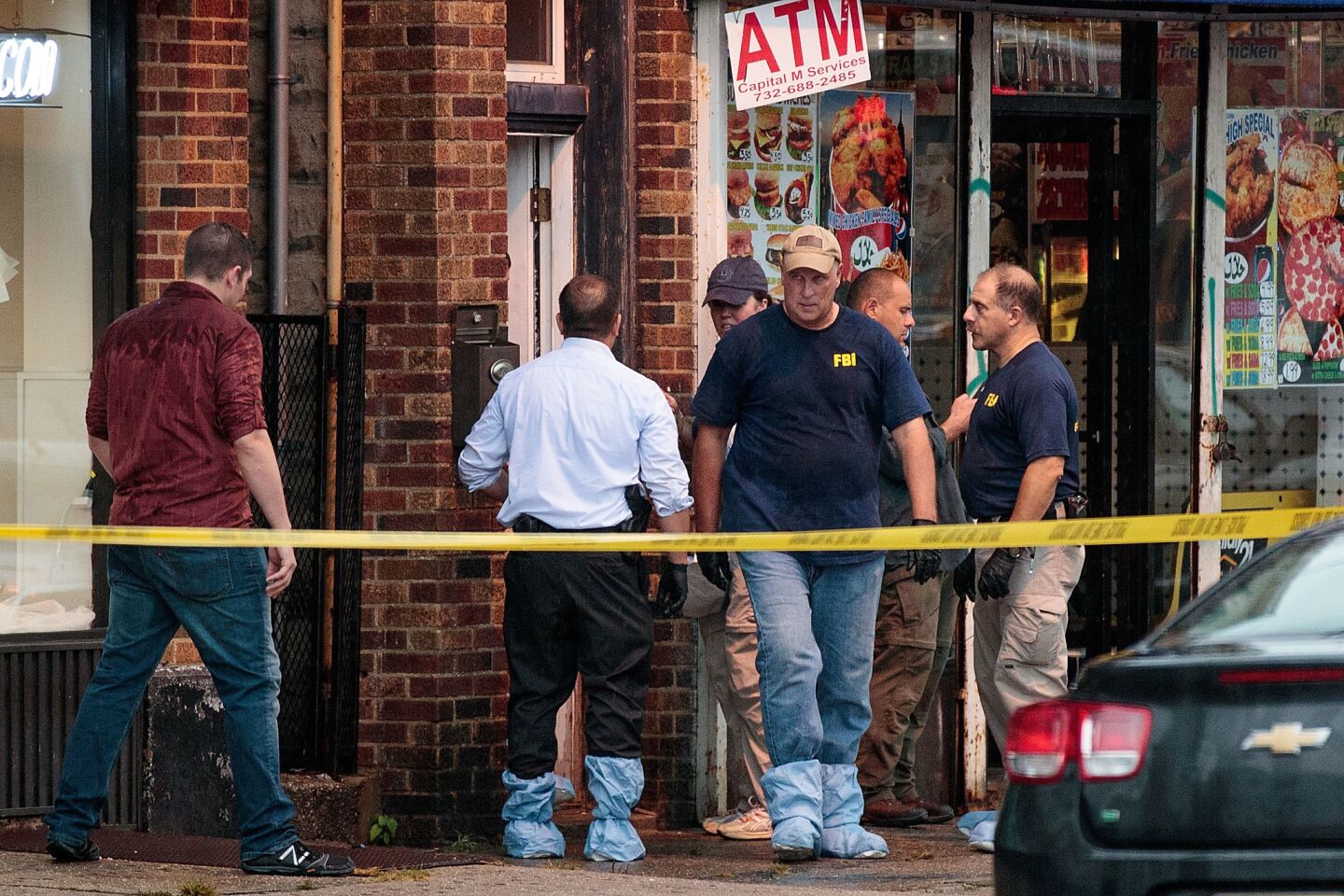 FBI and other law enforcement officials on Monday investigate a residence in Elizabeth, N.J., in connection to the Saturday bombings in New York and New Jersey.
(Drew Angerer / Getty Images)
A member of the NYPD stands guard in New York City's Herald Square. Following Saturday night's explosion in the Chelsea neighborhood of Manhattan, Mayor Bill de Blasio has promised a "substantial" police presence throughout the week.
(Drew Angerer / Getty Images)
People watch as officials gather evidence at an apartment building in Elizabeth, N.J. Ahmad Khan Rahami, a naturalized citizen from Afghanistan who has lived in the building, is wanted for questioning in the weekend bomb attacks.
(Mel Evans / Associated Press)
A member of the NYPD K-9 Unit patrols on a subway train between Grand Central Terminal and Times Square in Manhattan.
(Drew Angerer / Getty Images)
FBI agents on Sunday work a crime scene scattered with debris after a bombing the night before on 23rd Street in Manhattan's Chelsea neighborhood.
(Stephanie Keith / Getty Images)
New York Mayor Bill de Blasio, left, and New York Gov. Andrew Cuomo tour the site of the explosion.
(Justin Lane / AFP/Getty Images)
A fire truck is at the scene of the explosion on West 23rd Street in Chelsea on Saturday night.
(Bryan R. Smith / AFP/Getty Images)
Members of the FBI search for evidence as police, firefighters and emergency workers gather at the scene of an explosion in Manhattan on on Saturday night.
(Spencer Platt / Getty Images)
Police and firefighters work at the site of the bombing in Manhattan on Saturday.
(Spencer Platt / Getty Images)
Reporting from Elizabeth, N.J. —
Years before he was accused of becoming a terrorist, when he was just another young man getting by in New Jersey, Ahmad Khan Rahami led an undistinguished American life. He worked at his dad's fried chicken restaurant and went to a local college and sometimes struggled with the bills.
Then something changed. Rahami's faith in Islam seemed to grow more serious in recent years, coinciding with lengthy trips back to Afghanistan, which his family fled in the 1990s, acquaintances said. Rahami, a naturalized American citizen, grew a beard, married a woman from Pakistan, and watched jihadist martyr's anthems on YouTube, investigators say.
In 2014, after Rahami was accused of stabbing one of his brothers in the leg, his father said he contacted the FBI with concerns that Rahami was becoming a terrorist.
"Two years [ago], I called the FBI — my son, he's doing very bad, OK?" Mohammad R. Rahami said outside his New Jersey home Tuesday morning. "But they check it almost two months. ... They say, 'He's not a terrorist.' I said, 'OK.'
"Now they say he is a terrorist," he continued. "I say, 'OK.'"
On Tuesday, federal prosecutors charged the younger Rahami with planting several bombs around New Jersey and New York City last weekend, including the device that detonated on a street in Chelsea and wounded 31 people with flying glass, shrapnel and ball bearings Saturday night.
Rahami, 28, was also charged for a separate explosion earlier Saturday — a pipe bomb triggered by a cellphone — along the route of a Marine Corps charity 5-kilometer race at Seaside Park, N.J.
According to the charging document, when police captured and arrested Rahami on Monday after a gun battle in Linden, N.J., investigators found a notebook in his backpack with the following entry:
"Inshallah [God willing] the sounds of the bombs will be heard in the streets. Gun shots to your police. Death To Your OPPRESSION."
The ongoing investigation into the bombings in New York and New Jersey and Rahami's seeming radicalization has brought back familiar themes about the paths to Islamic radicalization and the government's struggle to stop plots before they happen.
Like those responsible for the deadly bombs planted at the Boston Marathon in 2013, brothers Tamerlan and Dzhokhar Tsarnaev, Rahami had traveled overseas and had come to the attention of law enforcement before the attack.
The case raises "all the same questions" about when the suspect was radicalized and how much his time outside the U.S. had influenced him, said Rep. Adam B. Schiff of Burbank, the top Democrat on the House Intelligence Committee.
Rahami referred to the Boston Marathon bombings in a notebook he was carrying when he was arrested, Schiff added. And Rahami wrote in the notebook about late Al Qaeda plotter Anwar Awlaki, an American-born radical cleric whose online videos the Boston bombers had watched.
The recent bombings highlight the challenges the FBI and other agencies face when trying to prevent such attacks.
"I'm concerned that these kinds of attacks show no signs of letting up," Schiff said. "There are thousands of people coming to the attention of law enforcement. We don't have the resources to surveil all of them, nor would it be appropriate to surveil all of them."
In Elizabeth, N.J., where Rahami lived, the arrest has unsettled residents' sense of how much they knew their own neighbors.
"We are all in shock. It goes to show that you never really know people," said Victor Reinoso, who manages the Wells Fargo bank branch where the Rahami family keeps their accounts. "Ahmad didn't look like that type. He was a normal kid, in jeans and T-shirts. People didn't think that much about them being from Afghanistan. This is a melting pot.''
Gus Serrano, a 39-year-old immigrant from Colombia, said the Rahami family has always been friendly, and would often give neighbors free chicken at their restaurant.
"I'm afraid," he said Tuesday. "We are in shock. It's like we were sleeping with the enemy."
Rahami began shopping for bomb components on eBay in June, according to a federal complaint, which charges him with four counts related to bombing a public place.
Over the next several months, Rahami bought citric acid, a circuit board, electric igniters for fireworks, and ball bearings, plus cellphones that could be used as bomb triggers, investigators said.
Federal authorities said they have recovered a cellphone video, shot two days before the Chelsea bombing, which appears to show Rahami blowing up a cylindrical container at or near his home in Elizabeth.
The video, recovered from a phone believed to belong to a Rahami family member, shows a fuse being lighted, then an explosion.
"The video depicts the lighting of the fuse, a loud noise and flames, followed by billowing smoke and laughter," according to an affidavit from Special Agent Peter Frederick Licata of the FBI's Joint Terrorism Task Force. "Rahami then enters the frame and is seen picking up the cylindrical container."
FBI agents said they found 12 of Rahami's fingerprints on the bomb and related materials left in Chelsea. More of his fingerprints were detected in a backpack that contained another set of explosives found near the entrance to a New Jersey transit station in Elizabeth.
Agents said they also are relying on surveillance video that showed a man who appears to be Rahami walking near the scene of the Chelsea explosion, first pulling a small suitcase behind him, then walking away without the suitcase.
On Tuesday, the FBI defended its 2014 investigation of Rahami's alleged radicalization, which was launched after Rahami was accused of stabbing his brother. (A grand jury declined to indict Rahami for the alleged stabbing.)
"In August 2014, the FBI initiated an assessment of Ahmad Rahami based upon comments made by his father after a domestic dispute that were subsequently reported to authorities," the bureau said in a statement. "The FBI conducted internal database reviews, interagency checks, and multiple interviews, none of which revealed ties to terrorism."
Rahami is believed to have traveled to Afghanistan through Pakistan at least three times for months-long visits from 2005 to 2014, a U.S. official said. He had married a Pakistani woman and brought her to the United States as his wife, said the official, who was not authorized to discuss the investigation publicly.
The woman, identified by authorities as Asia Bibi Rahami, left the United States for Pakistan a number of weeks before the bombings and was stopped by officials Sunday or Monday in the United Arab Emirates on her way back from Pakistan, a second official said. She since has been questioned by U.S. investigators, and a U.S. official described her as being "cooperative."
A third official said the wife had been scheduled to return in the coming days and did not believe she was delaying her return in response to the bombings.
Rep. Albio Sires (D-N.J.), who represents the district including Elizabeth, said Ahmad Rahami had been in contact with his office in 2014, asking for help securing a visa for his wife. He said the request was complicated by the fact that her passport had expired and that by the time she replaced it, she was 35 weeks pregnant.
"He showed up at my office. The staff thought he was a little abrupt,'' Sires said. "But there was nothing unusual about it. This district has a lot of immigrants. We do this all the time.''
When Rahami returned to the U.S. from Pakistan, the pattern of his travel history was a red flag for border officials. Rahami was told by the officer checking his passport he would be asked additional questions about his time outside the U.S.
Information about Rahami from that secondary interview was entered into the TECS database, a repository of information about travelers maintained by U.S. Customs and Border Protection, according to a U.S. official briefed on Rahami's travel.
The official would not say what kind of details about Rahami were included in the database, but said the description of that interview was available to FBI agents looking into Rahami's background later on.
Because Rahami is a U.S. citizen, customs officials who interviewed him in 2014 would not have had the power to deny him entry. If a U.S. citizen is wanted by law enforcement, the system is designed to notify authorities when someone with a warrant enters the country so that the person can be held at the entry point until arrested.
Rahami faces federal charges of using a weapon of mass destruction, bombing a public place, destruction of property by fire or explosive and using a destructive device in the commission of a crime of violence.
Times staff writers Wilber and Bennett reported from Washington, Demick from Elizabeth, N.J. and Pearce from Los Angeles.
---
UPDATES:
7:50 p.m.: This story has been revised throughout for additional details and for clarity.
6 p.m.: This story was updated with a statement from eBay.
5 p.m.: The story was updated with additional details from the charging document.
4:15 p.m.: This story was updated with details of new federal charges filed against the bombing suspect.
2:35 p.m.: This article has been updated with details of Rahami's questioning by U.S. Customs and Border Protection in 2014.
2:15 p.m.: This article has been updated with details of when Rahami's wife left the U.S.
2:05 p.m.: This article has been updated with news of Rahami's wife speaking to authorities.
1:46 p.m.: This article has been updated with a statement from the FBI.
1:22 p.m.: This article has been updated with comments from Rep. Adam Schiff.
12:10 p.m.: This article has been updated with more details about the 2014 FBI investigation into Ahmad Khan Rahami, and about Rahami's child custody battles.
11:35 a.m.: This article has been updated with details about Ahmad Khan Rahami's wife.
10:15 a.m.: This article has been updated with details about the investigation into Mohammad Rahami's complaints about his son in 2014.
10:08 a.m.: This article has been updated with comments from the suspect's father.
This article was originally published at 9:35 a.m.
---
Must-read stories from the L.A. Times
Get the day's top news with our Today's Headlines newsletter, sent every weekday morning.
You may occasionally receive promotional content from the Los Angeles Times.