Engineer in Philadelphia train crash has long advocated for rail safety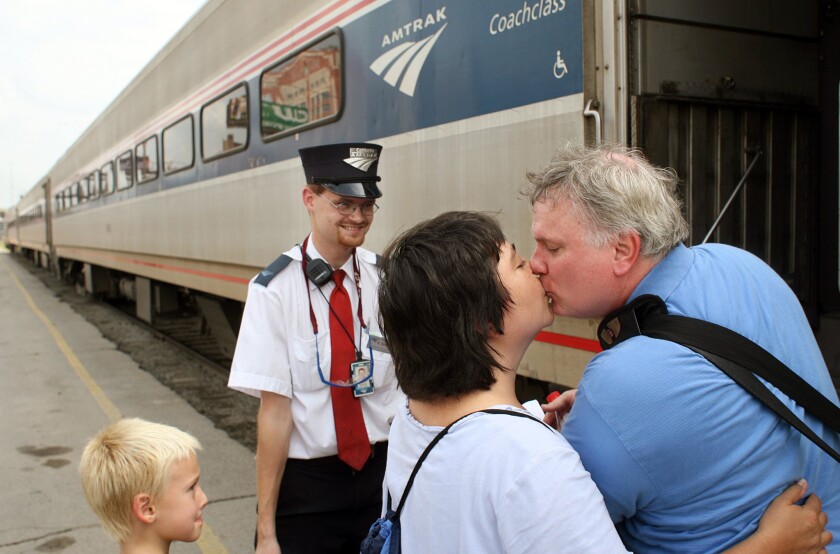 The Amtrak engineer on the speeding train that derailed on a curve, killing eight passengers and injuring more than 200 in Philadelphia, is a passionate rail advocate who has supported stronger industry safety standards.
Brandon Bostian, 32, of Queens, N.Y., has been a train aficionado at least since grade school outside Memphis and through his years at the University of Missouri in Columbia in the early 2000s. University dorm roommates recalled him playing on a rail simulator in his room and talking about trains in casual conversation.
It was "trains from the start," said Lee Allen, 31, who met Bostian in the fifth grade in the Memphis suburb of Bartlett. "We were total dorks; that's part of why we hung out all the time. He's one of the nicest guys I've met, absolutely dependable and trustworthy."
After college, Bostian landed a job in the industry he loved, getting work with Amtrak on routes in the San Francisco Bay Area and the heavily trafficked Northeast corridor between Washington and New York City.
Bostian has described himself as a type-A personality enamored of checklists, writing to his friends in one Facebook status: "At work, I run through a five-item checklist after I inspect my engine and before I touch anything. Then a 10-item checklist before I move the train an inch, and another four-item list at every station stop. So I guess it's no surprise that I keep a checklist for packing a bag for an overnight trip."
Now, Bostian's diligence is at the center of investigators' scrutiny and Philadelphia Mayor Michael Nutter's incredulity over why his train, the Amtrak Northeast Regional 188 from Washington to New York, was going more than 100 mph as it sped into a curve with a speed limit of 50 mph.
National Transportation Safety Board member Robert Sumwalt said Thursday that analysis of the train data recorder and a camera set up in the locomotive showed the train rapidly and steadily increasing speed in the last 65 seconds before the crash.
Sumwalt said the train was traveling faster than 70 mph 65 seconds before impact. At 43 seconds before impact, it exceeded 80 mph. At 31 seconds, it had increased to 90 mph. Sixteen seconds before impact, it topped 100.
The NTSB expects to meet with Bostian "in the next few days," Sumwalt said.
Earlier Thursday, Bostian's attorney told ABC's "Good Morning America" that Bostian had suffered a concussion and other injuries in the derailment, and had 15 staples in his head as well as stitches in his leg.
Bostian was "knocked out" in the crash Tuesday night, but recalls regaining consciousness, searching for his bag and calling 911 on his cellphone, attorney Robert Goggin said.
The attorney said Bostian told him that he does not have any medical issues and that he immediately consented to a police request to have his blood tested. The test turned up "no drinking, no drugs, no medical conditions, nothing," Goggin said.
The attorney said Bostian's cellphone was put away in his bag and was not turned on while he was operating the train, per Amtrak rules.
"He remembers driving the train," Goggin said. "He remembers coming into the curve. He remembers attempting to reduce speed thereafter. He does not remember deploying the emergency brake."
The NTSB has concluded that Bostian applied the emergency brake several seconds before the crash.
Even as investigators focused on Bostian and the speed at which the train was moving, officials pressed the need for an automated safety system known as positive train control, which they say could have prevented the disaster. The system is in operation in parts of Amtrak's busy Northeast corridor, but not along the northbound stretch of track where the train derailed.
On the rail message board Trainorders.com, where Bostian has posted for more than a decade on issues as wide-ranging as electrical outlets on trains and other rail crashes, he has repeatedly called for improved industry safety measures to prevent engineers' mistakes.
"It shouldn't take an act of Congress to get industry to adopt common-sense safety systems on their own," Bostian wrote of the 2008 Metrolink train crash in Chatsworth that killed 25 people and injured 135 after an engineer ran a red stop signal while texting on his cellphone. That disaster prompted a national effort to develop positive train control to prevent similar disasters.
The NTSB's Sumwalt said positive train control "would have prevented this accident."
In Bostian's 2012 post, he wrote with an enthusiast's zeal and a level of expertise common in many of his posts on the site: "A late 1920s-era cab signal system (with speed enforcement, which admittedly is a newer technology that's only about 50 or 60 years old) would have either completely prevented the Chatsworth disaster or, worst case, would have resulted in a slow-speed impact."
In 2009, Bostian wrote in defense of rules that prevented train operators from working overly long hours, "to prevent crews from being placed in a situation where their fatigue could lead them to make a catastrophic operating error that leads to a serious derailment, collision or injury to maintenance of way personnel."
Jason Gerali, 31, lived across the hall from Bostian in their dorm during their freshman year at the University of Missouri in 2001.
"He was quiet. He was always sitting in front of his computer playing the Microsoft Train Simulator," Gerali said, "which is funny because it's so boring. It's like a flight simulator but you just have to stay on the rails."
With strangers, Bostian would usually engage in a conversation about trains.
"I remember him being a real stand-up guy," said a friend from college, Mary Henderson. "A highly dependable, extremely intelligent, analytical problem-solver who was very detail-oriented." She added, "His lifelong dream was to be a train engineer."
During some of Bostian's time in Columbia, Mo., he worked as a cashier at Target, was involved with church and was a member of Acacia, a service fraternity. A LinkedIn profile under his name said he attained a bachelor's degree in business administration and management in 2006. (A spokesperson for the University of Missouri did not immediately respond to a request for confirmation Thursday that Bostian had graduated.)
As graduation approached in 2006, Bostian wrote to his fellow aficionados on Trainorders.com that he was trying to get "an amazing job with Amtrak" and that his "ultimate goal is to be a conductor." He added that working on a freight train was more of a "backup option," since "I really think my interest lies more in dealing with the general public (I know; it's weird)."
An Amtrak spokeswoman declined to release any information to The Times about Bostian's service, but the LinkedIn profile indicated that he apparently got his wish:
He became an Amtrak conductor in July 2006 and an engineer in 2010, the online profile says.
Bostian's work took him to the Bay Area, where he worked as an engineer on a Caltrain line in the San Francisco-San Jose corridor operated by Amtrak.
(A Caltrain spokeswoman said she could not confirm Bostian's exact dates of employment on the line because he was not technically a Caltrain employee.)
Bostian was involved in the fight against California's Proposition 8, a same-sex marriage ban passed in 2008, according to the Midtown Gazette. The New York publication interviewed Bostian about his support for same-sex marriage shortly after he moved to New York in 2012.
A few hours after Tuesday night's crash, Bostian changed his Facebook profile picture to a black rectangle as friends swarmed to his side and posted messages of support.
"Praying for you, my friend! And everyone else onboard," one user wrote. Another friend added, "You know, for me, Amtrack is synonymous with Brandon, and as soon as I saw the story this morning, my immediate thoughts were about you and continue to be."
Perhaps the strongest message of support came Wednesday from one friend who lists himself as an Amtrak engineer.
"Hold your head up," wrote Mark Schulthies. "What you know about yourself and those of us that know you is more important than anything being said in the media. Everyday we hold lives in our hands — 99.9% of the time it goes unappreciated and taken for granted. Yes, it happened to you but it could have been any one of us and you are not alone."
Bostian's childhood friend, Allen, called the crash a "tragedy," adding, "It's a horrible accident, and everyone who knew him just feel terrible for him."
matt.pearce@latimes.com
nigel.duara@latimes.com
Pearce reported from Los Angeles, Duara from Phoenix.
---
The Latinx experience chronicled
Get the Latinx Files newsletter for stories that capture the multitudes within our communities.
You may occasionally receive promotional content from the Los Angeles Times.