Railroad CEO apologizes for East Palestine derailment, but avoids specifics at Senate hearing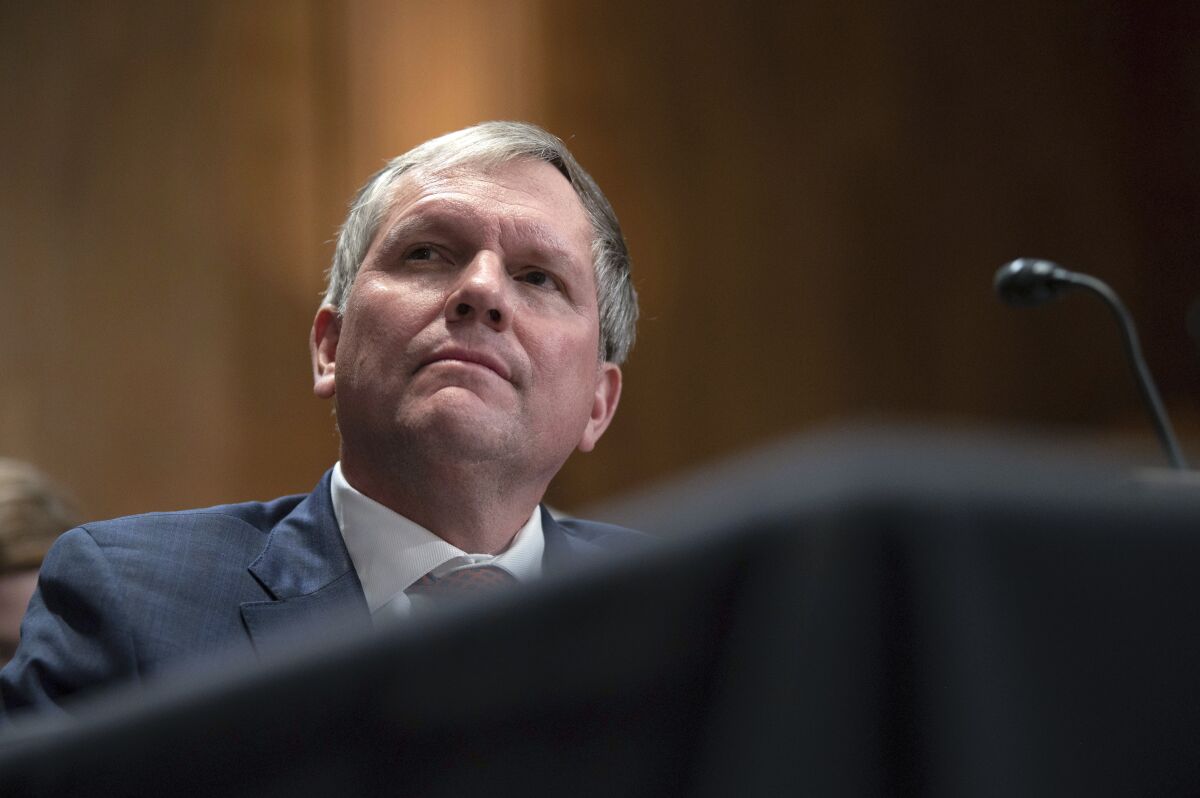 WASHINGTON —
Norfolk Southern's chief executive apologized before Congress on Thursday for last month's fiery hazardous-materials train derailment on the Ohio-Pennsylvania border and pledged millions of dollars to help the local town recover. But he stopped short of fully endorsing tougher safety regulations or specific commitments to pay for long-term health and economic harm.
In a packed Senate hearing, Alan Shaw said his railroad firmly supports the goal of improving rail safety, but he also defended his company's record.
He was questioned closely by both Democrats and Republicans about specific commitments to pay for long-term health and economic harm; the decision-making that led to the release and burn of toxic vinyl chloride from five tanker cars; and the company's commitment to safety and helping the people of East Palestine, Ohio.
"I'm terribly sorry for the impact this derailment has had on the folks of that community," Shaw told the Senate Committee on Environment and Public Works. "We're going to be there for as long as it takes to help East Palestine thrive and recover."
But the condolences and commitment of $20 million in aid so far hardly satisfied lawmakers or several East Palestine residents who traveled to Washington for the hearing.
"How do we trust that man with our health and the health of our children, when he won't even answer the questions that we need answered?" said Jami Cozza, adding that her family continues to suffer from illnesses.
The crew of a train that derailed in Ohio received a warning about an overheated axle only just before the cars went off the tracks, the NTSB says.
The company has announced several voluntary safety upgrades. Senators, however, are looking to act themselves as they investigate the derailment, the Biden administration's response and the company's safety practices after the toppling of 38 rail cars, including 11 carrying hazardous materials.
Norfolk Southern is also under pressure from federal regulators. The National Transportation Safety Board and Federal Railroad Administration announced investigations this week of the East Palestine derailment and other accidents, including the death of a train conductor Tuesday.
Just Thursday, a Norfolk Southern train derailed in Alabama. Company and local officials said there was no threat to the public.
In the East Palestine crash, no one was injured, but half of the roughly 5,000 local residents were evacuated. Scenes of billowing smoke above the town, alongside complaints from residents that they are still suffering from illnesses, have turned national attention to railroad safety and the ways dangerous materials are transported.
It's all sparked a show of bipartisanship in the Senate. The committee on Thursday also heard from Ohio and Pennsylvania senators — J.D. Vance (R-Ohio), Sherrod Brown (D-Ohio) and Bob Casey (D-Pa.) — who are proposing new safety regulations under a Railway Safety Act of 2023.
Officials are asking about railroad safety after a fiery derailment in Ohio forced evacuations over concerns about the toxic chemicals on the train.
Train derailments have been getting less common, but there were still more than 1,000 last year, according to Federal Railroad Administration data. And as East Palestine shows, even a single train derailment involving hazardous materials can be disastrous.
Hazardous materials shipments account for 7% to 8% of the roughly 30 million shipments railroads deliver across the U.S. each year. But railroads often mix shipments and might have one or two cars of hazardous materials on almost any train. The Assn. of American Railroads says 99.9% of hazardous-materials shipments reach their destinations safely.
The Senate Commerce Committee will also hear from Shaw, as well as NTSB Chair Jennifer Homendy, in a hearing this month.
Shaw is backing proposals to tighten standards for tank cars that the railroads don't own, expand hazardous-materials training for first responders and establish standards for the track-side detectors railroads use to spot problems. The company has also said it is adding "approximately 200 hot bearing detectors" to its network. The NTSB has said a detector warned the crew operating the train that derailed Feb. 3 outside East Palestine, but workers couldn't stop the train before more than three dozen cars came off the tracks and caught fire.
Some lawmakers want to push beyond voluntary safety upgrades. The Railway Safety Act of 2023, which has gained support from Senate Majority Leader Charles E. Schumer (D-N.Y.), would require more hot-bearing detectors to be installed, set limits on train length and make sure railroads notify states about the hazardous materials they are transporting.
Some Republicans have hesitated to support the proposal, resisting efforts to impose new regulations.
Ohio residents are saying they're still suffering from illnesses nearly a month after a train carrying toxic chemicals derailed.
Vance, who was elected in November, slammed those in his party who have dismissed his bill, saying they are ignoring a shift in the GOP to appeal to blue-collar voters.
"We have a choice: Are we for big business and big government, or are we for the people of East Palestine?" he said.
Republicans are more eager to delve into the emergency response to the East Palestine derailment.
Thursday's hearing also featured environmental protection officials from the federal, state and local levels. They acknowledged communication problems in the days immediately after the derailment, including around the decision to release and burn the vinyl chloride.
Republicans have criticized President Biden for not visiting the community since the derailment. The Democratic president has said he will visit at some point.
The Senate bill also touches on a disagreement between railroad worker unions and operators by requiring train crews to continue to have two people. Unions argue that railroads are riskier because of job cuts in the industry over the last six years. Nearly one-third of all rail jobs were eliminated and train crews, they say, deal with fatigue because they are on call night and day.
Shaw said Norfolk Southern has gone on a "hiring spree" in the last year, but he didn't back a requirement to maintain two-person crews on freight railroads.
He pointed to more than $1 billion the company spent on safety last year, but he acknowledged that Norfolk Southern also spent more than $3 billion buying back its stock and recorded a $3.3-billion profit in 2022.
"I am committed to making Norfolk Southern's safety culture the best in the industry," he told the Senate panel.
Democratic Sen. Edward J. Markey of Massachusetts rejected Shaw's talk of safety after a recent string of incidents, including a derailment Saturday near Springfield, Ohio, and the death of a conductor this week at a steel plant in Cleveland.
"It seems like every week there's another accident that Norfolk Southern is a part of in our country. So you might think that you've put in enough, but the facts are saying just the opposite," Markey said.
The senator also pressed Shaw to make specific commitments including paying for the loss of home values in East Palestine. Shaw repeated this refrain: "I am committed to do what's right."
Markey retorted: "What's right for the community will then be balanced — which is what we can see from the stock buybacks — with what's right from Norfolk Southern, and that's going to be to sue, to fight, to resist full compensation for these communities."
Misti Allison, an East Palestine resident, said she also was frustrated by the lack of specifics from Shaw. She said a chemical odor still lingers at her home as authorities remove contaminated soil.
"It's heartbreaking because people have real valid concerns right now. People are sick," Allison said. "That contaminated soil that they were talking about, it's still there. They're driving it down our roads."
Life is stressful. Our weekly mental wellness newsletter can help.
You may occasionally receive promotional content from the Los Angeles Times.