They were in love. He was planning to propose. How the Las Vegas shooting tore this couple apart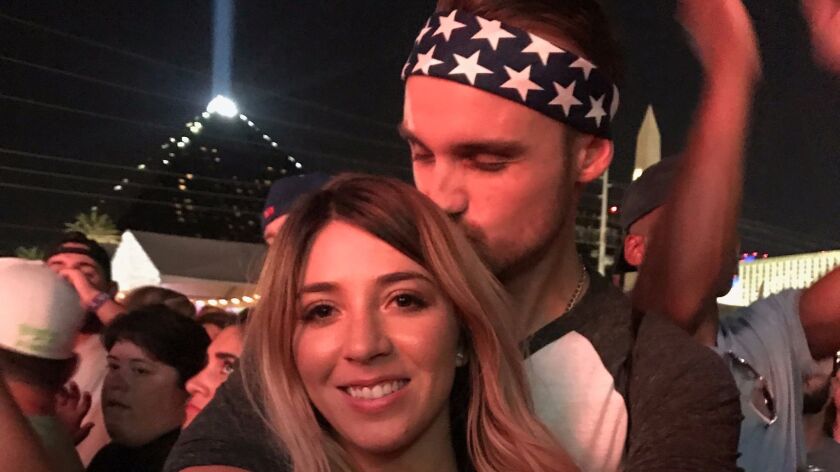 It was nearly one year ago when Derek Miller walked inside a Sephora store in Huntington Beach with his younger sister and locked eyes with Andrea Castilla.
For five months Miller, a dirt bike rider, found excuses to visit the beauty store where the blond, brown-eyed makeup artist worked, getting butterflies as he tried to work up the courage to talk to Castilla, but each time ultimately failing.

For the record:
8:00 PM, Oct. 15, 2017
An earlier version of this article said Derek Miller attended a candlelight vigil on Monday. It was on Sunday.
His previous relationships hadn't worked out, and he'd never been the one to make the first move. Still, he couldn't stop thinking about her. He even told his mom.
So Miller's mom took things into her own hands. She went to Sephora and told Castilla her son had a crush on her.
Castilla told Miller's mom to have her son come by.
"I gave my mom the biggest hug," Miller said.
He went to Sephora a few days later, still nervous.
The conversation started off awkward, but after a few minutes, Castilla got right to the point:
"So do you want my number?"
"Yes," he replied.
He texted her 10 minutes after he left and asked her out on a date.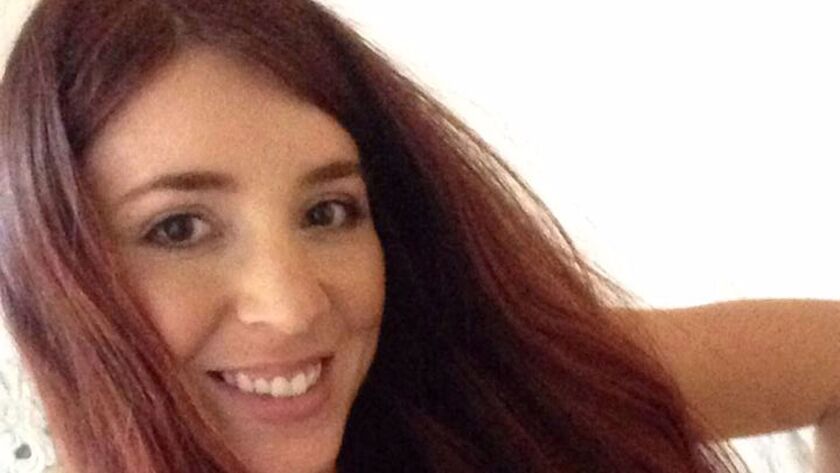 It didn't take long before Castilla, 28, and Miller, 24, moved in together.
They both enjoyed simple pleasures: sunsets at a favorite hiking spot in Laguna Beach and lazy Sunday afternoons watching TV at their apartment in Huntington Beach.
They also enjoyed the outdoors; Castilla was an avid swimmer in high school, where she often the raced the boys.
Although they had different interests, they came to appreciate each other's hobbies. Castilla would venture out with Miller to the desert and watch him ride his dirt bike.
And Miller, who is a technician at a clean-room certifying company, graciously encouraged Castilla to explore her passion for makeup, often placing her lipstick, foundation or eyeliner inside his pocket when they went out.
"Everything I did, she wanted to do, and everything she did, I wanted to do."
He also grew to appreciate her quirks.
"She would lose everything. She'd say, 'Baby, where's my phone?' at least three times a day," Miller recalled, fighting back tears. "I'd say, 'Babe, it's right behind you.'
"We wanted every single second together. We did more in seven months than most couples get to do in a lifetime," Miller said.
Even though they'd been dating for just seven months, Castilla and Miller often spoke about marriage. Castilla would lay her head upon his chest in the mornings, and Miller would look at her and say: "Baby, you're going to be my wife someday."
Or, as they drove somewhere, he would look over at her and say: "Baby, I'm going to marry you soon."
Castilla smiled at the thought.
In the weeks before a trip to Las Vegas, friends and family said, she hadn't looked this happy in years. Her mother had died of cancer when she was 13. Throughout the years, Castilla dated men who didn't treat her well, according to Miller.
"We gave each other the relationship we had waited for," he said.
On a recent trip together, Castilla marveled at a moonstone gem she spotted at a store. It was too big for an engagement ring, but Miller made note and had one custom-made.
It was Friday, Sept. 29 — Castilla's birthday — and she was sitting around the breakfast table at Woody's Diner in Old Towne Orange with Miller, her father and older brother Adam, 32.
She was going to leave for Las Vegas with Miller later that day to celebrate at the Route 91 Harvest festival. Unbeknownst to her, Miller would be bringing a ring.
During breakfast, Castilla expressed her excitement for the future. She told her brother how she wanted to pursue a career as a makeup artist for cancer survivors.
"She wanted to make them feel beautiful," Adam Castilla said.
On Sunday, Oct. 1, at the festival, Castilla and Miller met up with her sister, Athena Castilla, and her sister's fiance, Shane Armstrong.
As Jason Aldean's songs blared in the background, Castilla locked hands with Athena.
Then, someone yelled, "Duck!"
They dropped to the ground as a gunman fired on the crowd from the Mandalay Bay hotel. After a few moments they got up — except Castilla.
With bullets flying around them, Athena and Miller carried her over a fence to a road, where they flagged down a driver who took them to a hospital.
Athena placed her sister's head on her lap. They had never seen so much blood.
It was late Sunday evening when Adam Castilla got the call that his sister had been shot.
He and his father drove through the night until they arrived at a Las Vegas hospital early Monday morning to a scene of chaos, though they were able to meet up with Miller. Amid all the confusion, doctors told Adam that they found a young woman who matched Andrea's description and that she was in surgery.
But by 6 a.m. one of the doctors emerged to say they had confused Andrea with another patient. She had actually died the night before.
In all, 58 people would die in the rampage. Three of them were engaged.
Her father, brother and other family members left Las Vegas on Thursday, which is when Castilla's body was brought back to Huntington Beach.
Miller left Las Vegas during the week after the shooting and also returned to Huntington Beach. On Sunday, he attended a public candlelight vigil for Castilla and other victims of the Las Vegas shooting.
In his possession, the moonstone engagement ring he had planned to give her when he proposed.
Follow me on Twitter @melissaetehad
ALSO
Las Vegas survivors take aim at 'bump stock' maker as lawsuits begin
In Las Vegas, the casino is always watching — and yet it missed Stephen Paddock
Las Vegas gunman targeted police responding to his shooting rampage, investigation now shows
---
Must-read stories from the L.A. Times
Get all the day's most vital news with our Today's Headlines newsletter, sent every weekday morning.
You may occasionally receive promotional content from the Los Angeles Times.