Anti-Sharia rallies around the U.S. denounce Islam while stoking concerns among Muslim groups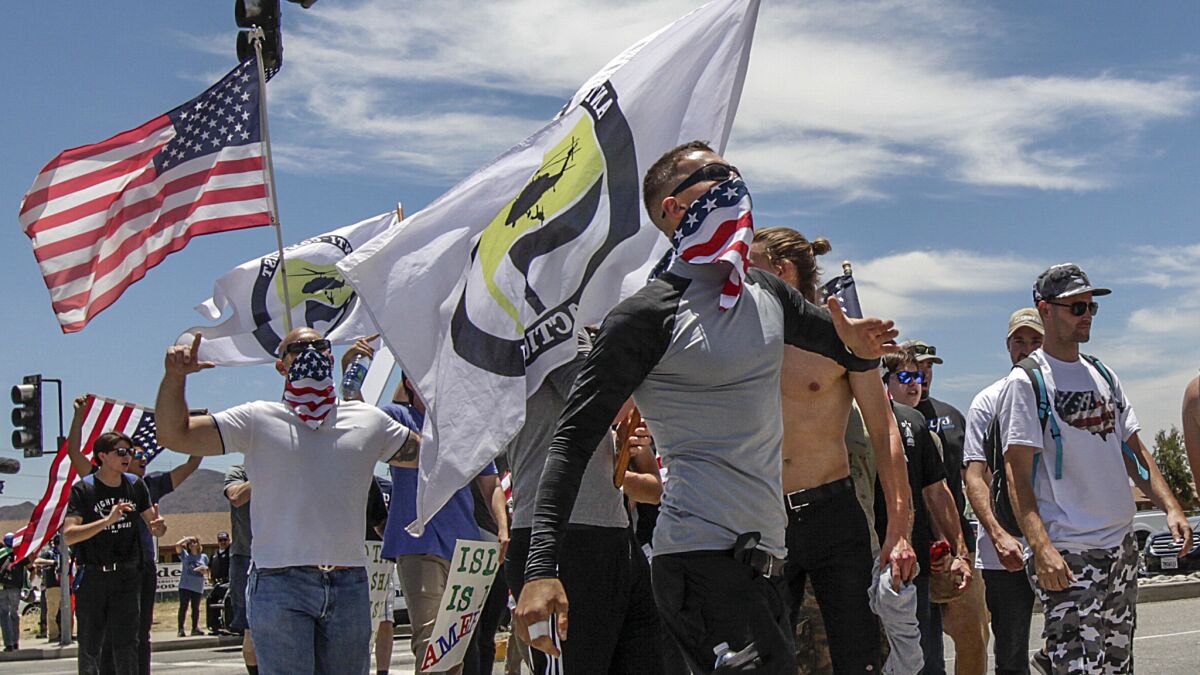 Reporting from Atlanta —
Speaking out about what they believe are the ills of Islam, anti-Sharia law activists demonstrated nationwide Saturday, but were met by counter-protesters who assailed their rhetoric as insensitive and demeaning.
Members of Act for America, which has been labeled a hate group by the Southern Poverty Law Center, gathered in parks and plazas across the country, organizing nearly two dozen so-called March Against Sharia rallies, stoking concerns and counter-events by Muslim leaders who say the group is spewing hate.
In Atlanta, an assortment of militia men brandishing assault rifles, supporters of President Trump waving American flags and men's rights activists wearing helmets descended on Piedmont Park, a leafy oasis in the city's affluent, liberal Midtown neighborhood.
In New York, nearly 100 people attended a rally near lower Manhattan. They were outnumbered by counter-protesters, and the two sides hurled insults across two rows of police barricades.
"Commies," screamed the anti-Sharia demonstrators.
"Fascists," retorted the counter-demonstrators.
Some anti-Sharia marchers in Orlando, Fla., such as Sheryl Tumey, noted the timing of event, two days before the one-year anniversary of the Pulse nightclub shooting, as a reason to protest. The gunman, who killed 50 people at the gay club, had been inspired by Islamic State extremists.
"We live here and that touched us — and that was a terrorist," said Tumey, 50. "We are here and they want to bring in a religion of hate and oppression."
And so it went around the country — in Chicago, Denver, Seattle, San Bernardino and elsewhere, where anti-Sharia marchers took to the streets and were met by their foes.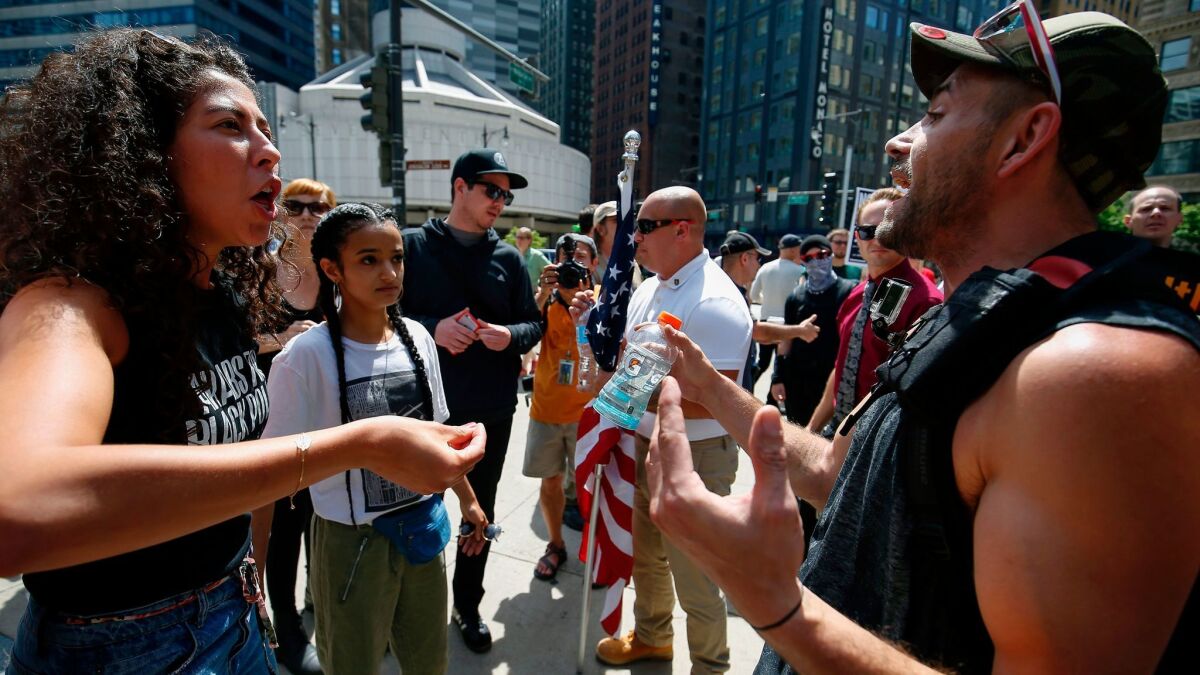 The demonstrators were protesting a set of religious and legal codes that have never been part of American jurisprudence and seem extremely unlikely to take root in the foreseeable future. Legal experts have said there is no mechanism by which any foreign criminal or civil code can trump U.S. laws, and laws mandating religious practices would be a clear violation of the Constitution's separation of church and state.
Nevertheless, joggers took out their earbuds and cyclists stopped pedaling, aghast as the small Atlanta crowd chanted, "USA! USA!" and spoke fervently of terrorism, female genital mutilation and beheadings. A small gaggle of counter-protesters held up placards and shouted, "No Hate! No Fear! Muslims Are Welcome Here."
"We have to protect America, our citizens and our way of life," said Lila Mercer, 49, an assistant manager for a big rig dealership who had traveled 40 miles from Auburn, Ga., for her first protest.
"Sharia law does not belong in America," she said as she waved a homemade placard that said "GOD BLESS USA."
Behind her, Michael Williams, a two-term Republican state senator who is running for governor, waved a tiny U.S. flag as he posed for photographs with armed members of Georgia Security Force III% militia
"We all need to come together, put aside some of our petty differences and unite together to fight Sharia law," Williams shouted through a bullhorn to the crowd of about 50 people. "We do not need it in our country. Overseas in Europe and other places, they're throwing people off of buildings, they're decapitating people because they do not believe the things they believe."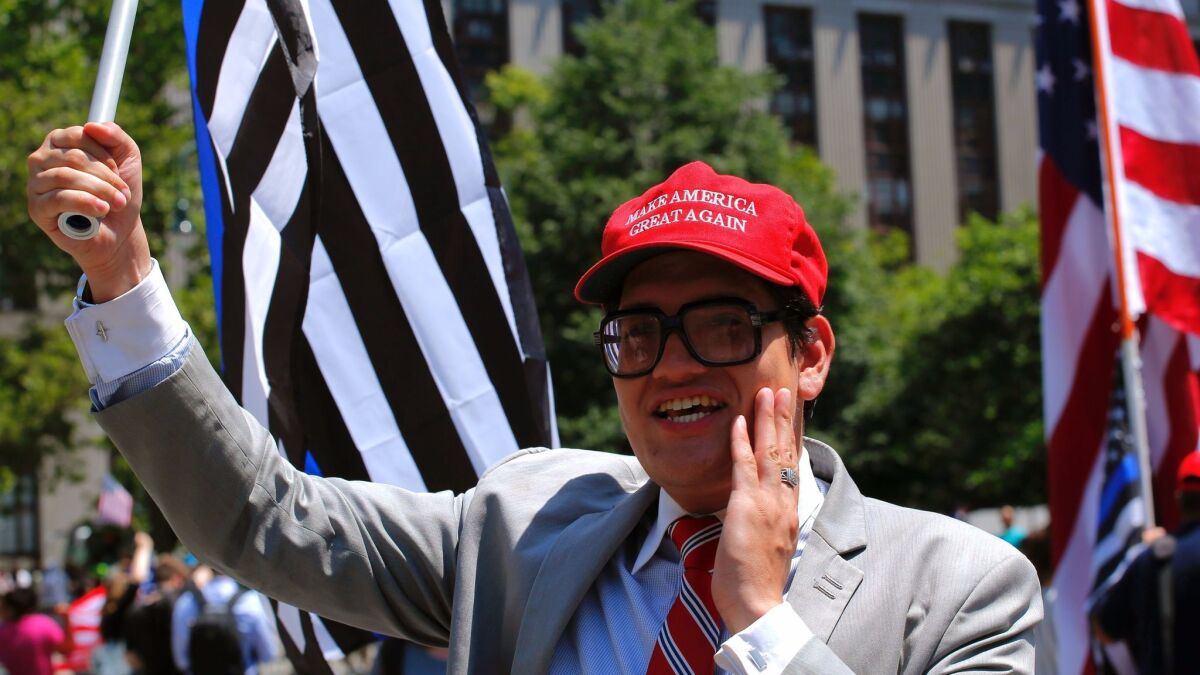 The event, where some men gripped rifles, drew concerns from passers-by.
"Is this safe?" a mother asked, anxiously covering her baby's head as she passed a cluster of men in camouflage fatigues wielding long guns. "What is this? I'm just trying to take a walk with my girlfriends."
Zack Schneeberger, an IT project manager, 36, who walked up to the group with his wife and 6-month-old while waving a rainbow flag, said the Atlanta neighborhood was a "haven of love and diversity."
"Why bring assault rifles? You do not bring bullets to get a clear understanding," he said.
Act for America, which boasts that it has more than 500,000 members, said the rallies were about defending democracy and pushing back against Sharia law. The law is a philosophical code derived from Islamic scripture and meant to guide observant Muslims. In addition to civil and criminal law, it prescribes a wide range of faith practices, such as abstaining from alcohol and praying five times a day.
"Many aspects of Sharia law run contrary to basic human rights and are completely incompatible with our laws and our democratic values," the group wrote on its website touting the rallies.
Brigitte Gabriel, who founded Act for America in 2007, has in recent years made a barrage of anti-Muslim comments.
During a speech at the Joint Forces Staff College in 2007, Gabriel said "a practicing Muslim who believes the word of the Koran to be the word of Allah … who goes to mosque and prays every Friday, who prays five times a day — this practicing Muslim, who believes in the teachings of the Koran, cannot be a loyal citizen of the United States."
Her group has worked in state legislatures pushing anti-Sharia law initiatives.
Gabriel has also touted her ties to Trump.
Last year, she posted a Facebook photo of her and Trump at his Mar-a-Lago resort in Florida. And in March, Gabriel tweeted that she was in Washington, D.C., for a meeting with members of the Trump administration. Officials with the administration later said she attended a "brief" meeting with a member of the legislative staff.
In recent months, she has lauded Trump's proposed travel restrictions, which would temporarily bar travel to the United States from six majority-Muslim countries. So far, the proposal has been stalled in federal courts and could be headed for the Supreme Court.
Heidi Beirich, director of the Intelligence Project at the Southern Poverty Law Center, a group that tracks the activities of hate groups nationwide, said Gabriel's group is meant to "defame Muslims and Islam as a whole."
"They spew hate," Beirich said.
In February, the law center reported that its count of hate groups in the country increased for the second consecutive year and that the number of anti-Muslim organizations had nearly tripled within a year. The group, among other things, attributed the growth to "Trump's incendiary rhetoric" on Muslims.
Corey Saylor, a spokesman for the Council on American-Islamic Relations, said Saturday his group was helping to organize counter-protests. CAIR was among 129 groups that urged mayors of cities where the rallies were scheduled to disavow them.
"It's simple: This group does not like Muslims," he said of Act for America.
In Atlanta, many attending the rally insisted they were not against all Muslims.
"We're marching against a politicized Islam," said Yosef Ozia, 23, a member of Proud Boys, a far-right men's group founded by Gavin McInnes, the libertarian provocateur and co-founder of Vice Media.
Yet there was some resistance to counter-protesters who chanted, "Muslims are welcome here."
"They're not welcome!" one woman attending the rally shot back.
"Do you have room in your home for them?" another hollered.
"There's only one religion in the world that can't get along, and that's Islam," said Jacob Hudson, a small business owner and Trump supporter who traveled 150 miles to the rally from Birmingham, Ala.
Muslims who oppose violence need to stand up and disavow extreme terror in the name of Islam, said Hudson, 31.
"Until they do that, we'll do it for them," he said.
Times staff writer Lee reported from Los Angeles and special correspondent Jarvie from Atlanta. Times staff writer Barbara Demick in New York and Caitlin Doornbos of the Orlando Sentinel contributed to this report.
Twitter: @kurtisalee
ALSO
Neo-Nazi website raises $150,000 to fight Southern Poverty Law Center lawsuit
'I'm with my kids': Chicago man shot dead after pleading with teen gunman
A new generation of Democrats isn't waiting for the party to tell it what to do
---
UPDATES:
9 p.m.: This article has been updated with a higher reference to the unlikelihood of Sharia law being imposed in the United States.
7:50 p.m.: This article has been updated with more comments from Atlanta protesters.
6:25 p.m.: This article has been updated with additional protests in other cities.
This article was originally posted at 1:45 p.m.
---
Must-read stories from the L.A. Times
Get the day's top news with our Today's Headlines newsletter, sent every weekday morning.
You may occasionally receive promotional content from the Los Angeles Times.