U.S. targets deposits paid to smugglers bringing kids to the U.S.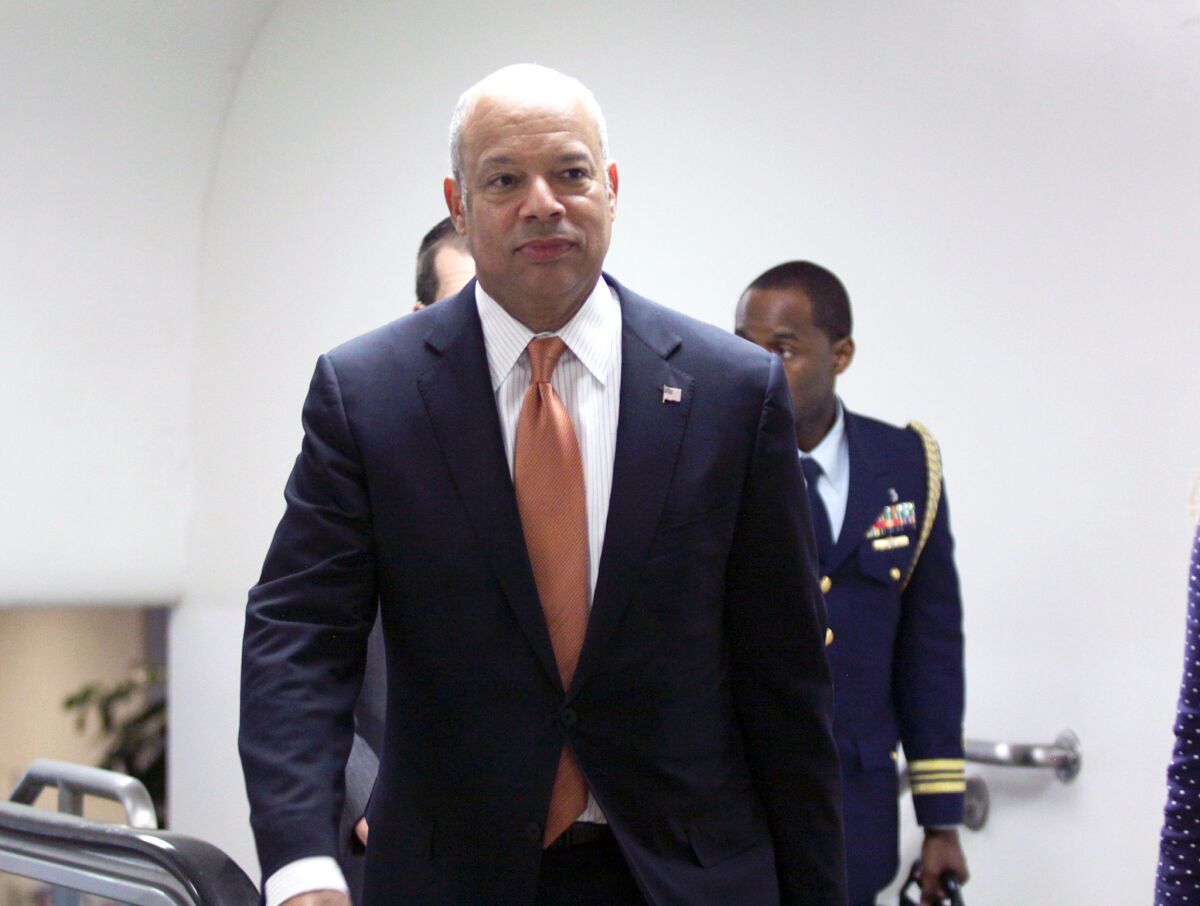 Reporting from Washington —
A crackdown on smuggling rings bringing thousands of Central American children to the U.S. has resulted in 192 arrests and the seizure of $625,000 in U.S. bank holdings, Homeland Security Secretary Jeh Johnson announced.
The arrests took place under a campaign called Operation Coyote, which began on June 23 with the deployment of 60 additional investigators to field offices in San Antonio and Houston, Johnson said.
U.S. Immigration and Customs Enforcement said it seized the money from 228 bank accounts in the last month and took into custody 501 immigrants in the country illegally.
Finding and shutting down the web of U.S. bank accounts used by smugglers to accept payments has been a key part of the push, Johnson said.
"We are focusing on the pocketbooks of these human smugglers, including their money laundering activities in the United States," Johnson said. He added that investigators are working with governments in Mexico and Central America to track and seize transfers of money flowing abroad as well.
"Those who prey upon migrants for financial gain will be targeted, arrested and prosecuted," Johnson said at a press conference Tuesday in Washington.
Border Patrol stations and social services have been overwhelmed in recent months by an influx of unaccompanied children coming across the Southwestern border. Nearly 57,000 children and teenagers, mostly from El Salvador, Guatemala and Honduras, have been apprehended coming into the U.S. since Oct. 1.
Smugglers, also known as coyotes, typically charge between $3,000 and $12,000 to bring a child from Central America to the U.S. The payments are often made using cash deposits into U.S. bank accounts that are difficult to trace.
Homeland Security investigations and the Treasury Department's Financial Crimes Enforcement Network have begun warning banks to monitor suspicious deposits and withdrawals being made in cash from different parts of the U.S. into a single account. Investigators call the suspect financial transactions "funnel accounts."
For more reporting on border security follow me on Twitter @ByBrianBennett.
---
Must-read stories from the L.A. Times
Get the day's top news with our Today's Headlines newsletter, sent every weekday morning.
You may occasionally receive promotional content from the Los Angeles Times.