U.S. Border Patrol stretched thin as caravan heads north, chief says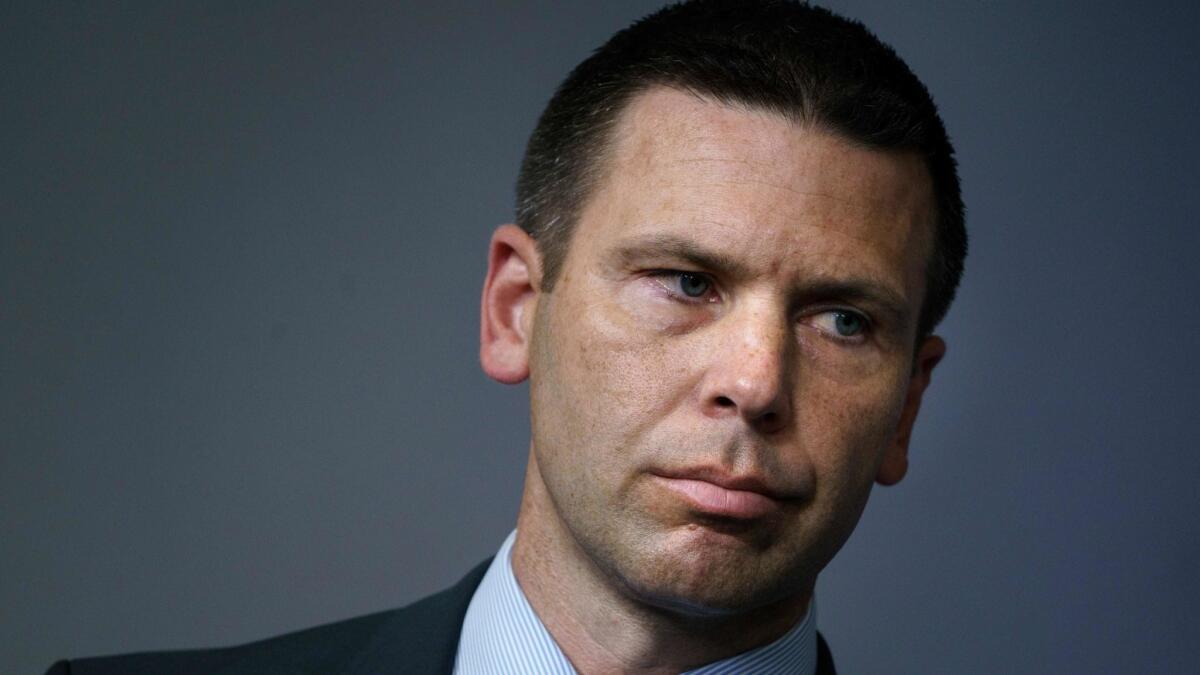 Reporting from San Ysidro —
U.S. Customs and Border Protection Commissioner Kevin McAleenan said asylum-seeking families have strained his agency's ability to respond to the caravan of thousands of immigrants headed for the U.S.-Mexico border.
"Obviously the system is beyond capacity right now," McAleenan said, with the Border Patrol responsible for transporting and caring for asylum seekers.
"I'd like to free up my officers and agents to do law enforcement work. That's what they're trained for, that's what the American people need them to do on the front line to address security risks," he said.
President Trump has vowed to stop the caravan, but it's not clear how the Border Patrol will cope, given an influx of asylum-seeking families this year that recently accelerated.
McAleenan said he plans to send special response and tactical teams to the border ahead of the caravan, likely to large ports of entry where the migrants might attempt to cross. They will be joined by 800 troops the Pentagon is deploying to assist.
"We're not going to let a large group push into the United States unlawfully," McAleenan said.
On Friday, McAleenan toured ports of entry south of San Diego in Otay Mesa and San Ysidro after meeting with Homeland Security Secretary Kirstjen Nielsen at Calexico to review a newly rebuilt section of 30-foot border wall.
The border has seen a recent surge of crossings by asylum seekers, up from 7,800 last fiscal year to 17,000 in fiscal year 2018 that ended in September, officials said.
That's reflective of a border-wide surge in asylum seekers, mostly Central American families. More than 161,000 immigrant family members were caught or turned themselves in during the fiscal year that ended last month, 42% more than any previous year.
Immigrants can legally claim asylum once they enter the U.S. Last summer, when immigrant families began lining up on bridges to claim asylum, the Border Patrol began stationing officers at the midpoint, or "limit line," of the crossings to stop them, citing limited processing space.
In San Ysidro, immigrants turned away from the border can add their names to an unofficial waiting list, a process called metering that McAleenan said keeps waits "manageable." Elsewhere on the border, asylum seekers are just told to wait. Advocates have sued in California federal court, arguing the system is tantamount to rejecting asylum seekers.
McAleenan said that if the Border Patrol sees a significant increase in asylum seekers, it will expand metering to other border crossings — effectively blocking immigrants from entering. He said the agency already faced a "significant backlog" of asylum seekers in Tijuana and delays at three to four other crossings daily.
San Ysidro processes 100 asylum seekers a day and houses 300, larger than other crossings, which house fewer than 100. McAleenan toured holding areas where immigrants were processed behind chain-link fence and housed in locked cells that did not appear full.
McAleenan said he would like to expand the agency's ability to process and house asylum-seeking families, but did not describe specifics. That appears unlikely. The Trump administration is locked in a legal battle to extend family detention, but for now, families with children cannot be detained for more than 20 days. Therefore, allowing more families in would mean releasing more pending resolution of their immigration cases.
"The system is failing us," McAleenan said. "…We absolutely need to overhaul the system and ask Congress to address the asylum gap."
molly.hennessy-fiske@latimes.com
Sign up for Essential California for the L.A. Times biggest news, features and recommendations in your inbox six days a week.
You may occasionally receive promotional content from the Los Angeles Times.