Deportations of 'Dreamers' who've lost protected status have surged under Trump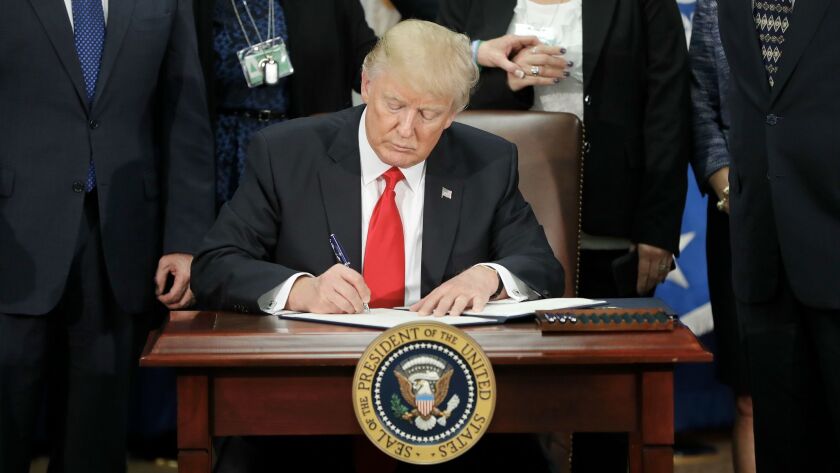 The number of "Dreamers" deported after being brought illegally to the United States as children and losing their protected status because of criminal behavior appears to have soared in the first few months of the Trump administration.
According to data released this week by the Department of Homeland Security, 43 immigrants whose protection under the Deferred Action for Childhood Arrivals (DACA) program was terminated were deported during the first two months of the Trump presidency, from Jan. 20 to March 25.
That's a much higher proportion than under President Obama, when former Dreamers were being deported at a rate of about seven a month since the program got underway in September 2012.
President Trump has stated his administration will not target DACA, an Obama-era program that allows immigrants brought into the country illegally as children, who attend school or have graduated, to apply to the federal government for a two-year work permit and protection from deportation. An estimated 742,000 Dreamers have been given protection under the program.
At issue are those former DACA beneficiaries whose protected status was canceled either because of a criminal conviction or gang activity.
Immigrant advocates say the rise in deportations of former Dreamers is likely a result of Trump's executive orders tightening border security and immigration enforcement.
The Obama administration prioritized deportation of immigrants who were deemed a danger to public safety, convicted of a serious crime, a threat to national security or who had recently crossed the border.
"Given the Trump administration's rhetoric and policies, I'm not surprised that more people are being targeted — including individuals who are longtime residents who pose no danger, contribute to our society and economy, and have U.S. citizen families," said Lucas Guttentag, a former senior advisor at the Department of Homeland Security under Obama who now teaches law at Stanford University.
The Department of Homeland Security says its policies on DACA have not changed.
"The grounds for DACA termination have not changed since the inception of the program," Gillian Christensen, acting Homeland Security press secretary, said in a statement. She said many of the former DACA beneficiaries deported this year probably had their protected status terminated before Trump became president.
"Individuals who pose a public safety threat due to their criminal history or gang affiliation are subject to DACA revocation," she said.
Yet it appears clear that those whose DACA protection is terminated are more likely to be a target for deportation now that Trump has set new priorities for enforcement. Under the Obama administration, Guttentag said, someone could have his or her DACA status terminated yet remain a non-priority for removal if not seen to pose a danger or convicted of a serious criminal offense.
"The fact that they abandoned priorities didn't change DACA," Guttentag said. "But if a DACA recipient does something to lose eligibility, that could not make him or her vulnerable."
Under Trump's Jan. 25 executive order, immigrants in the country illegally can be deported if they are merely charged with a crime, as opposed to having a criminal conviction. All 43 former Dreamers deported since Trump's inauguration had been convicted of crimes or found to have gang affiliations, Christensen said in an email. She declined to provide any breakdown of the crimes that prompted their DACA status to be revoked.
More than 670 former Dreamers currently face removal proceedings, with 90 detained in custody, according to Homeland Security data.
The deportation figures released by the Homeland Security Department show that while 43 former DACA immigrants were deported from Jan. 20 to March 25, 20 were allowed to remain in the country.
While a total of 365 were deported during the four-plus years the DACA program was carried out under Obama, more than 500 were released from immigration custody.
Jessica Vaughan, director of policy studies at the Center for Immigration Studies, a Washington-based research institute that advocates stricter immigration policy, cautioned that it is too early to know how deportations will proceed under Trump.
"We have years of data on Obama policy and only weeks of data on Trump policies," she said. "But it does appear if you have DACA and it was revoked, you are more likely to be deported under the Trump administration than the Obama administration."
In addition to deporting former Dreamers with criminal convictions, Vaughan said she would not be surprised if the new administration also starts going after those who have not renewed their DACA status or are found to have obtained it fraudulently.
"The Obama administration put a lot of restraints on ICE," Vaughan said, referring to the Immigration and Customs Enforcement agency. "The Trump administration is starting from the standpoint that anyone here illegally is potentially subject to deportation. ICE officers are not going to be turning the other way."
ALSO
A 23-year-old 'Dreamer' sues the Trump administration over his deportation to Mexico
'Dreamer' threatened with deportation in Seattle is released after weeks of detention
Yes, Trump can boost deportations and gut the Dreamer program for young immigrants
---
Must-read stories from the L.A. Times
Get the day's top news with our Today's Headlines newsletter, sent every weekday morning.
You may occasionally receive promotional content from the Los Angeles Times.