Department of Justice won't file charges against Baton Rouge police officers in Alton Sterling's death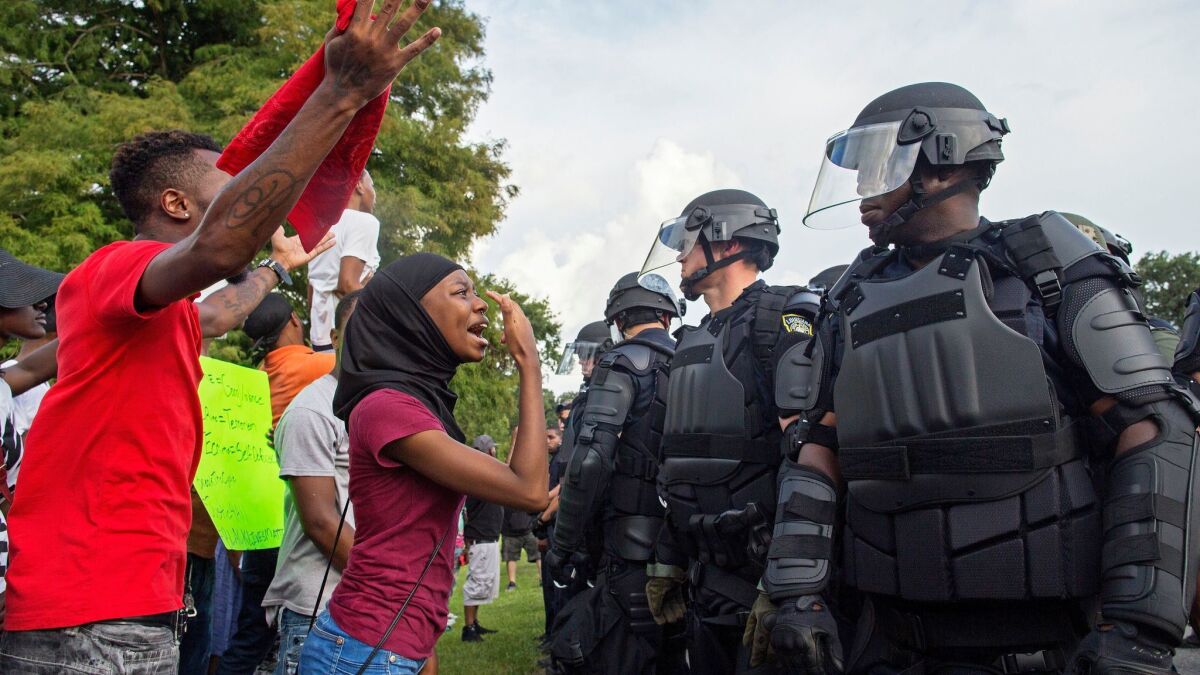 The Department of Justice will not bring federal civil rights charges against two police officers involved in death of Alton Sterling, the 37-year-old black man whose shooting by police last summer set off days of protest in Baton Rouge, La.
The decision, first reported Tuesday by the Washington Post, was confirmed by two sources familiar with the investigation. A Justice Department spokeswoman declined to comment.
Sterling was shot to death July 5 after police responded to a 911 call about a man who made a threat with a gun in front of a minimarket. Witness and police accounts differed on whether Sterling was threatening officers and whether he had reached for a gun. The Justice Department and the FBI launched an inquiry two days after Sterling's death.
The investigation sought to find out whether officers had violated Sterling's civil rights and whether the shooting was justified. It's the first inquiry into a high-profile police shooting to be completed during the Trump administration under Atty. Gen. Jeff Sessions.
The news of no federal charges does not mean the officers involved are in the clear. Louisiana Atty. Gen. Jeff Landry's office has said it would look at evidence from the investigation to see whether state charges were warranted. A spokeswoman for Landry did not reply to requests for comment on Tuesday. The officers, Blane Salamoni and Howie Lake II, both white, were put on administrative leave after the shooting.
Civil rights groups, which have criticized changes in the Justice Department's approach to policing under Sessions, had closely watched for the announcement on the investigation into Sterling's death. This week, Baton Rouge was on edge as rumors spread that an announcement was imminent.
Louisiana officials said that the Justice Department should have provided them details ahead of time about its investigation results.
The department's "failure to communicate with the community has created angst and nervousness, and I fear carries the potential for increased tension between the community and law enforcement," Rep. Cedric L. Richmond (D-La.) said in a letter to Sessions last week. Richmond's district includes Baton Rouge.
Justin Bamberg, a lawyer for the Sterling family, said Tuesday the family had not heard from the Justice Department.
"We are not aware and the family is not aware of any decision from the Department of Justice one way or another," said Bamberg. "We can only hope that the Department of Justice will inform the family beforehand so it does not have to hear the news in the newspaper or on TV."
Sessions, a critic of federal investigations of local police, has signaled a new approach toward federal oversight of local law enforcement on issues including use of force and measures to combat discrimination. Last month, he ordered a review of reform-oriented consent agreements between the federal government and local police, saying the "misdeeds of individual bad actors should not impugn or undermine the legitimate and honorable work that law enforcement officers and agencies perform."
Court-enforced consent decrees are intended to broadly change police practices — often those related to discrimination or arrest procedures — and differ from investigations into specific incidents like that in Baton Rouge. But civil rights groups said the investigation results in Louisiana could give insight into how the government would treat police shooting investigations and reform efforts that were promoted under President Obama.
The same day news came out about the Sterling case, civil rights groups also hailed the guilty plea announced in another high-profile case involving a white police officer fatally shooting a black man. In a federal court Tuesday, former North Charleston, S.C., Officer Michael T. Slager pleaded guilty to a civil rights violation for shooting Walter Scott in North Charleston on April 4, 2015.
When a grand jury indicted Slager nearly a year ago, civil rights groups praised it as a rare occasion when an officer accused of wrongdoing in a deadly shooting faced charges. In Slager's case, cellphone video showing him firing at Scott — who was unarmed and running away when he was shot in the back — was not in dispute, and he was dismissed from the force.
The situation was different in Baton Rouge.
The protests in the city, which led to 200 arrests, centered in part on different stories over what happened in the moments before Sterling's death. They were also a response to broader tensions in Baton Rouge between police and African Americans, who said they had been long mistreated by officers, an issue that became a point of focus in the Black Lives Matter movement.
The altercation between Sterling and police and the ensuring shooting were caught on a bystander's cellphone video and surveillance video. The officers at the scene wore body cameras, but police said they fell off before the shooting.
The officers were responding to an anonymous 911 call reporting that someone had made a threat with a gun in front of the Triple S Food Mart. Officers found Sterling in front of the store, where he was known to hawk music CDs. In videos, the officers first shout at Sterling to get on the ground, then tackle him. While he's pinned down, a voice is heard yelling, "He's got a gun! Gun!" before gunshots are heard.
A police report said Sterling was hit with a stun gun after not complying with officers' orders to put his hands on the hood of a car. The report said that officers saw the butt of a gun in one of Sterling's pant pockets and that he tried to reach for it.
It is unclear whether Sterling had a gun. At least one video showed police pulling an object that could be a gun from Sterling's pocket, though it was not clear if he reached for the object. The convenience store's owner, who recorded the incident on video, said Sterling did not threaten officers.
Local reports said that Salamoni, who had been on the force for three years, shot Sterling. According to the local coroner, Sterling died of multiple gunshot wounds to the chest and back. His death was ruled a homicide.
The shooting was among a string of fatal incidents involving police that gripped the country last July.
The day after Sterling was shot, the police shooting in Minnesota of Philando Castile set off protests after his girlfriend went on Facebook for a live broadcast showing Castile bleeding in the driver's seat of his car. Castile, who was 32 and black, was pulled over by an officer outside St. Paul and shot after informing the officer he had a weapon, which he was licensed to carry, in the vehicle.
The officer, Jeronimo Yanez, who is Latino, was charged with second-degree manslaughter and dangerous discharge of a firearm. His trial is expected to start later this year.
The day after Castile's shooting, five officers in Dallas were shot by an army-trained sniper during a protest over police shootings. The 25-year-old shooter, Micah Johnson, was black. Police said he left a trail of evidence that he wanted to kill white officers in response to high-profile police shootings of black men. Officers responding to the shooting killed Johnson.
Ten days later, violence returned to Baton Rouge when three officers were shot dead by 29-year-old Gavin Long. The former Marine, who was black, had a history of online video and audio ramblings in which he described violence as the solution to the oppression of black Americans. Long was also killed by responding police officers.
---
UPDATES:
6:30 p.m.: This article was updated with comments from Louisiana officials and additional background.
This article was originally published at 3:30 p.m.
---
Must-read stories from the L.A. Times
Get the day's top news with our Today's Headlines newsletter, sent every weekday morning.
You may occasionally receive promotional content from the Los Angeles Times.