As police shootings continue, bystanders get more sophisticated at filming altercations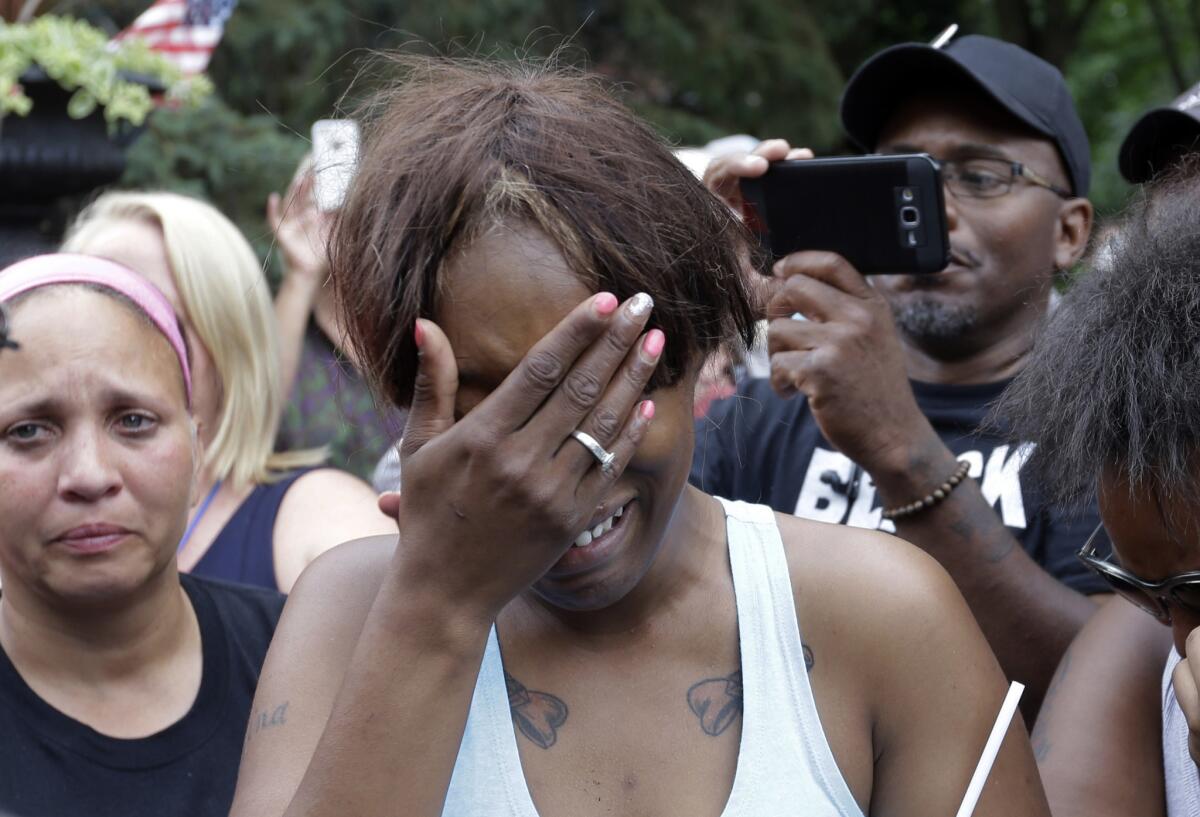 The gunshots had stopped by the time Diamond Reynolds started filming. Her boyfriend sat dying in the driver's seat of their car, his shirt drenched with blood. A police officer stood in the background, cursing, as he kept his gun trained on Philando Castile's slumping body.
Millions of viewers from around the world have now seen Reynolds' stunning livestream Facebook video, in which she calmly says that an officer had pulled the couple over for a broken tail light in a Minneapolis suburb Wednesday — and then shot Castile, who was black, as he reached for his wallet.
It was the second high-profile police shooting of a black man in two days, and that audience of millions is exactly what Reynolds wanted – because she had no confidence that the police would properly investigate the shooting.
"I wanted everyone in the world to know that no matter how much the police tamper with evidence, how much they stick together ... I wanted to put it on Facebook and go viral so that the people could see," an emotional Reynolds told reporters Thursday after news of her boyfriend's death circled the world.
"I did it so that the world knows that these police are not here to protect and serve us. They are here to assassinate us. They are here to kill us because we are black."
Castile's shooting death and the shooting death of Alton Sterling in Baton Rouge, La., this week have reignited a familiar wave of protests and racial anxiety over police shootings, which continue to occur despite largely fading from national headlines since a series of high-profile cases in 2014 and 2015.
Investigators are looking into both cases and have not said whether they suspect the officers in either instance acted criminally, but both cases suggest that witnesses such as Reynolds have grown more sophisticated in documenting police use of force and intentionally bypassing investigators to bring their evidence to the public.
The public outcry over the video, viewed more than 4.2 million times, was accompanied by a public condemnation of the incident by Minnesota Gov. Mark Dayton, who said racism appeared to be a factor. "Nobody should be shot and killed in Minnesota … for a taillight being out of function," the Democratic governor said. "Nobody should be shot and killed while seated still in their car. I'm heartbroken."
Members of the Baton Rouge nonprofit Stop the Killing filmed and released video of Sterling's shooting Tuesday after police scanner traffic drew them to the scene, according to the group's founder, Arthur Reed.
Their video, which prompted street protests in Baton Rouge, shows two white police officers fatally shooting Sterling, 37, after apparently pinning him to the ground. Sterling had been selling CDs in front of a convenience store.
Reed said the group chose to release the video publicly instead of turning it over to the police because they saw it as evidence of misconduct that they didn't trust the department to investigate.
"We didn't want to just go to the cops and go, 'It looks like the police was wrong,' and suddenly the file was corrupted," Reed said of the video.
State officials called for the U.S. Department of Justice to handle the investigation. Reed said his group had not yet been contacted by any investigators.
"We're not interested in talking to them," he said. "They have the video. That's all they need from us."
The media obtained a second video Wednesday that showed Sterling's fatal shooting. It was taken by the store's owner, Abdullah Muflahi, who also didn't trust police enough to hand over the video, said his attorney, Joel Porter.
In a tactic that could have been taken out of an investigators' playbook, Porter hinted that there was more evidence – but that he was holding it back so that he could use it to evaluate whether police were being truthful.
"I want them to be locked into a narrative," he said. "They thought they could come in and confiscate and control what the narrative was. But now they know there's other footage out there."
So important has citizen documentation become that the American Civil Liberties Union and other groups have created smartphone apps that allow onlookers to observe, record and report.
"In communities where men, women and children are profiled, arrested, beaten and even killed under suspicious circumstances and at alarming rates, citizens need to be able to create an accurate record of their interactions with police," Darrell Dawsey, spokeman for the ACLU of Michigan, wrote when that state's "Mobile Justice MI" app was released in June 2015.
In many cases, the officer-involved shootings that gain public attention are those documented in a video.
That was the case in Fresno this week with news that police had shot a 19-year-old man on June 25. The case had already sparked protests when cellphone video shot by an unidentified witness and obtained by the Fresno Bee brought even more public scrutiny to the case. It shows Dylan Noble lying on the ground as two officers with their guns drawn stand feet away from him.
As officers yell, "Keep your hands up," and other commands, one shot is fired. Seconds later, a third officer approaches, and another shot rings out. At one point Noble can be seen raising his arm and saying, "I've been shot."
Video emerged in a similar fashion in North Charleston, S.C., in early 2015 when police officer Michael Slager shot and killed a black man, Walter Scott.
A bystander, Feidin Santana, shot video of Slager shooting Scott as Scott ran away, and then left the scene without releasing the video to police because he was afraid, his attorney said.
But when investigators gave a different version of the circumstances of the shooting to the local media, Santana said: "I gotta do this, I gotta release this, or they're going to get away with murder," according to his attorney, Todd Rutherford. The video quickly became national news and Slager was charged with murder and indicted on federal charges.
The fact that amateurs have embraced some of the tactics used by activist groups who monitor the police has made some activists nervous.
Jacob Crawford is an Oakland-based founding member of WeCopwatch, which monitors police encounters with the public. On multiple occasions, he said, he has been afraid for his life.
Activists at Copwatch-type groups around the country sometimes get in shouting matches with the police and also get arrested.
"As they have become bolder and more confrontational, group members have increasingly encroached upon officers at scenes of law enforcement activity," Deputy Police Chief Leland Strickland in Arlington, Texas, wrote in a department memo in 2014.
Crawford said problems can arise as more with people attempt to film police stops alone and without proper training.
"I get so worried because I want everybody to be safe and make it away with the best outcome," he said.
Joaquin Cienfuegos, an organizer at Cop Watch LA, explained some of the safety precautions that his organization recommends: Observers should go out in groups, stand within a reasonable distance and be careful not to interfere with the police investigation.
Livestream capability has become a new tool for Copwatch members because it allows them to share incidents before police have a chance to confiscate phones or build an official narrative about what happened, Cienfuegos said.
In the recent case in Minnesota, Cienfuegos said, "If she wasn't livestreaming that, none of this [strong public response] would've happened."
matt.pearce@latimes.com
molly.hennessy-fiske@latimes.com
erica.evans@latimes.com
Pearce and Evans reported from Los Angeles and Hennessy-Fiske reported from Baton Rouge, La.
ALSO
Justice Department to investigate Alton Sterling's killing by police in Louisiana
Comey says FBI did not 'give a hoot about politics' in Clinton email investigation
Trump says he admired Saddam Hussein only for how he killed terrorists
Sign up for Essential California for the L.A. Times biggest news, features and recommendations in your inbox six days a week.
You may occasionally receive promotional content from the Los Angeles Times.