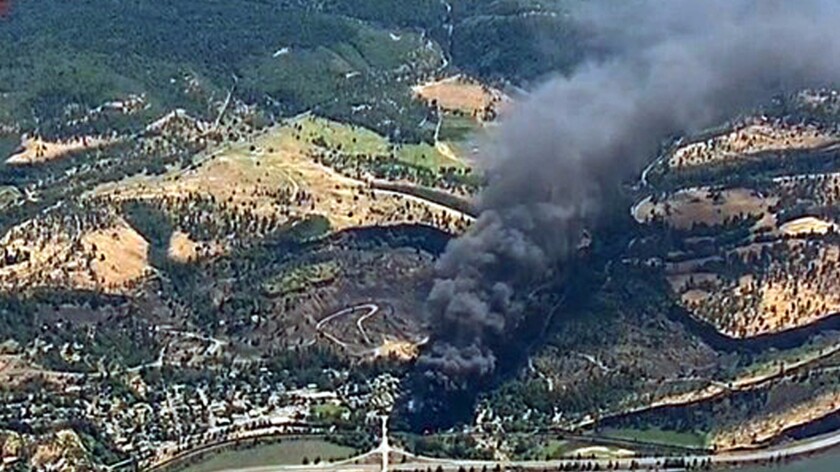 An Oregon river town was evacuated Friday afternoon after an oil train derailed and two cars caught fire and sent thick smoke into the air, the sort of accident that communities along the rail route have long feared and said they were not prepared to handle.
The town of Mosier, population 440, was evacuated after the 12:30 p.m. derailment.
No one was hurt when the 96-car train derailed, authorities said, and no oil was believed to have reached the Columbia River. The cause of the derailment remains under investigation.
"Right now there are no impacts to the Columbia River from any oil releases," said Greg Svelund, a spokesman for the Oregon Department of Environmental Quality. "We can say that with confidence."
Each month, milelong Union Pacific trains carry 3 million gallons of Bakken crude oil on the Oregon side of the Columbia River Gorge to refineries in Washington state.
The gorge is dotted with small, rural towns that are ill-equipped to fight fires involving volatile crude oil. In a survey last year of 80 Oregon fire agencies along the gorge, the state fire marshal found that 90% were unprepared to fight a fire resulting from a spill.
"A majority of fire agencies with crude oil trains traveling through their jurisdictions … do not have enough equipment to respond to a crude oil incident," the survey concluded.
The state relies on 13 regional hazardous materials teams to fight oil train fires. But given the geography, the teams have a "goal response time" of 2 ½ hours. It's unclear how long the hazardous materials team took to reach Friday's fire.
And though the state fire marshal requested $2.7 million last year for training and equipment, the Legislature provided just $365,000.
Columbia Riverkeeper, an environmental advocacy group that opposes oil trains in the Columbia Gorge, concluded this year that "neither Oregon's local fire departments nor Oregon's Regional HazMat Teams are equipped to respond to and extinguish an oil train fire."
The group has been especially concerned because of a proposal to increase oil train traffic along the Columbia to ship oil from the Bakken field in North Dakota to a new storage and distribution facility near Vancouver, Wash.
The derailment occurred on the edge of Mosier, next to its sewage treatment plant, said Columbia Riverkeeper's executive director, Brett VandenHeuvel, who surveyed the overturned oil cars from an airplane.
"We've been saying, it's not a matter of if, it's a matter of when," he said. "Now they're scrambling to get foam from different places."
One of the cars derailed into Rock Creek, a dry riverbed that occasionally floods into the Columbia.
The accident has raised worries among the Yakama Nation tribe, which has a fishing site downriver from where the train derailed.
"We do not know what damage will result at this early point, but we do know that we have repeatedly warned of train derailments, corresponding oil spills, and the contamination that could result when these trains are carrying crude oil," the Yakama Nation chairman, JoDe Goudy, said in a statement. "These trains and their tendency to derail are grave threats to the Yakama People."
Thick, black smoke rose from the two burning cars, which was expected to blow south and west, away from the population centers in Portland and the Willamette Valley.
When oil trains started traveling along the Columbia River in 2012, environmentalists in Oregon and Washington held protests.
"It's clear with this crash -- as it has been for years -- that more must be done to protect our communities from trains carrying explosive hazardous fuels," said Sen. Ron Wyden (D-Ore.). "That's why I've repeatedly called for more resources and notification for first responders, and why I'm continuing to push for my bill to move unsafe cars off the tracks and away from communities."
ALSO
Tragedy strikes Ft. Hood once more as 9 soldiers die in training accident
Quiet street, smiling family: Internal investigation launched after 3 children killed
Medical technician suspected of contaminating instruments at hospitals tests positive for HIV
---