Laws to prevent abuse of GI Bill benefits weren't enforced, records show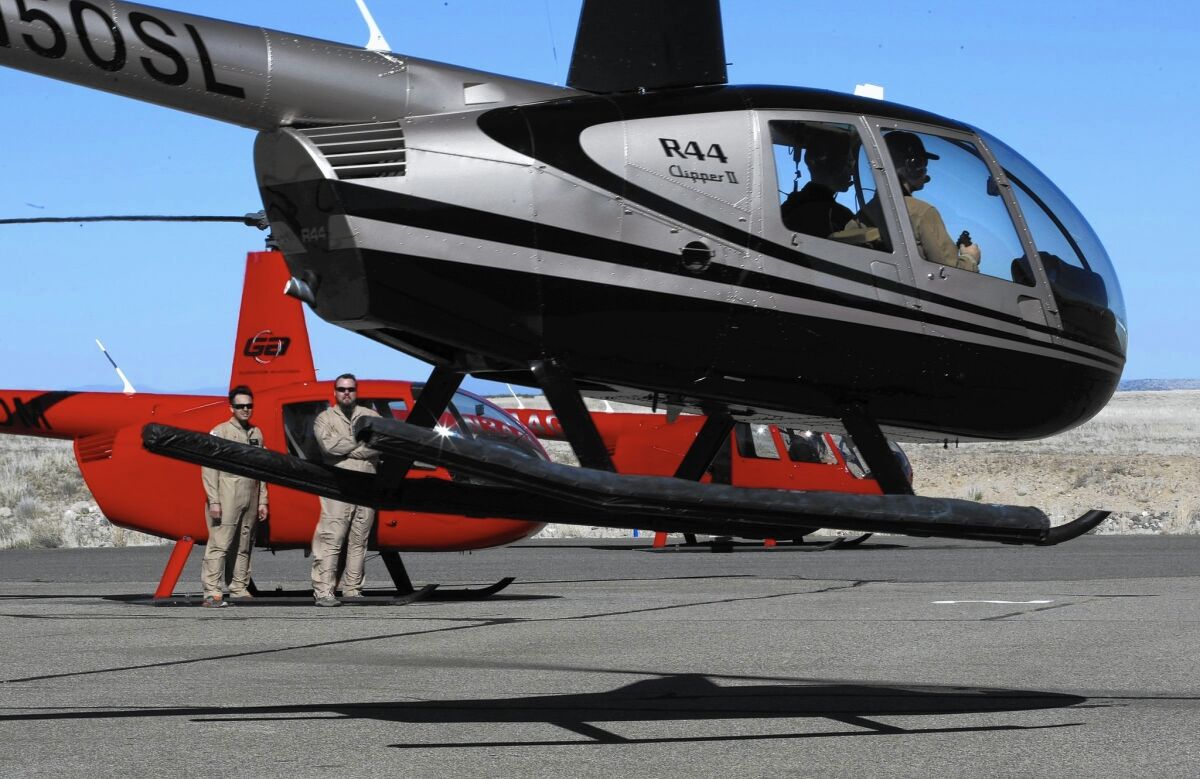 Helicopter flight training companies were able to collect tens of millions of dollars a year through a loophole in the latest GI Bill in part because officials didn't enforce laws aimed at preventing abuse of veteran education benefits, according to interviews, court records and state and federal documents.
The Times reported this month that some privately owned flight companies routinely collect more than $250,000 — and sometimes double that — to train a single veteran in a two-year program. It is the most expensive form of education paid for under the GI Bill.
The companies avoid spending limits by working as contractors for public colleges or universities, which are not subject to caps under the GI Bill that took effect in 2009. The arrangement allows the companies to provide costly training in sophisticated helicopters.
But records show that federal and state officials did not take advantage of safeguards that could have reined in GI Bill spending. The most important law would have forced the companies to either reduce prices or enroll fewer veterans.
The controversy has now reached Congress, where on Tuesday the House Committee on Veterans' Affairs is scheduled to discuss a bill introduced last month that would close the loophole. It would cap annual payments for flight training conducted through public institutions at $20,235 for each veteran — the same limit now in place for degree programs at private colleges and universities.
The primary tool the Department of Veterans Affairs has to control costs is a regulation requiring that veterans account for no more than 85% of students in programs funded by the GI Bill. The idea is that the price for veterans should be no greater than what other students are willing to pay.
The VA says that at various times it has suspended new enrollments at eight flight programs that were not complying with the so-called 85-15 rule. But the agency has also allowed schools great leeway.
At Southern Utah University, 10 non-veterans are enrolled in the helicopter program, according to data provided by the school. Based on that count, the program should have no more than 57 veterans.
Instead, it has 194, the data show. In its calculations, Southern Utah includes many non-veterans who are not learning to fly but simply pursuing the same formal degrees — general studies and interdisciplinary studies — as the helicopter students.
University President Scott Wyatt said VA officials approved its counting method. "They know exactly what we're doing," he said.
But in a statement Monday, the VA said it is reviewing the practice. Federal law requires each emphasis within a specific major to meet the so-called 85-15 rule on its own, the agency said. The VA is "looking into the methodology used by our field compliance staff to ensure they are applying the 85-15 assessment calculations correctly," it said.
The rule is also the focus of a whistle-blower case in Arizona. A former employee of Yavapai College in Prescott alleges that the college defrauded the federal government by including employees of its contractor, Guidance Aviation, in its count of non-veterans.
The U.S. Department of Justice declined to intervene in the case. But in a recent court filing, the department said its decision should not be misconstrued as an endorsement of Yavapai's actions. The college has declined to comment on the case.
Another federal law that has not always been enforced is one requiring private service providers to operate in a given geographic area for two years before they can receive VA funding.
The VA began paying for the helicopter program at Southern Utah University in Cedar City in 2013, the same year its contractor, Upper Limit Aviation, opened a location there. The company is based in Salt Lake City, where it has another contract with a community college.
Federal and state documents show that the VA eventually recognized the problem and in June 2014 informed the university that it was withdrawing funding. That never happened.
Instead, the university temporarily took the flight program in-house, hiring 41 Upper Limit flight instructors and leasing its helicopters.
States also have some regulatory power over flight programs.
As the Arizona official in charge of approving schools to veterans using their education benefits, Lee Sevy said he was outraged by the costs, a problem that had become apparent to his office by 2011.
He wanted to rein in the spending using a law that allows states to impose "additional reasonable criteria" on schools receiving GI Bill money.
His bosses at the state Department of Veterans Services, however, believed that if there was a problem, the federal government should address it, department spokesman Dave Hampton said.
Last summer, on the eve of his retirement, Sevy decided to act on his own and issued rules to limit the practice of training veterans in expensive helicopters.
Department leaders didn't find out until the regulations were set to take effect in January, and abruptly canceled them as unauthorized, Hampton said.
For now, the costs of flight training are primarily a matter of negotiation between the companies and the public institutions involved.
When Congress designed the GI Bill and decided to cover 36 months of tuition and fees for veterans in degree programs at public universities and colleges, legislators saw the schools as natural allies in controlling costs.
Instead, some schools have used their newfound ability to offer veterans all-expenses-covered training in costly helicopters as a recruiting tool.
Based on 2014 prices, flight fees for one student at Southern Utah University can top $550,000. The fees go to Upper Limit.
Wyatt, the university president, said the expensive training helps veterans in the job market and that Upper Limit has assured his administration that it is charging operating rates that are standard in the industry.
If the costs were excessive, he said, the VA should have informed the school rather that simply pay the bills each semester.
Nationwide last year, 1,884 veterans were enrolled in flight programs at a cost of $79.8 million, the VA said. VA officials said their data do not distinguish between helicopter students and airplane students. Airplane training is much less expensive and thought to be less popular.
At least 15 helicopter training companies in 10 states receive GI Bill funding through public colleges and universities. The cheapest programs cost about $100,000.
---
Must-read stories from the L.A. Times
Get the day's top news with our Today's Headlines newsletter, sent every weekday morning.
You may occasionally receive promotional content from the Los Angeles Times.