More than a million told to evacuate as Florence builds to a Category 4 hurricane
Reporting from ATLANTA —
More than a million people were ordered to evacuate a huge stretch of the eastern U.S. coastline as Hurricane Florence rapidly intensified Monday into an "extremely dangerous" Category 4 hurricane packing 140-mph winds.
"We're not going to gamble with the lives of the people of South Carolina," the state's governor, Henry McMaster, said in an afternoon press briefing Monday as he announced that eight counties along the state's 187-mile coastline would begin to evacuate on Tuesday.
Mandatory evacuations have already begun on the Outer Banks of North Carolina.
"The forecast places North Carolina in the bull's-eye," North Carolina Gov. Roy Cooper said Monday. "When weather forecasters tell us life threatening, we know that it is serious. … We here in North Carolina are bracing for a hard hit."
The center of Florence is expected to move over the southwestern Atlantic, between Bermuda and the Bahamas, over the next few days and bear down on the North Carolina and South Carolina coastlines on Thursday. Tropical-storm-force winds could reach the coastal Carolinas by Wednesday night or Thursday morning.
By midday Monday, forecasters at the National Hurricane Center upgraded Florence to a Category 4 hurricane, with maximum sustained winds of 130 mph. Late Monday, it moved about 1,170 miles east-southeast of Cape Fear, N.C., with maximum sustained winds of 140 mph.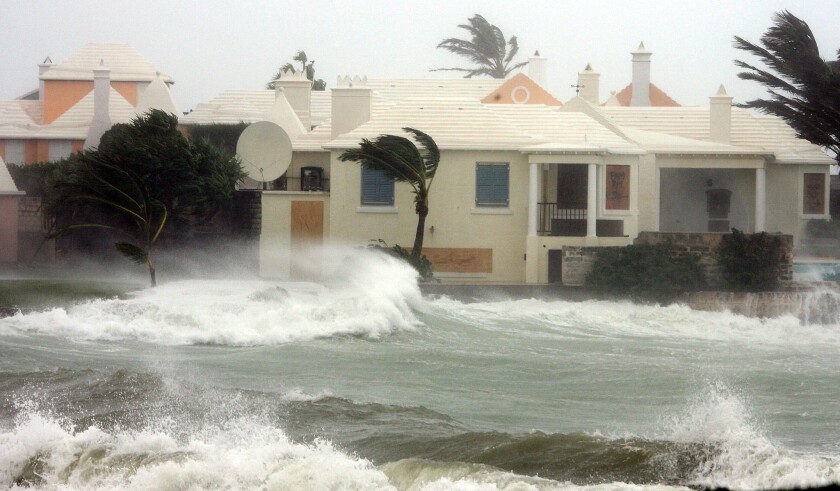 President Trump, who received sharp criticism last year for his handling of Hurricane Maria in Puerto Rico, took to Twitter Monday to urge East Coast residents to seek safety.
"The Storms in the Atlantic are very dangerous," President Trump said. "We encourage anyone in the path of these storms to prepare themselves and to heed the warnings of State and Local officials. The Federal Government is closely monitoring and ready to assist. We are with you!"
In addition to a life-threatening storm surge along portions of the coastlines of South Carolina, North Carolina and Virginia, Florence is expected to bring exceptionally heavy rainfall, and flash flooding, as it slowly crawls over the Carolinas and Mid-Atlantic.
People living inland should prepare for potential flooding and loss of power, officials warned.
"The takeaway here is this: … You're going to get a staggering amount of rainfall," Ken Graham, director of the National Hurricane Center, said in a Monday afternoon video presentation.
"If you think you're safe because you're away from the coast, that is not true. Well away from the coast — central portions of Virginia and central portions of North Carolina — you could be hundreds of miles away, several hundreds of miles in some cases away from the center, and you could still get those dangerous rains that are going to cause the flash flooding."
Graham urged coastal residents to finish their planning before the arrival of tropical-storm-force windows on Wednesday. Further inland, people should be done with their plans by Thursday.
"It's just too dangerous to be outside," he warned.
Cooper declared a state of emergency across North Carolina on Friday. The governors of South Carolina and Virginia declared states of emergency on Saturday.
In North Carolina, emergency officials in Dare County issued mandatory evacuations Monday for residents and visitors of Hatteras Island, on the southern end of the Outer Banks. Other coastal communities in Dare County and neighboring Currituck counties will begin mandatory evacuations tomorrow.
Officials urged residents to pack emergency kits with enough food and water to last three to five days, flashlights, batteries, medication, a battery-operated radio and antibacterial gel or hand wipes.
"Our best defense is good preparation," Cooper said as he urged residents to plan evacuation routes, clear their yards of debris that could cause damage in high winds, and discuss how they would contact family and friends.
In South Carolina, McMaster said that officials planned to help residents evacuate by reversing eastbound lanes of major roads such as Interstate 26 heading into Charleston and U.S. 501 heading into Myrtle Beach.
Florencewill probably create more wind than Hurricane Hugo and more water than Hurricane Matthew, McMaster warned.
"North Carolina is no stranger to hurricanes," Cooper said at a press briefing, noting that previous hurricanes — Matthew in 2016, Floyd in 1999 and Fran in 1996 — brought heavy wind and rain to the entire state. "We must all be alert and ready."
Over the years, powerful storms such as 1989's Hurricane Hugo have wreaked damage across the Carolinas, but only one Category 4 hurricane, Hazel, has made landfall on North Carolina in the last 150 years.
In 1954, Hazel came ashore near Calabash, N.C., with 130-mph winds and an 18-foot storm surge. "All traces of civilization on the immediate waterfront between the state line and Cape Fear were practically annihilated," according to an official report from the weather bureau in Raleigh.
---
UPDATES:
3:45 p.m.: This article was updated with staff reports and the announcement of mandatory evacuations.
9:30 a.m.: This article has been updated with Florence's upgrade to a Category 4 storm.
8:20 a.m.: This article has been updated with Hurricane Florence's upgrade to a Category 3 storm.
This article was originally published at 6:35 a.m.
---
The Latinx experience chronicled
Get the Latinx Files newsletter for stories that capture the multitudes within our communities.
You may occasionally receive promotional content from the Los Angeles Times.