Teen runaway highlights weakness in federal shelters holding young immigrants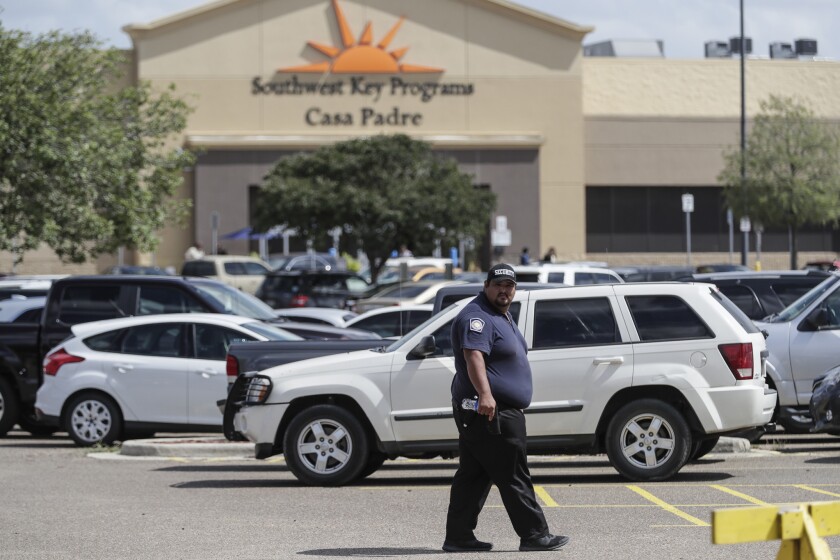 Reporting from McAllen, Texas —
When a 15-year-old Honduran immigrant fled a federally contracted shelter in south Texas this weekend, he triggered a search that drew attention not only to his case, but to the small but persistent number of runaways at facilities the government has been expanding.
This week, federal officials announced they plan to open a massive shelter at Goodfellow Air Force Base in Texas that could house up to 20,000 youths. That's in addition to 100 shelters in 17 states already housing 11,831 minors who arrived at the border without an adult. The youths are initially held by Border Patrol, but must be turned over within 72 hours to Health and Human Services, which places them at federally contracted shelters.
The Honduran youth ran away after 36 days at the shelter during recreation time on a playground outside the Casa Padre shelter in Brownsville, Texas, at 3 p.m. Saturday, an official said. Staff ran beside the boy, urging him to stay at the shelter where, they said, he would be safe and have a chance to be released to family in the U.S.
"You're better off here than you are alone," they said, according to the official who was not authorized to speak.
But the youth jumped a fence at the shelter, a converted Walmart. Casa Padre reported the boy missing, but police search teams were initially unable to locate him.
On Tuesday, Det. Jose Trevino said Brownsville Police had received new information about the boy.
"Our detectives have made contact with a family member who confirmed that the juvenile is heading back to Honduras and was in Mexico City as of this morning," Trevino said. "We have canceled the lookout on our state and national database."
The 15-year-old had been at Casa Padre, said Jeff Eller, a spokesman for Southwest Key, the Austin-based nonprofit that runs the shelter and 25 others nationwide. The Brownsville shelter, among the largest, houses more than 1,500 boys ages 10 to 17.
As soon as youths arrive at the shelter, case workers try to place them with relatives or other sponsors. They tried to place the 15-year-old with a Dallas man who claimed to be his father, but the birth certificate he offered looked suspicious, and he failed a DNA test, the official said. After that, the youth ran away.
The boy's travels were aided by the man who had claimed to be his father. On Sunday, the day after the boy fled, the man called the shelter to report that he had heard from the boy and sent him money after he crossed the border, bound for Honduras.
Of 34,000 immigrant youths placed at shelters in 2015, 76 left without permission from 43 shelters, five more than the year before. Health and Human Services officials did not respond to a request for updated figures Tuesday.
Southwest Key said 42 youths have left the program's shelters this fiscal year, which started last Oct. 1. Eller said runaways are rare, noting that nearly 20,000 children are in Southwest Key shelters in Texas, Arizona and California.
Former staff, however, have complained that little is done to prevent, stop or track down the runaways.
The Brownsville shelter is state-licensed and has housed both youth who arrived at the border alone and those separated from parents under the Trump administration's "zero tolerance" policy. Facilities such as Casa Padre cannot forcibly prevent any children in their care from leaving. That's why staffers asked the Honduran boy not to leave rather than compel him to stay.
"As a licensed child-care center, if a child attempts to leave any of our facilities, we cannot restrain them," Eller said in a statement. "We are not a detention center. We talk to them and try to get them to stay. If they leave the property, we call law enforcement."
Conversely, unlicensed shelters, like the "tent city" erected earlier this month in the west Texas town of Tornillo for more than 300 boys, don't have the same restrictions or oversight.
During a tour of Casa Padre last month, Southwest Key Chief Executive Juan Sanchez acknowledged runaways had been a problem, but said there were few.
"Most of these kids know we're trying to reunite them with their families," said Alexia Rodriguez, Southwest Key's vice president of immigrant children services. "So there is no reason to run away."
molly.hennessy-fiske@latimes.com
---
Must-read stories from the L.A. Times
Get the day's top news with our Today's Headlines newsletter, sent every weekday morning.
You may occasionally receive promotional content from the Los Angeles Times.