Obama delays deportation review, putting immigration onus on GOP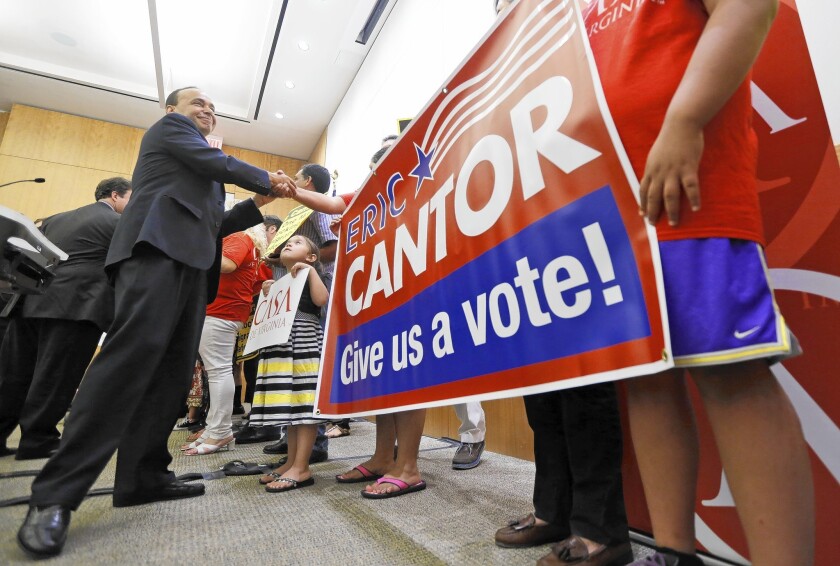 Reporting from WASHINGTON —
The White House's surprise decision Wednesday to delay a review of deportations once again revived the immigration debate, shifting focus away from President Obama — who has increasingly come under fire from immigrant advocates as the "deporter in chief" — and throwing the issue back into the laps of reluctant House Republicans.
Some viewed it as a shrewd political move by Obama that just might produce an immigration law overhaul this summer, but others cautioned against raising hopes, especially given the disunity in the Republican Party over how to grapple with the thorny issue in an election year.
By delaying a planned Department of Homeland Security review of deportation procedures until August, the White House said it wanted to provide the House with a window of opportunity to pass a reform bill before the midterm election. "We wouldn't want [the review] to create a reason not to act or an excuse not to act," said White House Press Secretary Jay Carney.
Republican leaders, however, were cool to the president's overture. House Speaker John A. Boehner of Ohio said Obama's decision to postpone the deportation review should not be seen as a "concession" to Republicans, but as part of the president's responsibility to uphold existing laws. "Now isn't the time to be playing politics with immigration enforcement or our national security," said Boehner spokesman Michael Steel.
House Republicans have said they are hesitant to pass any immigration laws because they don't trust the president to enforce the ones already on the books. That, in turn, has led Obama to say he has no choice but to use his "pen and phone" to take executive actions.
Curbing that circular argument was part of the strategy behind Wednesday's move. Obama asked Homeland Security Secretary Jeh Johnson to stand down on a plan to devise ways to reduce the number of deportations. The White House feared that even modest changes to its deportation policy would antagonize Republicans, disappoint immigration activists and doom any chances of a bipartisan agreement.
But opening the door for congressional action and getting House Republicans to walk through it remain two very different goals.
Republicans have come a long way in softening their rhetoric on immigration reform as the party tries to expand its diminishing political base and appeal to more Latino and other minority voters. Boehner has mocked GOP colleagues for whining that immigration reform was "too hard" and admonished hard-liners, such Rep. Steve King (R-Iowa), who suggested that young immigrants who crossed the border illegally were probably drug mules.
At the same time, the GOP infighting remains intense. Many Republican lawmakers from conservative districts have no interest in providing immigrants with legal status, let alone a path to citizenship, which was the cornerstone of a bipartisan reform bill that passed the Democratic-controlled Senate last year.
The internal party squabble has played out in key primary election battles heading toward the fall midterm, including one in Richmond, Va., in which Rep. Eric Cantor, the majority leader, faces a conservative challenger who is portraying the congressman as a proponent of "amnesty." Cantor said he supported citizenship only for immigrant children brought to the country illegally and legalization for those who have served in the military.
As primary season largely draws to a close next month, strategists say the summer could provide a chance for Republicans to broach the immigration issue without fearing a backlash from their base. Resolving the issue now would have the added benefit of uniting the party before the presidential primaries begin.
"It really puts a really big responsibility on Eric Cantor and the Republican majority to act," said Rep. Luis V. Gutierrez (D-Ill.), who protested with other immigration reform advocates on the majority leader's home turf Wednesday. "They keep saying, 'Oh, we don't trust you.' But the president today is saying to his own base, his own voters, that 'I still want to give the Republicans a chance.'"
Even if Republicans have the political will to advance the debate in the weeks ahead, they still need the legislation to do it.
A bipartisan group of eight House Democrats and Republicans overcame struggles last year to develop a comprehensive bill that could satisfy both sides, but the effort fell apart.
In December, Boehner brought in Rebecca Tallent, an immigration expert who was Sen. John McCain's chief of staff during the Arizona Republican's push to pass immigration reform in 2006 and 2007. Her task: to try to pull together a collection of narrow immigration bills that could pass the House.
Chief among those bills would almost surely be one from Rep. Mario Diaz-Balart (R-Fla.), a Cuban American and longtime advocate of immigration reform, whose legislation includes a legalization program triggered by tougher border security measures. Other lawmakers' bills include mandatory immigration database checks of all new hires nationwide and expanded farmworker programs, though a key guest-worker provision is still lacking.
Diaz-Balart hasn't shown a draft of the bill to many people, but has worked quietly behind the scenes with Rep. Paul D. Ryan of Wisconsin, the former Republican vice presidential candidate, and met with other GOP lawmakers to build support.
Obama's decision to hit the pause button is not without risks within his own party. Immigrant advocates have grown increasingly impatient after legislation in Congress stalled, turning their ire on the White House.
Ahead of the president's announcement, Democratic senators met privately with leading advocacy groups last week in an attempt to shift attention away from the president and onto the GOP.
Several advocacy groups that often align with Democrats harshly criticized the decision to delay executive action. It's a particularly difficult issue for the young people who were brought to the country illegally as children, often called "Dreamers." Many of them have made their immigration status public as a way to draw attention to the problems their families face with deportation threats.
"While we keep waiting, more and more families continue to be detained and deported," said Erika Andiola and Cesar Vargas in a joint statement from the DREAM Action Coalition.
Still, the White House move positions the president's party for a potential win-win. Either House Republicans will serve up immigration legislation by August, or the president will argue he had little choice but to act on his own as Democrats portray the GOP as unsympathetic to immigrant communities.
"The House Republicans are now out of excuses," Sen. Charles E. Schumer (D-N.Y.) said.
kathleen.hennessey@latimes.com
Times staff writers Michael A. Memoli in Richmond, Va., and Brian Bennett in Washington contributed to this report.
---
Must-read stories from the L.A. Times
Get all the day's most vital news with our Today's Headlines newsletter, sent every weekday morning.
You may occasionally receive promotional content from the Los Angeles Times.