Some Miami residents stay put and brace for Hurricane Irma — including many who lack the money to flee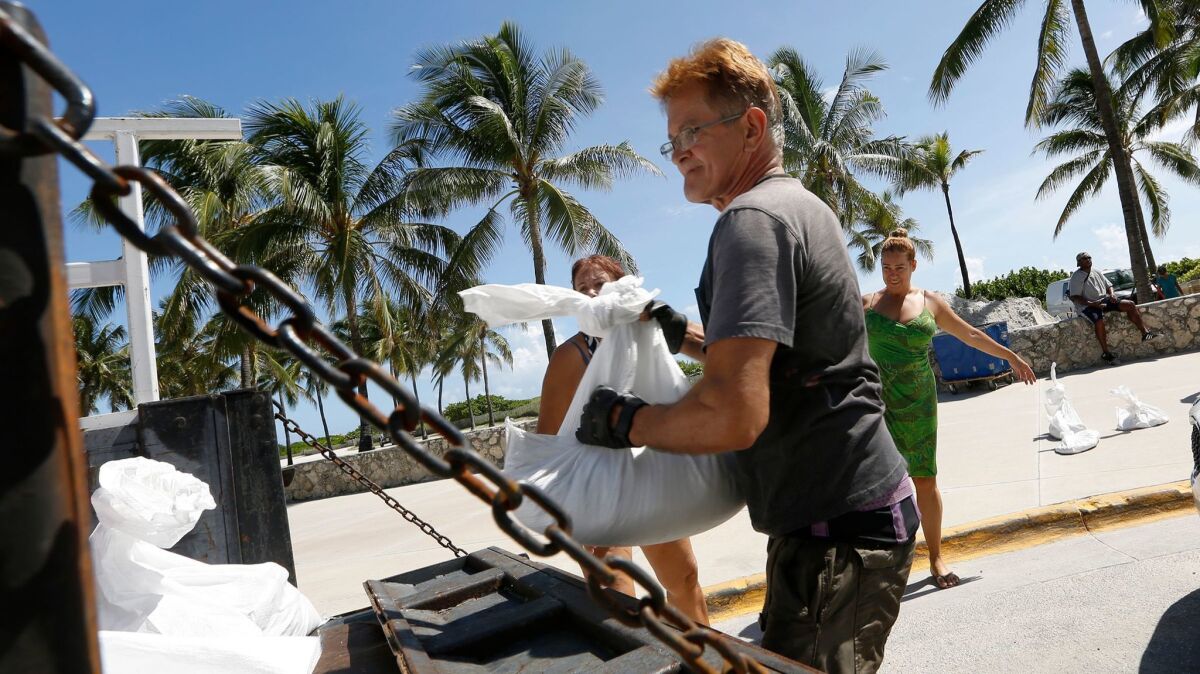 Reporting from Miami Beach, Fla. —
Genaro Dacosta has a monkey on his back, at least sometimes. It's a small pet marmoset that may force him to ride out Hurricane Irma, now lumbering toward his home on Miami Beach.
Dacosta wants to evacuate, as the government has ordered and as most of his neighbors were doing Thursday. He's been frantically calling authorities in Tallahassee, the state capital, to get permission to bring the monkey to a shelter. So far, no luck. Hotels aren't keen on allowing monkeys, either.
So on Thursday morning, Dacosta found himself, with his family, loading sandbags into the back of his pickup. They are among a band of residents — call them stubborn, or maybe desperate — who are going to hunker down in the path of an extremely dangerous storm and hope for the best.
"There is nothing I could do," he said. "I have what they call a 'wild animal.' I won't leave him."
Several miles inland, in the hardscrabble Miami community of Liberty City, Carolyn Haynes isn't worrying about monkeys. She is worrying about money. Haynes was ready to bolt town with her kids and take refuge with family in Georgia, but she can't afford to get out. Her car was totaled in an accident, and Haynes does not have the cash to fix it. So her family is stuck, along with so many others in Miami who, hearing official advice to take a trip out of town or hole up in a hotel, have a ready answer: Wouldn't that be nice?
"I want to leave," said Haynes, as she loaded bundles of bags from a dollar store into a well-worn car she borrowed from her sister. "It is what it is. We lived through [Hurricane] Andrew. We can wait this one out."
Few things put in stark relief the two very different Miamis that exist just miles from each other as does a colossal hurricane bearing down on southern Florida. In both, there was deep anxiety about the approaching storm. But that's where the similarities ended.
"I hear from people who would love to evacuate but they can't," said Nancy Metayer, an organizer with the New Florida Majority, which is gathering volunteers to help low-income neighborhoods in what is expected to be a troubled aftermath to the storm.
"For some, it is too close to the beginning of the month. They just paid their rent. They don't have the money to get out," she said. Worse, many can't afford the supplies they need to safely stay put.
At the Little Haiti Hardware Store, owner Jean Rameau awaited news about how his family back in Haiti had weathered Irma's rampage there, while also trying to help nearby residents stock up on hurricane supplies. He'd just given away his 175th sheet of plywood.
"We know the people who need our help," said Scattini Rameau, his nephew, sporting a Make America Great Again cap as he rang up sales for worried customers.
For nearly everyone, it was the calm before the storm — which wasn't expected to hit until this weekend.
Outside a bodega in Liberty City, Matthew Marshall was working calmly over a generator that had seen better days. "Look out for the black smoke," he warned as the machine belched to life.
Marshall pointed out all the luxury hotels in Miami Beach, now being evacuated, whose high-tech generators would sit unused. "They can afford those nice generators, but now they don't need them," he said. "We need them, but can't afford them."
The scene in the Publix grocery store in Miami Beach was also decidedly chill. Its eclectic mix of hipster, fashionista and immigrant customers waited patiently at checkout lines, and there was no sign of panic.
Along the unusually barren beach, workers were towing lifeguard stations back into the brush, in hopes they wouldn't float away when the storm hit.
Kerleen Collins and a friend, both of whom live downtown, sat on the sand, reading and napping in the sunshine under a rainbow umbrella.
"We never get to come here at this time," said Collins, 35. "Usually we are at work." Work was canceled to give employees a chance to prepare for the hurricane.
Not far away, volunteers and city workers sweated profusely as they shoveled sand into white bags.
Andrea Ratkovic, whose vacation from Oklahoma was being cut short, had been taking one last 6-mile run before decamping with the rest of the tourist masses. She saw the sandbag operation and decided to stop and lend a hand.
Her trip, with a friend, was supposed to take them to Barbados. They canceled that and diverted to Miami Beach, hoping for the best. Now they were just going to head home. "I think we are getting out by the skin of our teeth," Ratkovic said.
Charlie Garcia was waiting in line to load up sandbags in his car. He knew how much damage a hurricane can do: He was 10 when his family decided not to evacuate for powerful Hurricane Andrew in 1992. Their house was leveled.
"It was total devastation," he said. Nevertheless, Garcia was again staying put this time.
"This is my home, man," he said. "Where else am I going to go? Everywhere is going to get hit."
He figured the high-rise where he now lives, across the street from the water, is as safe as anywhere else in South Florida. His building asked residents to collect sandbags, so that is what he was doing.
Garcia had just gotten back from the Florida Keys, where he has another home in the city of Marathon. He is expecting the worst there after seeing images of what Irma did farther south in the Caribbean.
"If it hits like that in the Keys, it will be horrible," he said.
It had taken Garcia six hours to get home from Marathon, and the same kind of traffic was said to be clogging the roads to the Fort Lauderdale-Hollywood International Airport, which Marina Pizzarello of Queens, N.Y., was trying to reach with her mother. They had been vacationing together at the Loews Miami Beach Hotel.
With flights booked up everywhere, Pizzarello will have to fly from Fort Lauderdale to Atlanta to Syracuse, N.Y. From Syracuse, some 250 miles north of New York City, she will have to catch a train back home.
If she gets to the airport.
"It's a horror show," she said.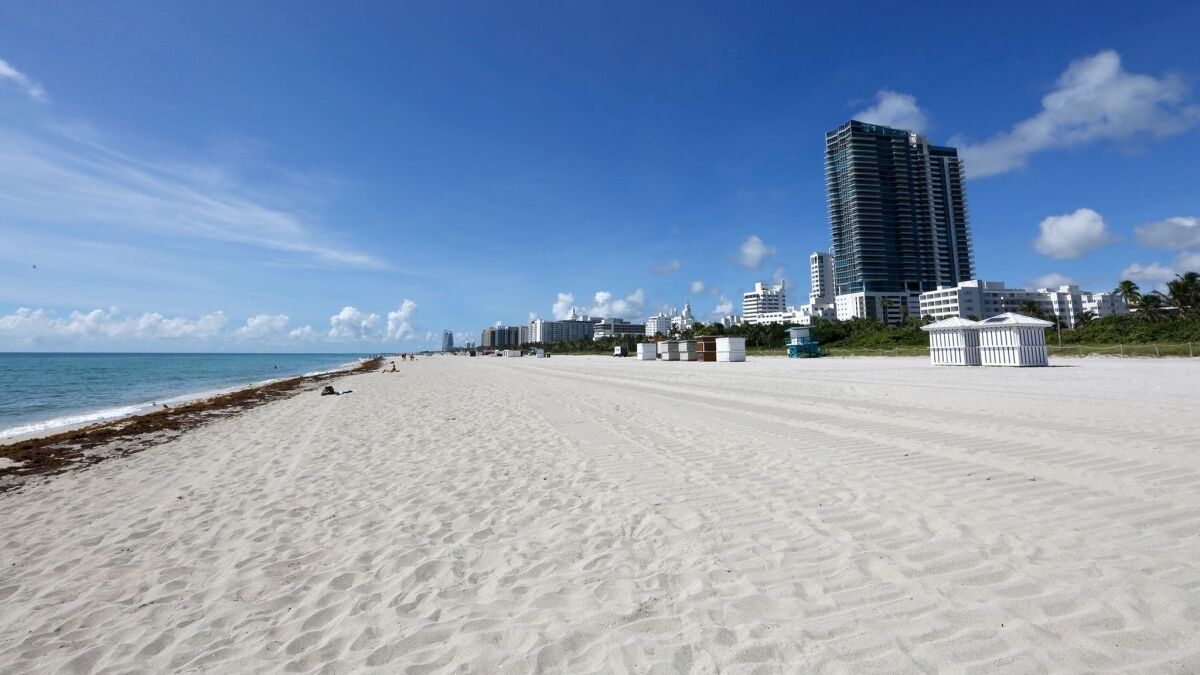 Follow me: @evanhalper
Must-read stories from the L.A. Times
Get the day's top news with our Today's Headlines newsletter, sent every weekday morning.
You may occasionally receive promotional content from the Los Angeles Times.