James Holmes is spared from death penalty in Colorado theater rampage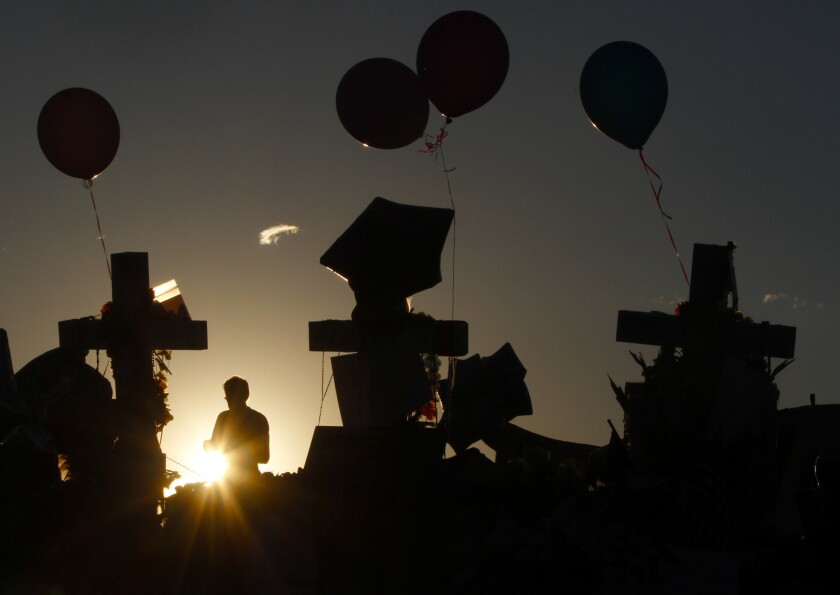 The dramatic trial of a Colorado neuroscience student who swathed himself in black body armor and unleashed a hail of fatal gunfire into a crowded midnight movie showing ended Friday when a jury spared the life of James E. Holmes, sentencing him to life in prison without possibility of parole.
The nine women and three men took more than twice as long to convict the 27-year-old in July on 165 counts including murder and attempted murder for the 2012 rampage that left a dozen dead and 70 others wounded during a screening of "The Dark Knight Rises" in Aurora, Colo.
As Holmes stood impassively at the defense table, Judge Carlos A. Samour Jr. intoned the words many victims and their loved ones desperately feared hearing since that awful night three years ago:
"We the jury do not have a unanimous final sentencing verdict on this count," Samour read. "And we the jury understand that as a result the court will impose a sentence of life imprisonment without the possibility of parole on this count."
Over and over, he read the words, for each count and each victim: Jonathan Blunk. Alexander Boik. Jesse Childress. Gordon Cowden. Jessica Ghawi. John Larimer. Matthew McQuinn. Micayla Medek. Veronica Moser-Sullivan. Alex Sullivan. Alexander Teves. Rebecca Wingo.
Arapahoe County Dist. Atty. George Brauchler stared steadfastly ahead. Defense attorney Tamara Brady bowed her head. Even before he began reading the verdicts, Samour acknowledged that "this case may evoke strong emotions." But he reminded the packed courtroom that outbursts would not be allowed. The audience largely complied.
In a time of shifting public opinion on the death penalty, the Aurora case became a referendum on the ultimate punishment, at least in Colorado, where Gov. John Hickenlooper has said he will not sign a death verdict while he is in office.
If the man who perpetrated this crime — no matter how mentally ill — did not deserve to die, many in the Centennial State asked, who does? Colorado currently has three inmates on death row and has executed only one person in nearly 20 years.
Jurors began deliberating late Thursday. On Friday morning, they asked the court to provide a television and DVD player so they could view one piece of evidence out of the 2,695 pieces presented. People's Exhibit 1000 is a gruesome, silent, 45-minute crime scene video that shows bodies splayed across the theater floor, scattered shell casings, spilled popcorn.
The whole trial has been awash in blood-soaked images — an abandoned pink flip-flop in a pool of red; Farrah Soudani pressing bullet-torn intestines back into her body; Caleb Medley's mangled, bandaged face; Munirih Fatimih Gravelly's cheek resting in a sticky puddle on the theater floor as she waited for the shooting to subside.
The gruesome nature of Holmes' crimes was a major thrust of the lengthy proceedings. Early in the multi-part sentencing hearing, the jury ruled that the horror outweighed any leniency his mental illness and clean criminal record might have earned him.
But on Friday afternoon, at least one holdout ensured that Holmes would not be executed, apparently swayed by Brady's passionate closing argument:
"There is not now nor will there ever be a time when it is appropriate to execute a seriously mentally ill man. We need to open our eyes to the effects of mental illness," Brady told the jury, her voice shaking. "To spend the rest of your life in a cell alone, especially when you're sick, that is a severe punishment."
But it would not be justice, argued Brauchler, the district attorney.
"He made sure that one person and one person alone would be guaranteed to survive, and that person was him," Brauchler told the jury as he made his final argument that Holmes does not deserve to live. "You can bring justice to this act. And to him. And for James Eagan Holmes, justice is death. It's death."
The jury was not persuaded.
The enormity of the crime, said former Denver chief deputy Dist. Atty. Craig Silverman, was the most compelling evidence in favor of the death penalty. It could not, however, trump what Brady called the "mounds of evidence" that Holmes is mentally ill, or the deeply moving testimony of Holmes' parents.
"I think the parents' testimony was important," Silverman said, "and their attendance every day at the trial.... All the experts agreed that he was mentally ill, and most agreed that he suffered from schizophrenia."
In many ways, the trial was also a testament to love. To its strength and its limits. Its gifts and its terrible costs. From the very first witness to the final closing argument, players in the Aurora shooting tragedy spoke at length about its power and its pain.
Katie Medley, witness No. 1, was nine months pregnant and seated in Theater 9 with her husband, an aspiring comedian and superhero fan, when Holmes blasted his way into the packed midnight showing. She was forced to make a choice that no one should ever face.
"I had to save my unborn child," she told jurors in April. "I thought Caleb was going to die. It was my last piece of him. He squeezed my hand. I told him I loved him and I would take care of our baby if he didn't make it."
So she left her husband behind and raced to safety. Caleb lived, although he first held their newborn son, Hugo, while in a medically induced coma. Today he can neither walk nor talk.
Cierra Camille Cowden's father, Gordon, was shot to death beside her. She was 16 at the time. She told the jury this week about all the things she cherished about her father and now must live without. Road trips. Breakfast out before church. The silly songs he'd make up, like the one about doing chores: "We call them happy helpers, because they love to help."
"It's selfish to say," she told the jury through her tears, "but I just miss him being my dad. He was just so present in our lives. Growing up with the idea of one of my parents dying, it wasn't something I ever considered.... I just miss him being there."
And then there were Robert and Arlene Holmes, whose first-born child grew up to commit one of the worst mass shootings on American soil.
In pleading for mercy just minutes before deliberations began, defense attorney Brady invoked the stalwart couple.
"Bob and Arlene Holmes have been here in this trial every day to love and support their son," Brady said. "They will always love and support their son for the rest of his life. They know he is sick. They know he would not have committed this unthinkable, tragic occurrence without being sick. ... But his life has meaning to them."
At least one juror agreed. Attorneys did not request that Samour poll the jury, so on Friday afternoon, it was unclear how many holdouts there were.
Holmes pleaded not guilty by reason of insanity. But at each step of the complicated trial, the jury ruled against him. Unconvinced that he was insane on July 20, 2012, jurors found Holmes guilty of the rampage. During the sentencing hearing, jurors found Holmes guilty of so-called aggravating factors, including killing more than two people and lying in wait to ambush them. Next, they ruled that those circumstances outweighed any reason to grant leniency.
On Friday, one or more jurors changed their minds.
In a sad sign of the times, four major shooting events have grabbed headlines since the trial began on April 27, two in movie theaters. During the same period, Boston Marathon bomber Dzhokhar Tsarnaev was sentenced to death.
The attorneys and judge fretted about the possible impact on their jury, which started out with 12 jurors and 12 alternates and lost five members over the course of the trial.
Silverman said that jurors "may have been aware of those things, but it comes down to what somebody feels deep down in their heart and soul. And one or more jurors could not vote for death."
maria.laganga@latimes.com
Twitter: @marialaganga
---
The stories shaping California
Get up to speed with our Essential California newsletter, sent six days a week.
You may occasionally receive promotional content from the Los Angeles Times.