'America's toughest sheriff' facing trouble at the ballot box and the courthouse
Reporting from Phoenix —
Katherine Dittmer has voted for Maricopa County Sheriff Joe Arpaio four times since she retired to Arizona, and she guesses nothing can stop her from bubbling-in her ballot for the sheriff yet again.
Not federal criminal contempt charges handed down against Arpaio last week, nor an investigation into the wife of a federal judge overseeing his case. And never mind the misspent jail funds, his insistence that President Obama was born in Africa or his department's failure to adequately investigate more than 400 sex-crime cases.
"It's all a bunch of garbage," Dittmer said. "I mean, he may be guilty. But I don't see anybody that's any better."
Dittmer lives in a mobile home in the Phoenix suburb of Surprise, one of the few remaining strongholds of reliable Arpaio voters, with a significant population of middle-class white retirees. She and her husband have given $250 this election cycle to Arpaio's campaign. She would give more if she could.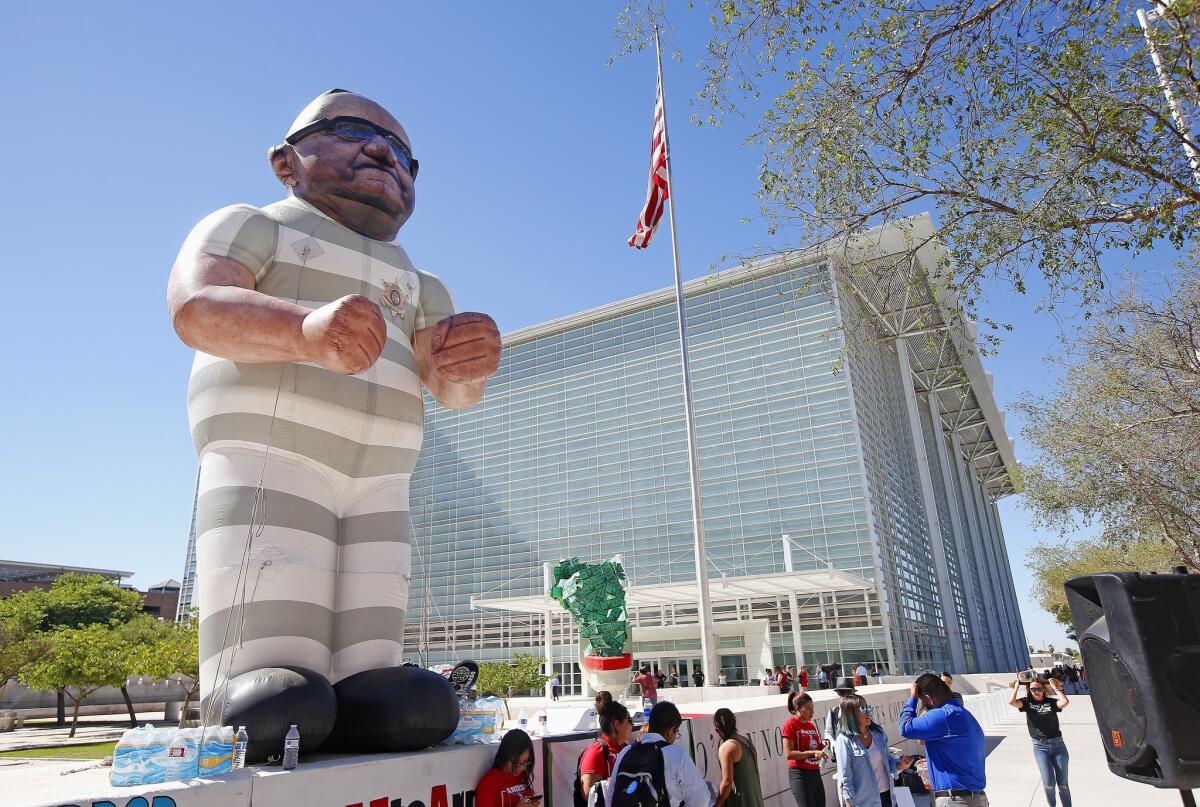 For the first time in his political career, after 24 years in office over six terms, Arpaio is trailing by a significant margin late in the campaign after a series of public missteps, the most consequential of which could land him in jail.
Arpaio was charged in mid-October with criminal contempt of court after federal prosecutors said he intentionally defied a judge's order to stop targeting Latinos in massive traffic patrols. Federal Judge G. Murray Snow found Arpaio liable for a civil violation concerning the same patrols. During his trial on those issues, Arpaio acknowledged hiring an investigator to look into statements Snow's wife made about Arpaio.
Arpaio has run a series of negative ads against his opponent, retired Phoenix police Officer Paul Penzone, but Arpaio's old bases of support on the outskirts of Phoenix are shrinking as reliably red Arizona is experiencing a rush of young and Latino voters who could give Hillary Clinton more votes than a Democrat could expect in Arizona.
Arizona may not be turning blue this cycle, said Thom Reilly of the Morrison Institute for Public Policy, but Arpaio, along with ballot measures that would legalize marijuana and raise the minimum wage, could be drawing an outsized population of liberal voters.
"I don't know that anyone can say with confidence, if Arpaio is voted out or if Clinton wins in Arizona, whether that really means we're a purple or blue state going forward," Reilly said. "But his deficit is significant."
Regardless, the election marks a signal moment for the city of Phoenix. Republicans are losing ground to Democrats in Maricopa County, the state's largest county, and emboldened Latino groups have mounted get-out-the-vote campaigns at a rate unseen so far in the nation's sixth-largest city.
Rallies against Arpaio have been marked by the presence of a 20-foot-tall inflatable figure of a handcuffed Arpaio in his own jail's striped uniform. On election night, anti-Arpaio groups are planning an "Arpaio Retirement Party" outside of his Phoenix office, complete with a street concert. The group Bazta Arpaio (Stop Arpaio) has a running clock on its website, counting down the minutes until "we end Arpaio's rule."
Even the endorsement of Republican presidential candidate Donald Trump at a rally in Phoenix could not help Arpaio's ailing poll numbers, nor shift the strong unfavorable views voters hold of him. For years, he needed neither national endorsements nor even particularly favorable ratings to succeed at the ballot box.
When Arpaio cruised to a 13-point victory in 2008, the strong-borders movement that he embodied was at its apex: Mass workplace immigration raids were ordered by the George W. Bush administration, which Arpaio endorsed in frequent national television interviews. He then conducted dozens of smaller raids within Maricopa County.
By 2012, Arpaio's opponent, also Penzone, came within six points of Arpaio.
But in mid-October a Morrison Institute/Arizona Republic poll had Arpaio trailing Penzone by 15 points. What changed is his unfavorability rating among white voters, now at 53%, Reilly said. In the same poll, respondents overwhelmingly rejected building a wall on the U.S.-Mexico border or the mass deportation of immigrants.
Arpaio has responded to his low poll numbers by taking his case to the airwaves.
"The Obama DOJ … has been after me since Day One for doing my job," Arpaio says, speaking directly into the camera. "This is all politics. Hillary gets a free pass, but they're coming after me?"
Long the beneficiary of out-of-state money in financing his elections, outside donors are now lining up against Arpaio. Though Arpaio still maintains a fundraising advantage and far larger war chest than Penzone, liberal billionaire George Soros has poured in more than $2 million to defeat him.
"Joe Arpaio has put his personal agenda ahead of public safety, costing taxpayers more than $142 million," said an ad from Maricopa Strong, the Soros-backed group sponsoring the anti-Arpaio effort, referring to the total amount Arpaio and the rest of his office have cost taxpayers in legal expenses.
Reliable Arpaio voters are confused by the sudden, calamitous storm that has seized their 84-year-old candidate.
"He's been so rock solid," said Dittmer, of Surprise. "He keeps the law, puts people in that outside jail."
Volley Cole, a retiree in Sun Lakes, cannot fathom not returning Arpaio to office.
Cole, 85, has given $676 to Arpaio in this election cycle. Like the retirees who live near him, Cole has voted for Arpaio in every election. Inside of their cloister, the thought of "America's Toughest Sheriff" losing is either a joke or a conspiracy. And those anti-Arpaio ads? More signs of conspiracy.
"I'm not believing what they put out," Cole said. "He is strongly in favor of our country. Men like that win."
Twitter: @nigelduara
ALSO
Californians aren't the only ones voting on marijuana, gun sales and the death penalty
Trump vs Clinton? Campaign lawyers scramble to ensure fair voting and prepare for any election battles
Suspect in the killing of two Iowa officers has a history of racist incidents and clashes with police
Sign up for Essential California for news, features and recommendations from the L.A. Times and beyond in your inbox six days a week.
You may occasionally receive promotional content from the Los Angeles Times.