Broke, a sheriff in Appalachian coal country struggles to provide law and order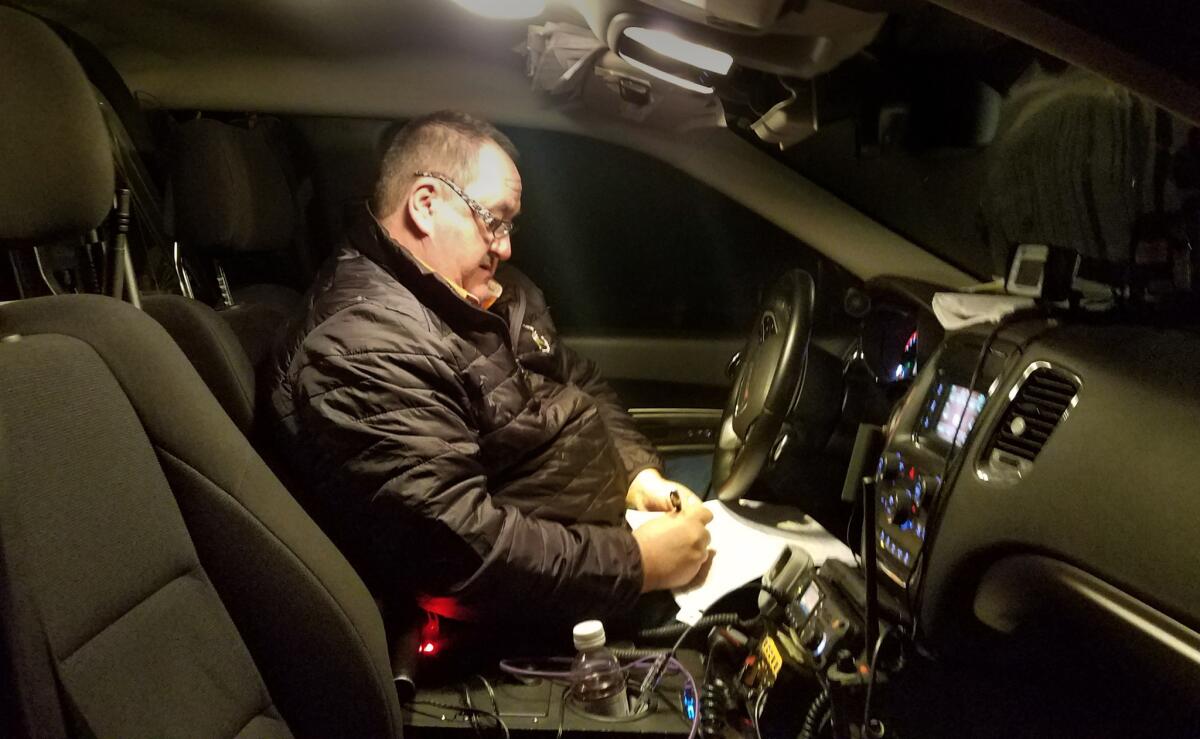 Reporting from Inez, Ky. —
Before making a wave of cutbacks across his department, Martin County Sheriff John Kirk delivered a grim warning to residents of this hardscrabble Appalachian community.
"Law enforcement as we have known for the last four years will not exist," he posted on Facebook last month. "WE ARE BROKE… LOCK YOUR DOORS, LOAD YOUR GUNS AND GET YOU A BARKING, BITING DOG. If the Sheriff's office can't protect you, WHO WILL?"
In a sense, it was political bluster. When he can, Kirk still patrols this remote former coal mining region on the eastern edge of Kentucky, responding to traffic accidents and break-ins, knocking on the doors of suspected drug dealers, serving papers and transporting prisoners.
But with only one other paid law enforcement officer on staff now to help him monitor a 231-square-mile area day and night, his department is stretched to its limit.
"I have to be straight up with my citizens," the 50-year-old said one morning as he squeezed into his Dodge Durango, switched on his blue lights and siren, and bolted down a winding two-lane road to a house fire 20 miles away. "We can't be everywhere. We don't have time to do the job the way it needs to be done."
This ailing county is one of a swath of rural mountain communities struggling to maintain essential public services as coal mines shutter, leaving them with dwindling jobs, residents and taxes.
In the last decade, Martin County's population has dropped from about 13,000 to 11,500 as the number of workers employed by coal companies has fallen from 866 to 57. County funding from severance taxes companies pay on coal removal has plunged from $931,800 to $83,900 a year.
Kirk was forced to make cuts across his already bare-bones department last month after county officials informed him they did not have enough funds to make good on a $75,000 payment, half the annual amount promised by the previous administration for fiscal 2018.
"We love our sheriff, but we just ain't got the money," said Roger Preece, 57, a county magistrate who took office at the beginning of this year. "If you ain't got it, you ain't got it."
The county has accumulated $1.4 million in debt — a surprise to many of its new officials.
"I don't sleep well," said Susan Hale, the county's new treasurer, who is sifting through the bills left by the previous administration: $230,000 to a regional jail that houses its inmates, $140,000 to a state association that provides liability insurance, plus dribs and drabs for mundane items such as office supplies and toilet paper.
In the sheriff's office, Kirk has laid off his bookkeeper and slashed public office hours in half to 20 a week. Initially, he pulled his deputy, Aaron Blevins, from the night shift so he could help catch up on paperwork. But within days, they got more calls about break-ins and drug trafficking. Now Blevins is back working nights while Kirk racks up 16-hour shifts.
A third deputy, who is training at the academy, will not join the department for four months.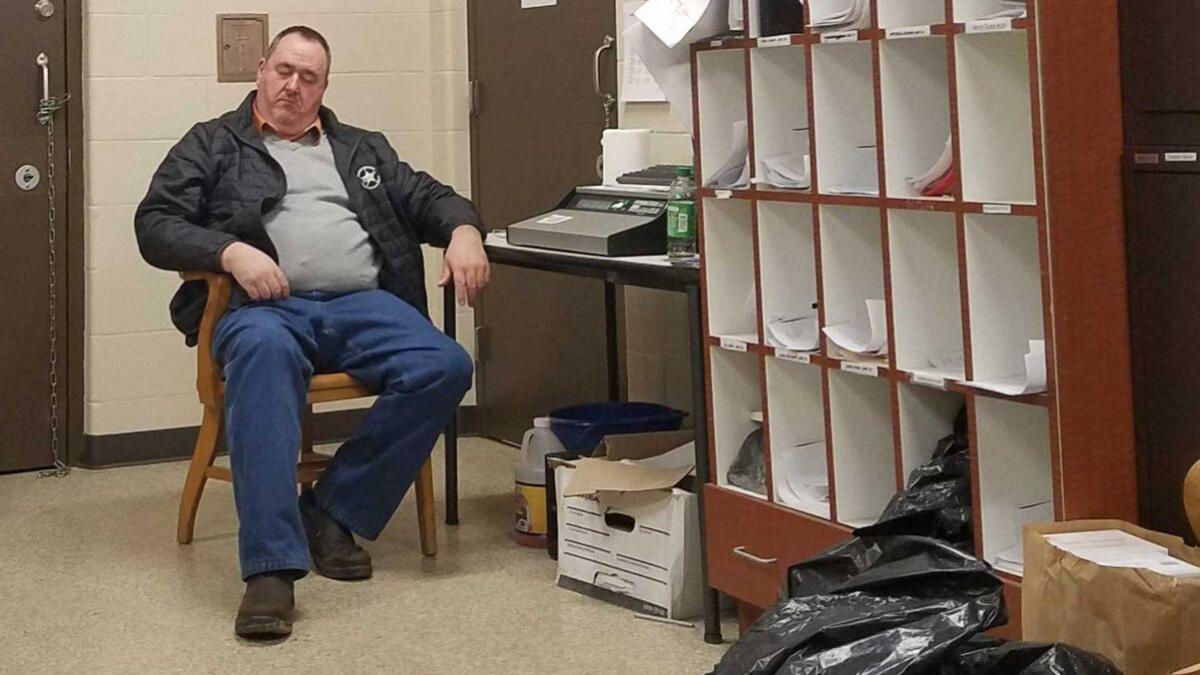 "It's just me," said Kirk, who grew up just north of Inez, the county seat. "If I'm the only one working day shift, how am I going to prepare paperwork to take cases to the grand jury and respond to calls and serve papers?"
Kirk has felt shorthanded for much of his four years as sheriff. He has rationed gas. He has cut back on patrols. He has stopped providing security at ballgames. At times, his deputies have worn uniforms with holes in them and driven cruisers with tires worn through to the steel belts.
But the latest cuts particularly rankle Kirk, a Republican who was elected on a platform of ridding the county of opioids.
"I put the drug dealers on notice, but we're handicapped," he said. "If you're a drug dealer and you want to transport drugs in this county, right now is when you want to do it. They know we've only got one police officer working."
The sheriff is not the only public servant feeling the pinch.
Key county roads are rife with potholes as the road and bridges department tries to make do with rusty excavators, dump trucks and salt trucks. Six months ago, an axle fell off the county's only grader and the heavy-duty machine now languishes in a parking lot, in pieces. The county cannot afford the $10,000 to fix it.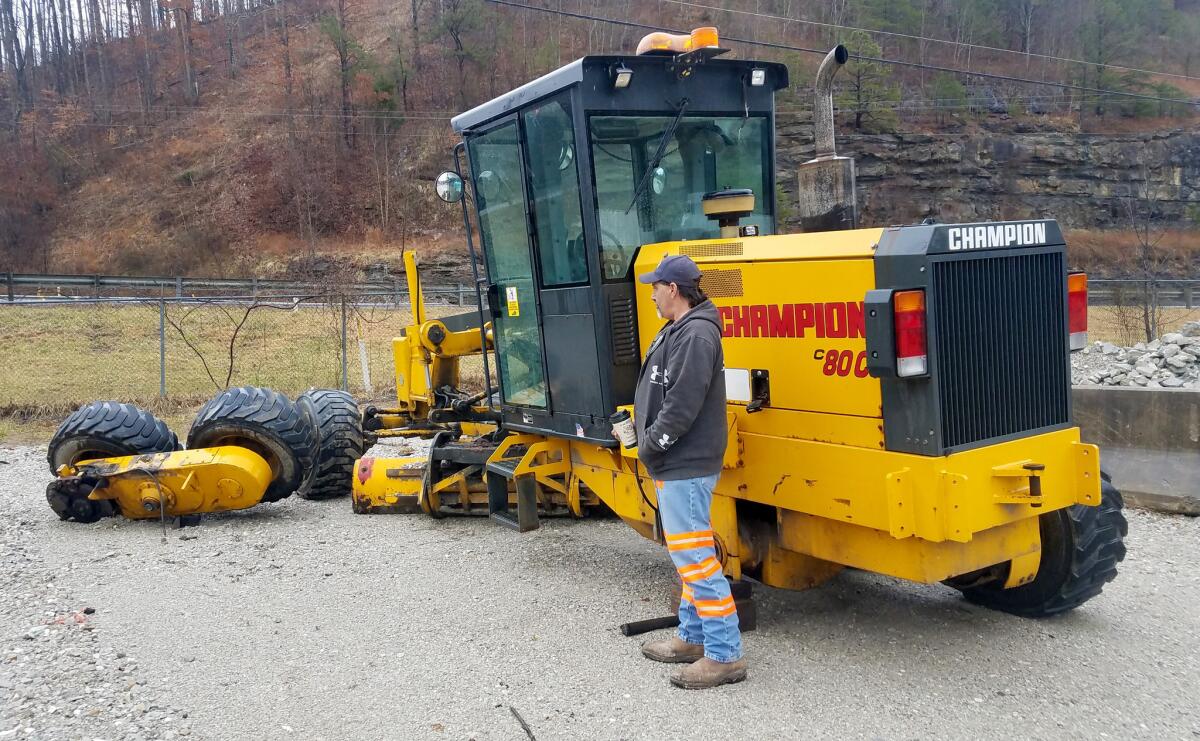 Water pipes across the county are crumbling, causing the district to lose more than two-thirds of treated water to leaks and allowing untreated groundwater to seep into the water supply. After countless boil water advisoriesand warnings on the backs of their bills, many residents limit their use of tap water to flushing toilets; most buy bottled water for drinking and cooking.
Some elected officials who represent the region are calling on the state and federal government to deliver more assistance. More than half a century after President Lyndon Johnson came to Martin County to promote his just-declared war on poverty, the per capita income here is $14,900 and more than a third of residents live below the poverty line.
"These communities fueled the industrial revolution and powered our country through two world wars, but now they're struggling, there doesn't appear to be any help on the horizon" said State Rep. Chris Harris, a Democrat who represents Martin and neighboring Pike County.
"If the nation is going to put regulations on our only industry, to make it impossible or unprofitable, shouldn't it also offer new opportunities?"
Many locals blame former county officials for being slow to react to the sharp drop in tax revenue and exacerbating the problems withpoor financial decisions. In 2013, the county took out a 25-year loan to erect a massive government building that requires a monthly payment of $55,000.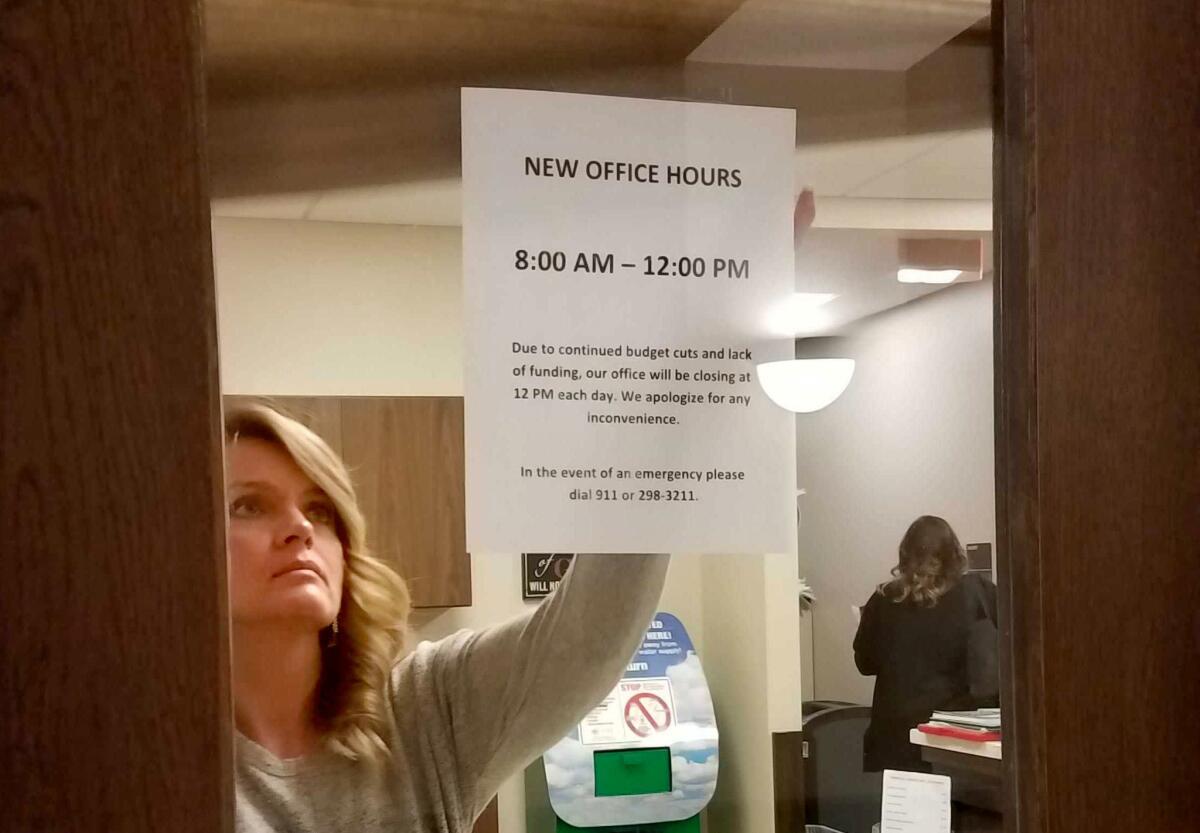 While coal's steep decline is largely a result of less expensive natural gas, many residents are critical of the Obama administration for imposing federal regulations on coal-fired power plants in an effort to cut pollution and move toward cleaner energy sources like wind and solar power.
"Our entire economy was decimated by federal policies," said Hale, the treasurer. "Now we have to live with it."
For Kirk, the lack of funds and personnel limit his ability to do his job.
Responding to a burglary at a single-wide trailer on a muddy lot strewn with soda cans, Kirk did not get out of his Dodge to inspect the damage or take notes as the victim, a woman in fleecy pajama pants, ran through a long list of possible suspects.
Instead, he handed a sheet of lined paper out the SUV window and asked her to detail what had been stolen.
"Wanna come in and take a picture of the door handle?" she asked.
He shook his head.
Probably, he admitted after he drove away, he would not have time to visit pawnshops to look for her flat-screen TV, Nikes, propane heater or generator.
"If someone breaks into your house, it should be more than filing a report," he said as he moved on to check out a vandalized pickup truck. "It's doing the people an injustice."
Some residents who came to the local government center last week to pay tax bills and get car inspections said they worried about how the law enforcement cuts would affect vulnerable members of the community, particularly the elderly who lived in far-flung hills and hollows.
A retired coal miner, who refused to give his name, said the lack of full-time law enforcement was a black mark on the community. But he wasn't too worried about his own safety.
"I got plenty of guns," he said. "You wouldn't be an eastern Kentucky mountaineer if you didn't."
Billie Jean Stacey, 72, a former janitor, said she did not know if the sheriff's warning to stock up on guns and dogs was a good thing.
"It's sort of like the Old Wild West," she chuckled.
Still, the sheriff has some help. A small band of volunteer deputies — many retirees — acts as back-up in the evenings and offers court security.
The Kentucky State Police, which has eight troopers assigned to an area that includes Martin and several other counties, picks up some of the slack by taking emergency phone calls that the sheriff cannot handle.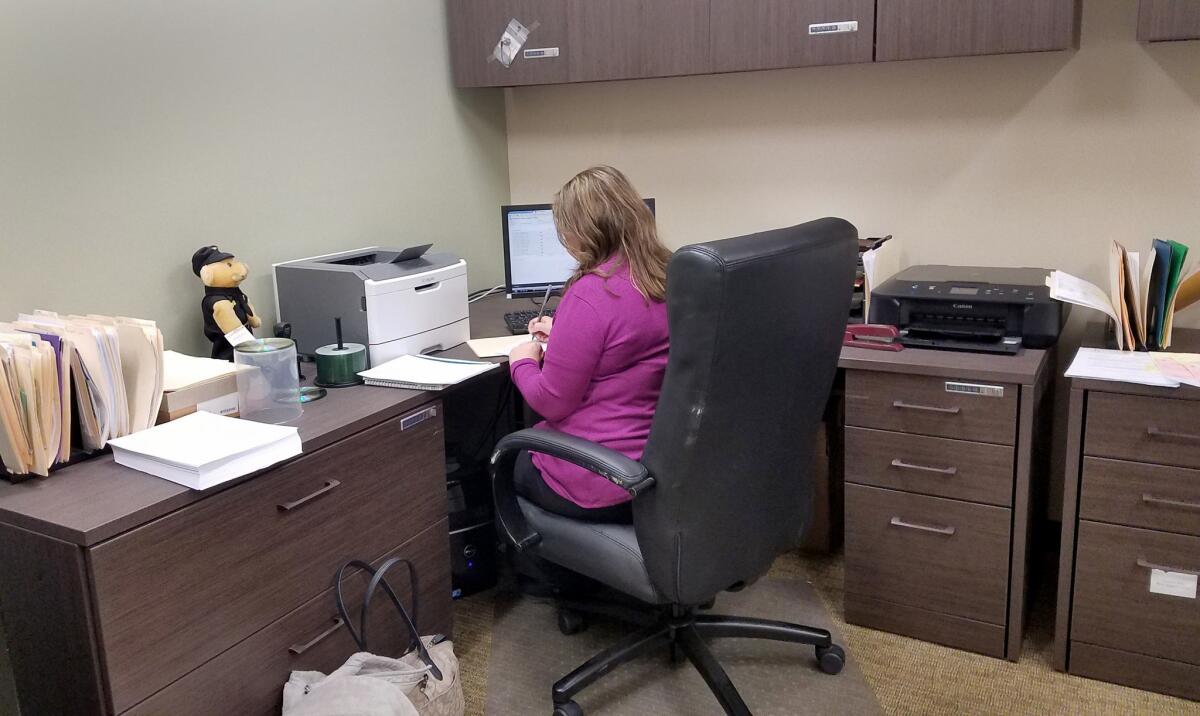 Kirk also relies on his wife, Regina, who manages payroll and files financial reports for the office free of charge in the evenings and on weekends.
As news of the sheriff's financial strain has spread, residents have also pitched in. A gas station owner donated $1,000 to fill up police SUVs and cruisers. A church raised $500. People have even donated paper for the office copy machine.
When Kirk pulled up at a convenience store one Saturday, a man handed him a $20 bill.
"Here," he said, "I want to help you."
"Man, I don't want your money," Kirk said. "That's why we pay taxes!"
The man threw the bill in Kirk's lap and walked away.
A few days later, the $20 bill was still in his vehicle, wedged between his radio and siren box. The sheriff had not found time to deliver it to his office.
Sign up for Essential California for news, features and recommendations from the L.A. Times and beyond in your inbox six days a week.
You may occasionally receive promotional content from the Los Angeles Times.