Obama rejects Keystone as short on economic benefits, long on risk to climate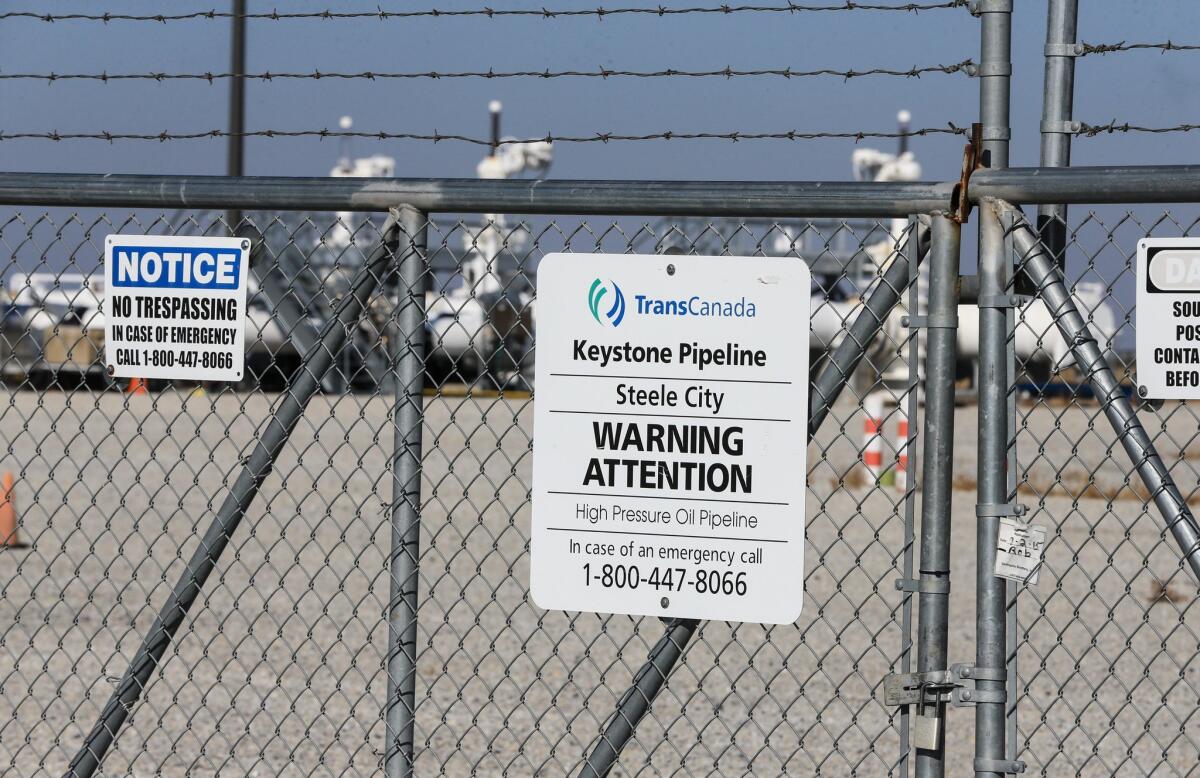 Reporting from Washington —
President Obama announced Friday that he was rejecting the controversial Keystone XL oil pipeline project because it wouldn't serve U.S. interests, dismissing its potential economic benefits as insignificant over time as he sought to close a long-running chapter in the political fight over global warming.
"For years, the Keystone pipeline has occupied what I frankly consider an overinflated role in our political discourse," Obama told reporters at the White House. "It became a symbol too often used as a campaign cudgel by both parties rather than a serious policy matter."
The pipeline began as a project nearly a decade ago to carry more than 800,000 barrels of crude oil a day from Canada to U.S. Gulf Coast refineries, as a shortcut to bring it to market more quickly. But it grew over time into a political symbol: for opponents, of energy interests run amok, and for backers, of the zealous overreach of environmental advocates.
NEWSLETTER: Get the day's top headlines from Times Editor Davan Maharaj >>
Opponents long warned about the negative effects of tar sands oil mining on wildlife and people. Construction of the pipeline would lock the U.S. into dependence on an oil that is destructive and hard to extract, foes said.
Supporters, meanwhile, argued in favor of the economic benefits. They pointed to the jobs that the construction of the pipeline would create as well as to the stream of North American oil as an important alternative to Middle Eastern sources. But a State Department study found that the pipeline would create only about 35 permanent jobs after construction was complete.
And fluctuating oil prices affect the economics of tar sands oil, which is difficult and costly to extract. At some points over the past year, the price of oil dropped below the point that would allow Keystone investors to break even.
The years of fighting obscured the fact that Keystone would "neither be a silver bullet for the economy, as was promised by some, nor the express lane to climate disaster proclaimed by others," Obama said.
His announcement came days after TransCanada, the company building the pipeline, asked that its permit application be put on hold while another challenge to the project played out in Nebraska. It had become increasingly clear in recent months that Obama would probably reject the pipeline, and TransCanada's request was widely seen as a way to buy time until a more politically friendly atmosphere prevailed, including a new administration moving into the White House after the 2016 presidential election.
Environmentalists "are well aware that the next president could undo all this, but this is a day of celebration," said Bill McKibben, cofounder of the environmental group 350.org, in a statement.
Obama had long said he would decide on the pipeline before he left office, and making his announcement now could help ease the impact of the issue in the 2016 election. Keystone being a thing of the past could help Democratic candidates, particularly in swing states in the Rust Belt and interior West, where Democrats have voiced support for the project, and opposition to it helped cost Sen. Mark Udall of Colorado his seat last year.
The Democratic front-runner, Hillary Rodham Clinton, opposes the pipeline, and Republicans immediately tried to tie her to Obama's decision.
"Barack Obama and Hillary Clinton caved to extreme special interest groups and rejected good American jobs," Republican National Committee Chairman Reince Priebus said in a statement. "This move can only be described as a politically motivated embarrassment."
Even as he dismissed the project's potential impact, Obama argued that rejecting it still makes an important statement about the U.S. commitment to fighting climate change.
"We are continuing to lead by example," Obama said. If world leaders are going to protect the environment, he said, "we're going to have to keep some fossil fuels in the ground rather than burn them."
Obama and other world leaders are expected to agree on significant new efforts to curb global warming during a major international climate summit in Paris next month.
"America," he said, "is going to hold ourselves to the same high standards to which we hold the rest of the world."
Because the pipeline would cross a U.S. border, State Department officials were in charge of the review of the project, and for months the agency had been gathering comments from the public. But the project had become so highly politicized that the decision about whether to clear or derail it was under consideration at the highest levels of the Obama administration.
Obama said he explained his decision earlier Friday to new Canadian Prime Minister Justin Trudeau, who supports the pipeline but pledges oversight of its environmental impact.
Obama's decision swiftly drew reaction from across the political spectrum, with leading environmentalists pointing to the effectiveness of organized opposition and promising to fight other projects they see as harmful to the planet.
"The power of the American people decisively beat out the fossil fuel special interests," said Tom Steyer, a California billionaire who has poured tens of millions of dollars into fighting climate change. "The D.C. establishment once called this pipeline a done deal, but a movement emerged that refused to accept the fossil fuel status quo.
Pipeline backers and political opponents labeled Obama's decision a give-in to special interests.
"These jobs were so critical to our membership and their families to maintain their place in the middle class," said Sean McGarvey, president of the North America's Building Trades Unions. "At this point, it's safe to say we're out of hope."
House Majority Leader Kevin McCarthy (R-Bakersfield) called the long wait for a decision "troubling."
"The president's approach to this process and his ultimate decision reveals a lack of leadership when facing tough issues," McCarthy said in a statement.
Staff writer Marcus E. Howard in Washington contributed to this report.
For more White House coverage, follow @cparsons
MORE ON THE KEYSTONE PIPELINE:
Keystone XL pipeline may no longer make economic sense, experts say
New twist in Keystone controversy: Pipeline owner TransCanada asks for a delay
Democrats cheer Keystone pipeline setback, but it could hurt them in presidential race
Sign up for Essential California for the L.A. Times biggest news, features and recommendations in your inbox six days a week.
You may occasionally receive promotional content from the Los Angeles Times.