Kansas Gov. Jeff Colyer concedes GOP primary to Kris Kobach, a staunch Trump ally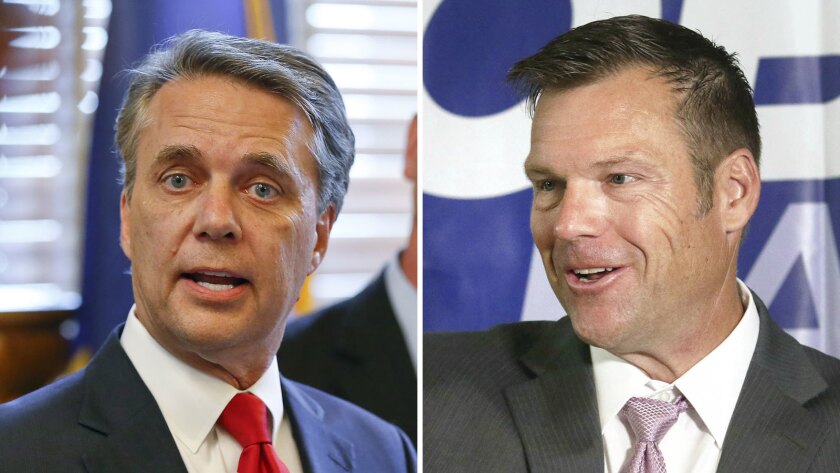 Kansas Gov. Jeff Colyer has ended his campaign to keep his job, conceding the Republican primary to Kris Kobach, whose forceful condemnations of illegal immigration over the years have catapulted him to the national stage and won him the admiration of President Trump.
"The numbers are just not there," Colyer said in a news conference Tuesday, after the latest tally of provisional and mail-in ballots increased Kobach's lead to nearly 300 votes in the election held last week. More than 313,000 votes were cast.
Kobach's win is sure to set up a battle this fall in which national Democrats pour millions of dollars into the state in an effort to defeat one of the Trump's closest allies. Kansas is staunchly Republican and hasn't elected a Democratic governor since 2006. But some political analysts believe that Kobach's win could turn off moderates and drive more Democrats to the polls.
Kobach, who is currently Kansas secretary of state, will face state Sen. Laura Kelly in November.
Her campaign has already started painting Kobach as too extreme for the state and too close to Trump.
Shortly after the 2016 presidential election, Trump appointed Kobach to his immigration policy team. Months later, in May 2017, Trump tapped him to team up with Vice President Mike Pence to head a commission on voter fraud.
Trump endorsed Kobach, calling him a "fantastic guy" who would be strong on immigration and crime.
Some Republicans in Washington had urged Trump not to endorse any candidate in the race, fearing that a Kobach win could play into the hands of the Democrats by keeping moderates away from the polls in a pair of competitive congressional races in Kansas.
Throughout the primary campaign, Kobach focused heavily on illegal immigration and frequently dropped Trump's name in interviews, praising the administration for its hard-line approach.
"That relationship with the president, mixed with a strong name identification and message on illegal immigration, definitely helped him," said Neal Allen, chair of the political science department at Wichita State University. "It was almost like a perfect storm for him."
But, Allen said, "a wave of Democratic money is headed to the state."
"If Democrats can defeat Kobach, they defeat Trump as well," he said.
Complicating things for Democrats, however, is a run by independent candidate Greg Orman, a businessman who challenged Sen. Pat Roberts in 2014.
"Orman is really the secret weapon for Republicans in the general election," said Patrick Miller, a professor of political science at the University of Kansas. "He could allow Kobach to win the race with just a plurality. So Kobach may be a weaker nominee for Republicans, but he will have that structural advantage of a three-way race."
For Republicans on Tuesday, the focus was on unity. Colyer endorsed Kobach's campaign this fall, saying it was important to "keep this seat in Republican hands."
"Kansas is too important," he said.
In a statement, Kobach thanked his rival and echoed his message of unity.
"I will work hard to advance our shared values, and I look forward to working with Gov. Colyer and all Republicans to keep Kansas red in November," he said.
Twitter: @kurtisalee
---
UPDATES:
6:55 p.m.: This article has been updated with additional statements from Colyer, Kobach.
This article was originally posted at 6:20 p.m.
---
Must-read stories from the L.A. Times
Get the day's top news with our Today's Headlines newsletter, sent every weekday morning.
You may occasionally receive promotional content from the Los Angeles Times.