The 'crazy fat lady' reports on crime from the Texas border. Cops say she's gone too far, and now she's facing charges
Some of Priscilla Villarreal Trevino's nearly 84,000 followers say they trust her live video reports from crime scenes, often peppered with Spanish profanities.
(Molly Hennessy-Fiske / Los Angeles Times)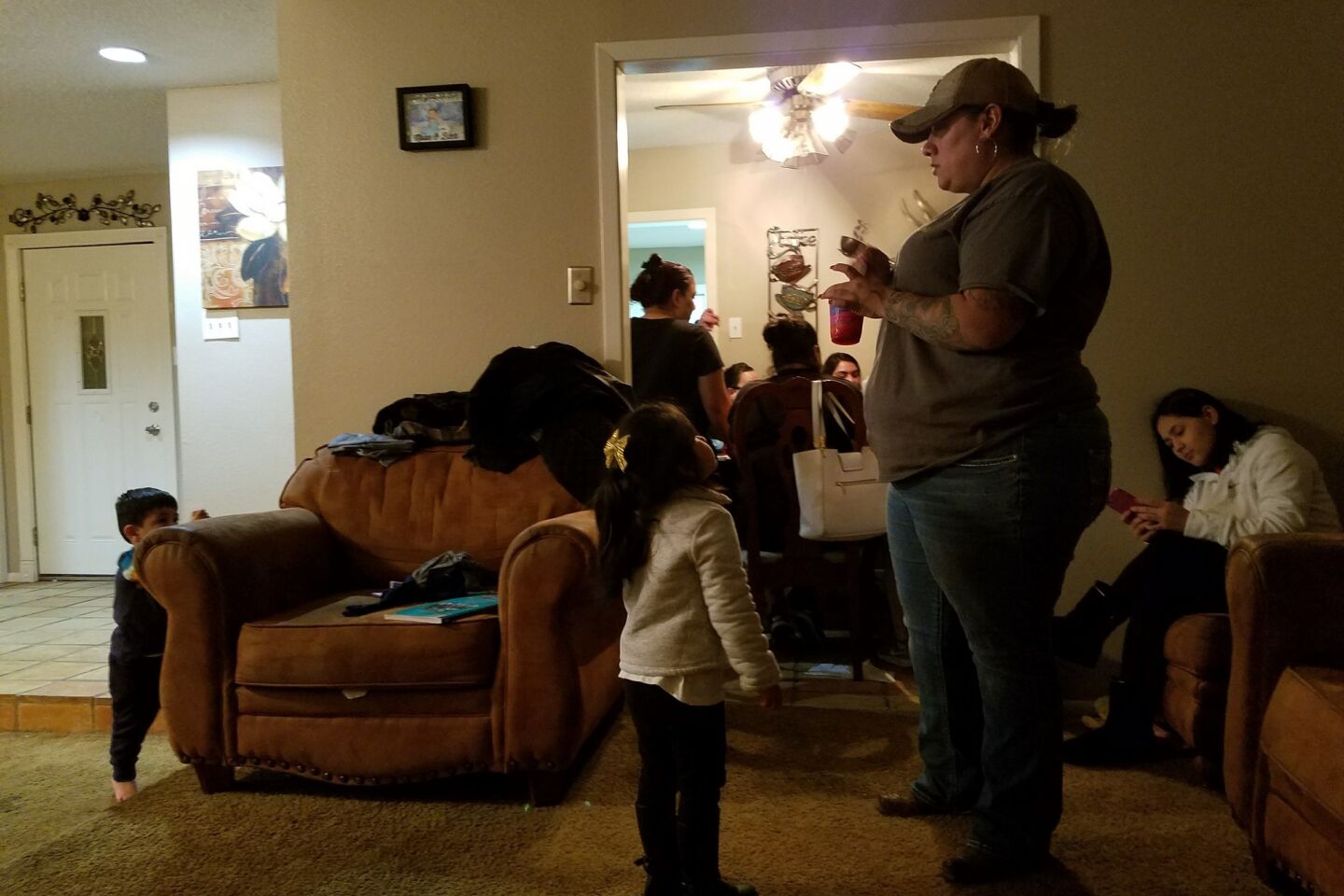 Villarreal, 33, joins relatives at her sister's house in Laredo, grabbing food and playing games before returning to her night shift.
(Molly Hennessy-Fiske / Los Angeles Times)
Jaime Morales, owner of Big Daddy's food truck, photographs Villarreal.
(Molly Hennessy-Fiske / Los Angeles Times)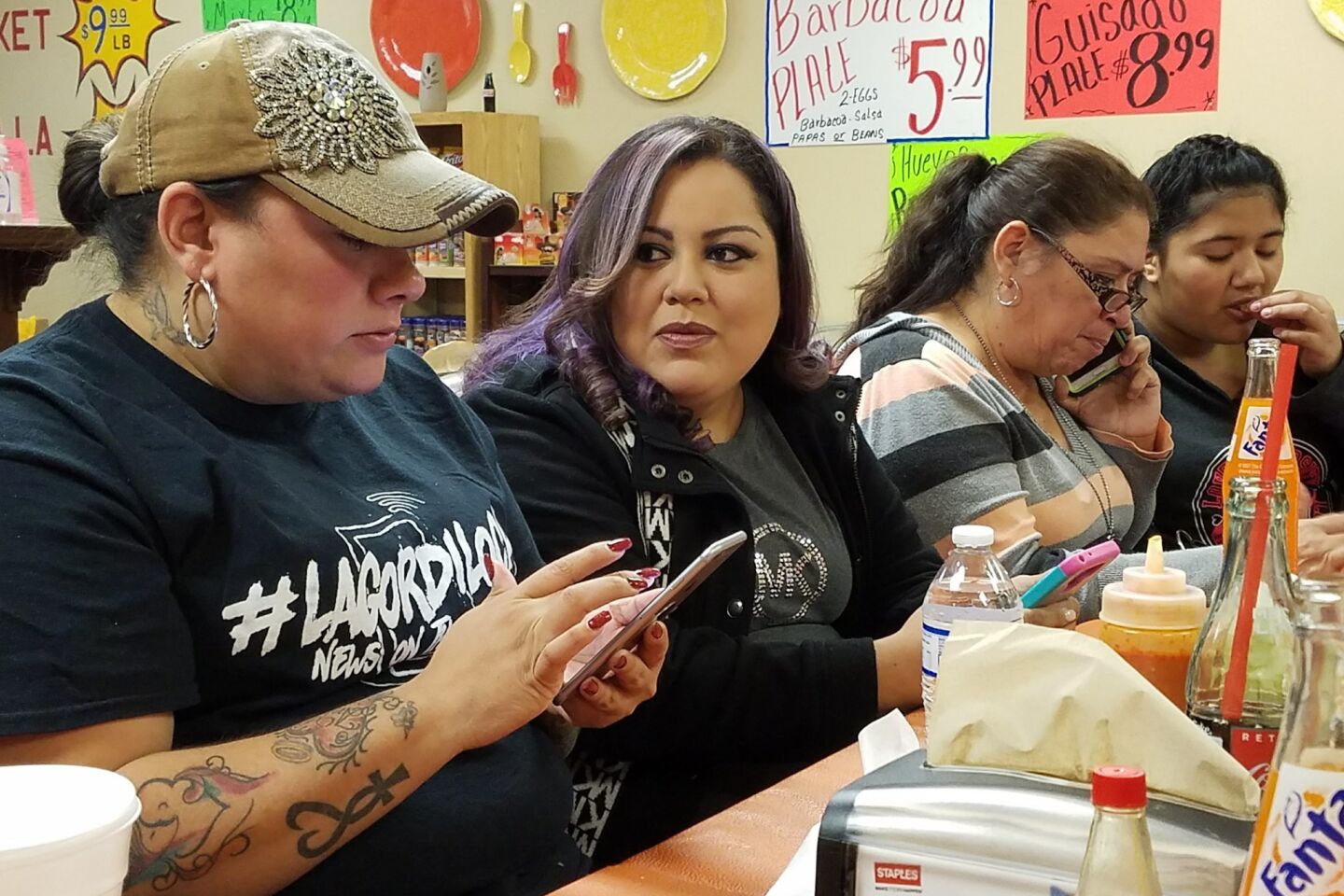 From left, Villarreal checks tips on her smartphone during a barbacoa dinner with her cousin Cecily Vera and mother Maricela Rodriguez.
(Molly Hennessy-Fiske / Los Angeles Times )
Villarreal talks to Luciano Lacara, a witness to a fatal hit-and-run.
(Molly Hennessy-Fiske / Los Angeles Times)
Villarreal, right, poses with workers at a Taco Palenque restaurant she frequents in Laredo.
(Molly Hennessy-Fiske / Los Angeles Times )
Reporting from Laredo, Texas —
Soon after pulling up to the scene of a hit-and-run in her blue pickup truck, Priscilla Villarreal Treviño whipped out her cellphone and started broadcasting live on Facebook as police looked on.
"Lagordiloca, reporting what's happening — buenas noches," she told her 86,000 followers in Spanish, then English. "A woman was run over here in this street. You can see in the road they found some things: her shoes. Imagine. They have her in an ambulance."
She is known as Lagordiloca — her riff on la gorda loca, the crazy fat lady — not just in her border hometown, but across the country. Fans tune in from Los Angeles to Chicago, New York and Puerto Rico to watch the tattooed video blogger with a cascade of curls tucked under her rhinestone cap deliver bilingual nightcrawler-style reports on car crashes, shootings and other violent crime.
Villarreal produces saucy live Facebook feeds, peppered with Spanish expletives, that are a mix of raw news and gossip — or as she says, chisme — and draw a range of Laredoans, from street hustlers to college students to retirees. Suburban moms on the upscale north side discussed her posts at a recent country club luncheon. In a region notorious for corruption and a city where local politicians have been under investigation by the FBI, many see her as someone they can trust.
But Villarreal's reports also have sparked tensions with the Laredo Police Department, which last month charged her with two counts of misuse of official information, a third-degree felony, in connection with her posts. Villarreal turned herself in, was briefly jailed and is fighting the charges, contending that the department violated her right to free speech.
Critics accuse Villarreal of failing to vet information. Last spring, she posted allegations about abuse at a day care center that proved unfounded, and the center sued for defamation, obtaining a judgment of about $300,000 after Villarreal failed to show up in court.
Villarreal, 33, who has no journalistic training, said that she didn't go to court because her niece was fatally ill in the hospital and that she is more careful now.
But her posts have irked police. Last summer, she warned of looming gas shortages in the wake of Hurricane Harvey, and drivers swarmed local stations, leaving police to calm the city. She reported that police had warned a local elementary school about a man who had "an urge to kill children," and parents across the city rushed to bring their children home, even though police had already detained the man.
Villarreal was charged last month after she posted the name of a U.S. Customs and Border Protection agriculture supervisory program manager, who committed suicide by jumping from an overpass in April.
Authorities say a Laredo police officer leaked the name to Villarreal, who posted it before the department officially released it. A police spokesman said the officer involved was placed on leave after officials received a warrant to search her phone and discovered hundreds of calls and messages she had exchanged with Villarreal.
Laredo Police Chief Claudio Treviño released a statement saying the department is committed to protecting and serving the community, and "part of that commitment is the fulfillment of protecting everyone's rights under the law, especially to the right of freedom of speech. Additionally, there is also an obligation to the protection of a person's right to privacy as it relates to sensitive information."
Villarreal said the department is trying to silence her, and she's unwilling to back off, having turned down job offers from mainstream news organizations rather than tone down her posts.
"I'm independent. I can say what I want," she said. "I didn't do anything wrong."
The police use a closed radio system designed to avoid monitoring by outside scanners, chiefly drug traffickers across the border, so Villarreal relies on tip calls, texts and social media.
Drivers beep and wave as they pass her truck, the dinged Dodge Ram she bought for $700, its dashboard patched with duct tape. She does not get paid outright, but she does accept free mangonada drinks, candied apples and other local favorites, promoting local businesses in return. Lately she has tried to minimize her swearing before midnight since her fame grew among local kids, who recognize her on the streets and wave.
"Que onda, guey?" she said to fellow drivers stopping for gas on a recent Saturday, "What's up, guy?"
After posing with them for photos, she pleaded for information. "If you see something in the street, call me," she said in Spanish.
Laredo police gave her a wide berth when they saw her at the Stripes gas station or Taco Palenque. She kept her distance too, given her ongoing case. But when a police sergeant she has known since childhood approached her at Denny's, she greeted him warmly.
"He used to say, 'Behave or I'll arrest you,' " Villarreal said.
The two laughed.
"I was telling her, there's good cops and bad cops," the sergeant said before rejoining his comrades at another table.
Villarreal is also on good terms with the local sheriff, Martin Cuellar, brother of Democratic Laredo congressman Henry Cuellar.
"I don't have a problem. She's from my old neighborhood — I know how she can be," Sheriff Cuellar said.
Villarreal grew up in the gritty central Las Cruces neighborhood, a cluster of wood-frame ranch houses whose yard shrines to the Virgin of Guadalupe glow as she passes at night. As a child, she was an explorer with the sheriff's office. But she dropped out of high school, racked up arrests for drugs and tampering with evidence in a murder case, charges that were later dismissed.
By the time she hit 30, Villarreal had fallen in love with a guy from the neighborhood and settled down. Two years ago, she was married, working for a wrecker service and expecting her first child. But the baby was born prematurely and died after only a few hours. Villarreal became depressed, gained weight and had trouble sleeping.
One night as she drove around town, Villarreal stumbled upon police responding to a hostage situation in progress at a home on the city's troubled south side, facing the Rio Grande. Two girls were inside, ages 6 and 16. She started filming. She can still remember the sound of the shots. As she watched, officers carried the girls' bodies out. Within hours, Villarreal's video clips drew more than 800,000 views. "Lagordiloca" was born.
She's sponsoring a float in next month's Presidents Day parade with a First Amendment theme, has her own rap song by oilfield worker Alex Martinez, aka Wyze Mtz, and another in the works about her criminal charges. Martinez described her posts as "unfiltered."
"That's what ticks off a lot of people, but also makes people feel close to her: It's how we are," he said.
Villarreal's mother vowed her daughter would prevail against the Police Department.
"They don't like that she's there before everyone else," Maricela Rodriguez said. "They wanted to quiet her, but they just made it bigger."
Villarreal asked followers during a live video Saturday why they tuned in. Their responses came rapid fire:
"Because you're against corruption."
"The chisme is the best!"
"As my mother says, you don't mince words."
She's instantly recognizable when she rolls up to crime scenes in a Lagordiloca T-shirt with her catch phrases on the back: "Que rollo" ("What's happening?") and a much saltier expression we won't print here.
At the hit-and-run, witnesses approached her, offered a description of the vehicle and encouragement in her pending case.
"I don't know what they arrested her for — she tells it like it is," an elderly woman said.
Lagordiloca shook her hand, climbed back into her truck and peeled off toward the next scene.
To read the article in Spanish, click here
molly.hennessy-fiske@latimes.com
Twitter: @mollyhf
Must-read stories from the L.A. Times
Get the day's top news with our Today's Headlines newsletter, sent every weekday morning.
You may occasionally receive promotional content from the Los Angeles Times.