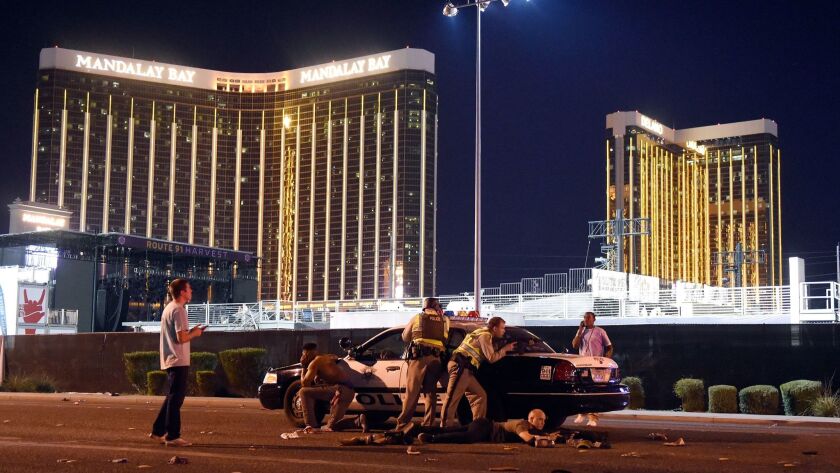 Reporting from Las Vegas —
Scott Burns, a 41-year-old event planner from Berkeley, was with his colleagues in the lobby of the Mandalay Bay Resort and Casino late Sunday when four police officers ran by.
"We didn't think anything of it," recalled Burns, who was there to help put on an annual tech conference scheduled to start the next morning.
He figured there might have been a fight somewhere in the casino. "It's Vegas."
After hugging everyone goodnight, he headed toward his room on the 10th floor. Just out of the elevator, he ran into another colleague, who asked if he wanted to join him for a quick nightcap. Burns agreed. He ran to his room, dropped off his things and texted his wife.
But when Burns and his colleague got into the elevator, it remained stuck on the floor.
Then his phone vibrated with a text message: "Active shooter. Go to your room."
It was from a friend who was learning about the shooting at the Route 91 Harvest, a three-day country music festival across the street from the luxury hotel and casino.
More texts followed. Burns also checked Facebook and Twitter.
"I was getting a ton of misinformation about what was going down," Burns said. "The first wave of bad info was that there was a shooting at the country concert and that the shooter had ran into Mandalay Bay. Then it was two shooters and one shooter ran into the Aria Resort and Casino. Then there was a report of shots fired at the Aria and shots confirmed at New York, New York …. There was a brief time when there was a bomb threat at the Luxor."
Not knowing what was happening, Burns went to his room. He locked the door, turned off the lights and sat in a corner with a can of Pringles and his phone plugged in to keep it charged.
"I stayed as far away from the front door as possible," he said. "If someone was to enter my room, I want them to think there's nobody in there. I want them to think this is a waste of my time."
He called his wife in California and his mom in Michigan to tell them he was okay and that he loved them.
In a room on the 32nd floor, in a different wing of the building, the lone gunman, 64-year-old Stephen Paddock, was firing round after round on the crowd of concertgoers below.
At some point, a colleague also staying on the 32nd floor began to relay information to Burns and the others.
"SWAT is here, I just felt the concussion blast of when they opened the door," she said in group text.
Burns was grateful for the accurate information.
"It helped ease a lot of the confusion, because at one point you start to worry about multiple shooters and multiple scenes," he said. "You start to think it's a coordinated attack on a city. You think about it — and I know I did — in a state that has pretty lax gun laws, I figured you can drive down the street and start shooting, you can do it."
He said his colleague on the shooter's floor was eventually evacuated to the basement and then the theater, where she and other guests spent most of the night.
It was 3:30 a.m. when 15 SWAT officers knocked on Burns' door. They told him to come out with his hands raised.
"They went in, swept the room with guns out, thanked me and moved on down the hall," Burns said. "They did this with every room. I thought they were for sure going to ask us to leave, but we just stayed locked in."
On Monday morning, he and his colleagues met downstairs in the lobby.
"It was a crime scene, and … it was somber," he said. "They were giving out free coffee and breakfast. I feel fortunate."
The tech conference, NetApp Insight, began Tuesday morning — one day late.
For more Southern California news, follow @latvives on Twitter.
---