Dying Utah girl gets flood of mail after wishing for a friend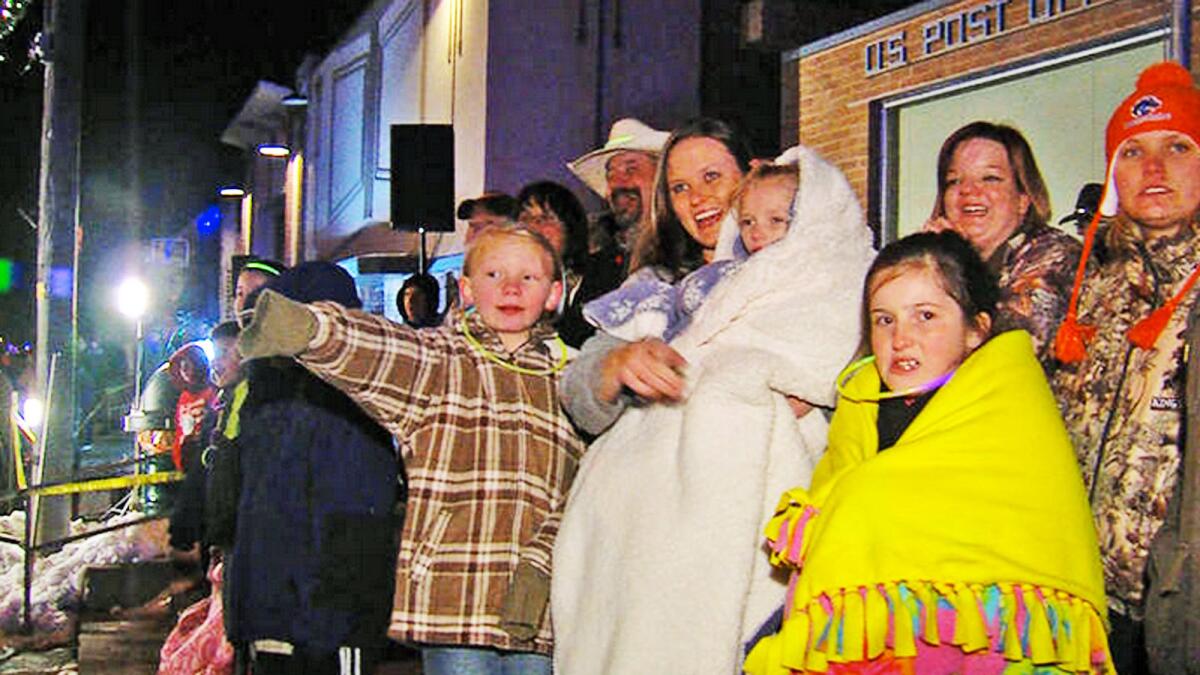 For months now, Addie Lynn Fausett has been a little girl without friends.
It's not her fault: The 6-year-old from rural Utah suffers from a worsening brain disease that robs her of her free will, causing her to lash out — scratching, biting and pulling the hair of neighborhood children. Her mother has found her eating glass and palming a hot stove, so she now keeps Addie close.
The girl wants a best friend forever. But time is running out.
Doctors now say her extensive cerebral atrophy means Addie, whose weight has dropped to 25 pounds, has perhaps only another year to live.
So at Thanksgiving, her grandmother hatched an idea: Use Facebook to appeal to the outside world to send Addie holiday cards, to show a dying child that she indeed has friends.
"I thought, if maybe, just maybe, we could get a few hundreds cards," said Addie's mother, Tami Fausett. "We never, ever dreamed of anything like this."
Fewer than 1,000 people live in the girl's hometown of Fountain Green, about 90 minutes south of Salt Lake City. Typically, the town receives less than 1,000 letters and packages a day.
But in the last month, more than 300,000 cards and letters (and even a few stuffed animals) have arrived just for Addie.
The mail has arrived by the tractor-trailer load. For weeks, volunteers have sat at tables at the church cultural hall to sort though the onslaught. All for a tiny child who just wanted a pal.
And the mail is still coming from across the U.S. and beyond — China, New Zealand, Japan, Germany, Saudi Arabia, Australia and Scotland.
On Monday, the tiny post office received 12,000 letters; on Tuesday nearly as many. The day after Christmas brought 40,000.
"We got 30 trays of mail [Monday], and every day last week we got more than 100," said Fountain Green Postmaster Scott Kerksiek. "That's a heck of a lot of mail. But let me tell you, it's all for a very good cause."
President Obama sent a card. So did a Vietnam War veteran, who gave Addie his Bronze Star. On the proclamation accompanying the medal, the veteran crossed off his name and wrote in another he believes deserves a medal for valor: Addie Lynn Fausett.
The letters began arriving at Box 162, Fountain Green, UT 84632, just after Thanksgiving. That prompted news coverage in the Utah media, which prompted more letters.
People began hearing of Addie's hard-luck story. At age 3, she stopped growing. But for years, MRIs showed that her brain disease was held at bay. Earlier this year, she rode her bike with its training wheels around her neighborhood. She was fearless, and loved the companionship of girls her age.
Then, this year, Addie began regressing. Words suddenly came with more difficulty. She struggled to walk and sleep.
Her mother had already quit her job as a waitress at the local Denny's to care for Addie full time.
"She was getting sicker by the day," said Fausett, 29, who has two other daughters, Shayley, 10, and Audree, 7; along with her fiance's 2-year-old son, Jaymeson.
This fall, the family kept Addie from attending kindergarten. The girl couldn't understand why.
Recalled Maree Jensen, the girl's grandmother: "One day, she pointed to some children and said, 'Grandma, see those kids laughing? I want to laugh with them. Why don't my friends play with me anymore?' Well, that just broke my heart."
By Thanksgiving the Facebook page was up.
Many of the cards are stored in the family home. Fausett wants her daughter to know they are for her, and for her only. "I joke with her, 'Look what your friends did! There's a mountain of mail in my living room!'"
But fate can be cruel: By the time the cards began to arrive last month, Addie had totally lost her ability to speak. "These days, she only smiles," Fausett said. "She climbs atop the pile of letters. Even though she doesn't say it, she knows they're hers."
The outpouring of concern has come from afar, and from nearby.
Last week, Fountain Green sponsored a Christmas light parade in Addie's honor. Bundled up in a white blanket in her mother's arms, with her two sisters and new brother by her side, Addie watched the floats pass the small post office as residents cheered her on.
At least one of the floats had her name on it.
The other day, the nearby Pleasant Grove Police Department gave Addie and her sisters tickets to Sea World in San Diego, along with some spending cash. The family returned from the trip on Monday.
Fountain Green Mayor Ron Ivory says this is the kind of thing small towns do for their residents.
"This town has always known Addie," he said. "The news of her declining health just devastated us."
Ivory says letter sorters will stay at work as long as the mail keeps coming.
"All this girl ever wanted was friends," he said. "Now she's got quite a few."
Addie's grandmother has learned a lesson from her granddaughter's plight.
"We'd open up a letter from a Vietnam veteran and the next one would be from a Vietnamese family," she said. "People who once fought in a war were coming together to help a little girl. It's overwhelming."
She wept. "I've learned people really do love others. They still do. Many have just forgotten how."
Sign up for Essential California for the L.A. Times biggest news, features and recommendations in your inbox six days a week.
You may occasionally receive promotional content from the Los Angeles Times.