Why are migrants getting sick or dying on the border?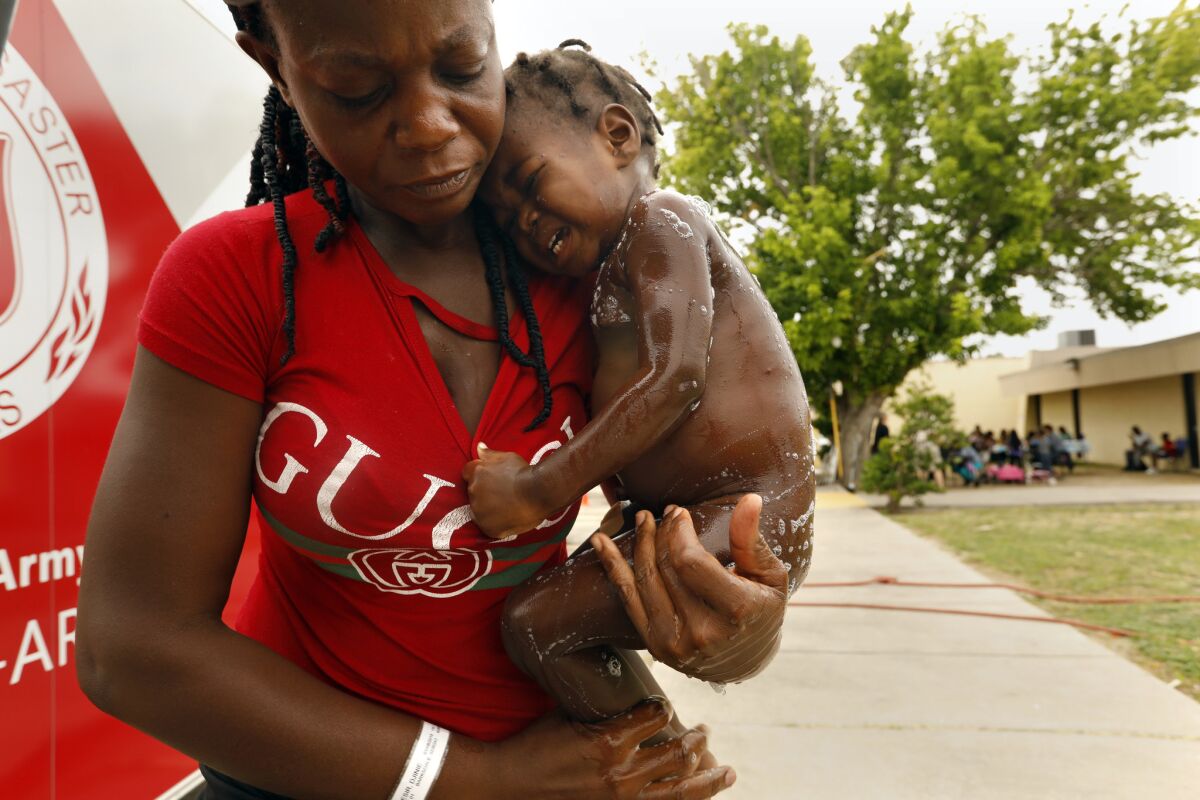 Reporting from Houston, Texas —
In recent days, images of squalid conditions for migrants held by the Border Patrol have been made public by a congressman, federal government inspectors and advocacy groups. Meanwhile, the Border Patrol has reported the deaths of additional migrants in custody and has launched an investigation into a private Facebook group purportedly used by agents to post obscene and racist statements, some mocking migrant deaths.On Sunday, President Trump tweeted that news media accounts — many of which are based on the images and descriptions of federal inspectors and elected officials — are "phony and exaggerated." With the number of controversies spiraling as overcrowding at the border increases, here's a look at questions concerning the latest developments:
How bad are conditions in U.S. Customs and Border Protection migrant holding areas?
Last week, investigators from the Department of Homeland Security inspector general's office issued a scathing report citing "dangerous overcrowding" at Border Patrol temporary lockups they visited in Texas' Rio Grande Valley last month.
The detention centers were built to house migrants before being transferred to Immigration and Customs Enforcement for release or longer term detention. But as ICE facilities have filled, a backlog has developed, officials said.
The new report said migrants were held by the Border Patrol for up to a month without enough food, hygiene or laundry facilities that it said required "immediate attention and action." Investigators included photos of migrants holding handmade signs to cell windows detailing how long they had been held and pleading for help.
U.S. Customs and Border Protection officials have said that their detention centers have filled as nearly 600,000 migrants have arrived at the border since the fiscal year started in October, and that they are expanding massive temporary tent detention centers in the Rio Grande Valley to ease the crowding. Border Patrol officials have also promised to improve medical services. They made similar promises after the inspector general's office released a critical report in May on overcrowding at detention centers in El Paso.
That month, the federal government reported that more than 144,000 migrants arrived at the border with Mexico, a 13-year monthly high, many of them families seeking asylum.
Child welfare standards for migrants in detention are governed by the terms of the 1997 Flores federal court settlement. The Border Patrol must allow lawyers, doctors and others monitors to visit and interview children in its custody, as was done last month in South Texas.
Afterward, lawyers representing migrant children requested that a federal judge in Los Angeles issue a temporary restraining order that would force the government to allow the facilities to be inspected and staffed by medical professionals. On June 28, Judge Dolly Gee ruled that lawyers for the government and migrant children must attend mediation with an independent monitor to ensure the Trump administration complies with the Flores settlement's detention standards. The judge gave them until Friday to file a report on what they have agreed to do to address conditions for detained migrant children.
Why are migrants getting sick in detention?
Border Patrol officials have reported recent outbreaks of chicken pox, flu, measles and mumps in their detention centers. They say they medically screen all migrant children upon arrival, and that some are already ill.
In the Rio Grande Valley, the busiest border stretch for crossings, agents reported transporting more than 30 migrants daily last month for treatment in hospitals. Migrants suspected of being ill were quarantined at a Border Patrol station in Weslaco, Texas. At least one 16-year-old Guatemalan migrant died after being diagnosed with flu and quarantined at Weslaco.
Advocates who visited migrants there last month say the Border Patrol could do more to prevent the spread of disease.
During a tour in late June of the largest migrant detention facility on the border in McAllen, Texas, Border Patrol supervisor Carmen Qualia said they had run out of money months before to house migrants.
Designed to house 2,500, the converted warehouse was often overcrowded, and exhausted its $12.5-million annual budget in April for the fiscal year that ends in September.
"This is the ramification," Qualia said, pointing to cells packed with migrant men she said had been held for several days. "This is way more than we ever anticipated."
Among those being held at the facility were children who arrived at the border without an adult. By law, they are supposed to be transferred to the Department of Health and Human Services for placement in shelters within 72 hours, but hundreds had been held longer than that in McAllen because HHS was not transferring them quickly enough to shelters, Qualia said.
Facing Trump's asylum limits, refugees from as far as Africa languish in a Mexican camp »
Does the Border Patrol provide migrants food, water, soap, medicine and other necessities?
Hope Frye, a San Francisco-based immigration lawyer, said many of the children she saw at the Border Patrol detention center in McAllen last month had not been fed, washed or medically screened and were sick with what appeared to be the flu.
Qualia said the Border Patrol recently added medical staff to help care for children at the McAllen detention center. She pointed to showers and bathrooms where she said children are given priority. She said migrants receive three meals as well as snacks such as apples and crackers, which were stored outside migrants' cells.
Frye said she also saw unsanitary conditions, including mothers — such as a 17-year-old with a premature newborn — forced to feed their children from unwashed bottles. She said she also saw children stained by vomit without access to water and bathrooms.
Frye said doctors and other monitors need to be stationed in Border Patrol holding areas to ensure children are healthy and not detained for more than 72 hours. "Every child needs a real medical screening, balanced meals with enough calories. As soon as you do that, you improve health," she said.
How many migrants have died in Border Patrol custody this year or found dead after attempting to cross into the U.S.?
The Border Patrol does not make public a running total, but a review of the agency's statements shows at least nine migrants have died in its custody since the fiscal year began in October, including three children. Three more youths died after being transferred from Border Patrol to HHS custody.
Last fiscal year, the Border Patrol reported 283 deaths along the border, down from a high of 492 in 2005. But since the Border Patrol only tracks migrant deaths it responds to, migrant advocates say the actual toll is far higher.
The United Nation's Institute of Migration reported 442 migrant deaths from January through July 2018 through its Missing Migrants Project. So far this calendar year, the advocacy group has reported 181 migrant deaths on the U.S.-Mexico border.
Last month, Border Patrol officials recovered the bodies of a Guatemalan woman, her toddler son and two other children on the banks of the Rio Grande in Texas, while Mexican officials across the river in Matamoros found the body of a Salvadoran father and his 2-year-old daughter. Border Patrol officials were searching last week for another 2-year-old girl who was lost while crossing the river near Del Rio, Texas, with her mother, a Haitian immigrant.
What has the Trump administration done to ease crowding in migrant holding areas and shelters?
In the Rio Grande Valley, the Border Patrol recently erected tents at stations in McAllen and Rio Grande City as well as a massive tent to hold 1,000 migrants in Donna, Texas, that is due to be expanded to hold another 500 migrants.
In El Paso, a large detention center similar to the one in McAllen is scheduled to be opened next month for 800 migrants.
In addition, HHS expanded shelter space for migrant children transferred to its care by the Border Patrol. The agency added an overflow shelter in Homestead, Fla., for 2,400 migrant youths earlier this year, an emergency shelter for 1,600 at a former oil field worker housing complex in South Texas recently and plans to add another for 1,400 at Fort Sill, Okla., this summer.
What is Congress doing?
Congress has approved $4.6 billion in additional border funding, but it's not clear whether that will improve migrant detention conditions.
Last week, Democratic congressional lawmakers, including Reps. Alexandria Ocasio-Cortez (D-N.Y.), Joaquin Castro (D-Texas) and Pete Aguilar (D-Redlands), visited a Border Patrol detention center in Clint, Texas, outside El Paso.
During their visit, the lawmakers said Border Patrol agents mocked them, tried to confiscate their cellphones and refuse them access to those detained. Ocasio-Cortez managed to speak with some migrants, who she said told her they had been separated from their children and forced to drink from toilets. Castro, chairman of the Congressional Hispanic Caucus, smuggled in a cellphone and later posted photos and video online of detained migrants huddled on sleeping bags in concrete cells.
"Our border patrol system is broken. And part of the reason it stays broken is because it's kept secret," Castro wrote on Twitter. "The American people must see what is being carried out in their name."
The visit came the same day ProPublica reported that a private Facebook group purportedly run by Border Patrol agents had been used to denigrate immigrants and advocates, including Ocasio-Cortez. Border Patrol officials have since said they are investigating. CNN, meanwhile, reported another Facebook page was apparently used by Border Patrol agents to joke about detaining and separating migrant families.
Acting head of the Department of Homeland Security Kevin McAleenan and Border Patrol Chief Mark Morgan have been asked to testify at a congressional hearing on Friday about the treatment of child migrants on the border.
Clara Long, a senior researcher with Human Rights Watch who documented deteriorating conditions last month, also plans to testify before the House Oversight Committee "to provide them further avenues for investigation."
Long said that despite Border Patrol tours for lawmakers and media, "there's no reason to think conditions are any better. The problem is not solved."
molly.hennessy-fiske@latimes.com
Must-read stories from the L.A. Times
Get the day's top news with our Today's Headlines newsletter, sent every weekday morning.
You may occasionally receive promotional content from the Los Angeles Times.