Border Patrol allows glimpse of embattled Texas facility after reports of dismal conditions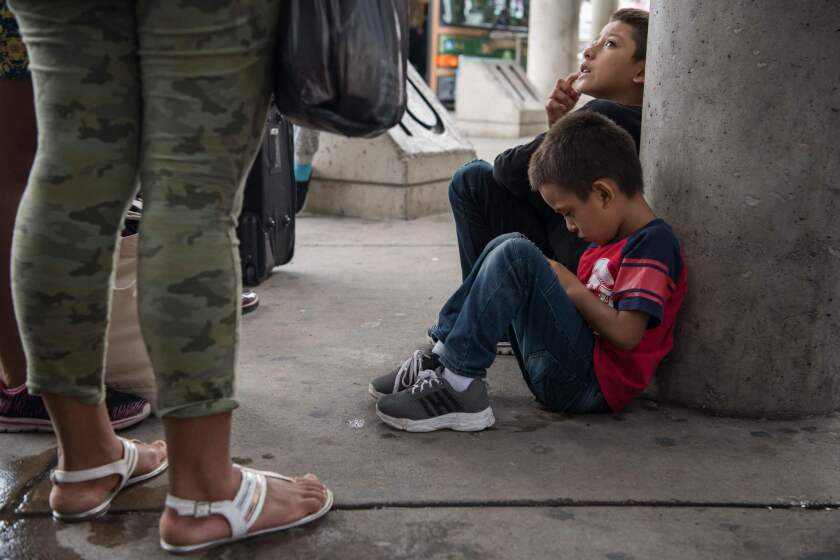 Reporting from McAllen, Texas —
In a cavernous former warehouse, three toddlers played with uniformed U.S. Coast Guardsmen, tossing colored rings and fitting blocks into a box next to playpens as Border Patrol agents looked on.
The guardsmen were among hundreds of extra federal employees deployed to the Border Patrol migrant holding area that has been overwhelmed in recent months by thousands of migrant families, many with small children.
In a nearby hallway, an infant slept intertwined with a woman on a mat spread across the cement floor. In one of the chain link-fenced cells that earned the facility its nickname — the doghouse — a man clutched a baby to his chest.
In another, a young boy was weeping. A Border Patrol spokesman reported that the boy wanted his shoelaces, which are confiscated when migrants are apprehended.
The scenes played out as the Border Patrol allowed reporters into its largest holding area Thursday following reports of squalid conditions.
The visit came as Congress approved $4.6 billion in emergency border funding in the wake of reports of dire detention conditions and migrant deaths, including a Salvadoran father found drowned with his 2-year-old daughter on the banks of the Rio Grande on Monday.
Half a dozen more migrant children have died attempting to cross the river since April. Six other youths died in U.S. Customs and Border Protection custody since December, including a 16-year-old Guatemalan migrant who caught the flu during an outbreak at the McAllen facility last month.
This week, attorneys representing migrants asked a U.S. District Court in California to issue a temporary restraining order against the federal government, arguing that children in Texas Border Patrol facilities were being held in "deplorable" conditions in violation of a 1997 court settlement that set legal requirements for housing migrant children.
The Wednesday filing, which cites the McAllen facility, calls for the Border Patrol to provide detained migrant children adequate rest, food, water and medical care; immediately release them to their families; and allow medical experts to treat them. It included accounts from immigrant advocates who visited the facilities last week and saw hundreds of children sick, forced to care for toddlers without access to food, water or toiletries.
When Brandon Judd, president of the union that represents Border Patrol agents, visited the McAllen facility last month, he was troubled to see agents assigned to medically screen and babysit migrant infants.
"We want to make sure people are safe, but we're just not trained to do that," Judd said. "When you see deaths in our custody and quarantines, it's because we're not trained to do that. Things like that are going to get by us."
Reporters who visited Thursday were not allowed to interview, photograph or record migrants at the facility. Built for 1,500 people, it now holds more than 1,900, including more than 400 children who arrived without a parent, said Carmen Qualia, acting executive officer responsible for the facility.
Across the Rio Grande Valley, the agency's nine stations and a 1,000-bed emergency tent housed 7,600 migrants, she said.
"This is ground zero" of the migrant influx, she said.
Nearly 600,000 migrants have been caught crossing the border illegally since the fiscal year began in October, and 144,000 arrived at the border last month, the highest monthly total in 13 years. Agents in the Rio Grande Valley said they were still catching 1,500 people a day.
"This is way more than we ever anticipated," Qualia said.
By law, children unaccompanied by adults must be transferred to the custody of the Department of Health and Human Services within 72 hours for placement in shelters, with family or other sponsors.
Qualia said that target has been missed frequently in recent weeks because it has taken longer for HHS to find space for children in crowded shelters, with hundreds held for more than 72 hours. She said the average stay for children in Border Patrol custody this week was down to 40 hours.
The Border Patrol in the Rio Grande Valley refers more than 30 migrants a day to local hospitals, Qualia said. She said every migrant child is medically screened when they arrive and leave the McAllen facility — a claim disputed by migrant advocates who visited earlier this month.
"Children are going to die, their health and safety is in imminent danger," said one of those visitors, Hope Frye, a San Francisco-based immigration attorney.
Migrant advocates interviewed about 150 children in the Rio Grande Valley, including 40 at the McAllen facility.
"Every single one of those kids we saw was sick," said Jodi Goodwin, a local lawyer who came with a pediatrician. "It's a public health nightmare."
Only one of the youths she saw had been medically screened, she said. Many of those she spoke to had been held two to three weeks; one was held 27 days.
Goodwin visited another station where 200 migrants — adults and children — were held in a tent so cramped, they had to sleep outside in a parking lot.
Migrants in Border Patrol custody are not guaranteed access to telephones or lawyers, so they have been unable to contact relatives, she said.
This week, a migrant family of five visited Goodwin's office looking for a relative who had been held for a month.
"That's how long people are waiting, sitting in these Border Patrol no man's land holding areas, incommunicado," she said.
One parent, a San Francisco janitor who asked to be identified only by her first name, Rossmery, because she is in the U.S. illegally, said she has spent the last two weeks trying to learn more about her detained children.
She said the two — 10-year-old Antony and 2-year-old Kimberlly — were fleeing death threats in Guatemala when they crossed into the U.S. with their grandmother June 12.
The next day, the Border Patrol called.
"They said my daughter arrived with a high fever and they took her to a special section" of a facility in South Texas, but they wouldn't say where.
Her son was allowed to call her once, nine days after he arrived at the McAllen facility, and told her that guards were watching him and that he was being held apart from his grandmother.
"He sounded scared," said Rossmery, 25.
She called Guatemalan consular officials, who said her mother had been held with the children at the McAllen facility and signed paperwork agreeing to be deported.
But Rossmery was skeptical.
"I don't believe that she signed because she knows how my daughter would suffer without her," she said. "She was 10 months old when I left. She knows my mother as her mother."
On Thursday, Rossmery managed to get through to an HHS hotline and learned that earlier in the day her children had been moved to a shelter.
The man on the phone didn't say where. He took her number and said officials at the shelter would call her in a week.
molly.hennessy-fiske@latimes.com
---
Must-read stories from the L.A. Times
Get all the day's most vital news with our Today's Headlines newsletter, sent every weekday morning.
You may occasionally receive promotional content from the Los Angeles Times.