Mississippi 'Dreamer' Daniela Vargas released from detention but deportation order stands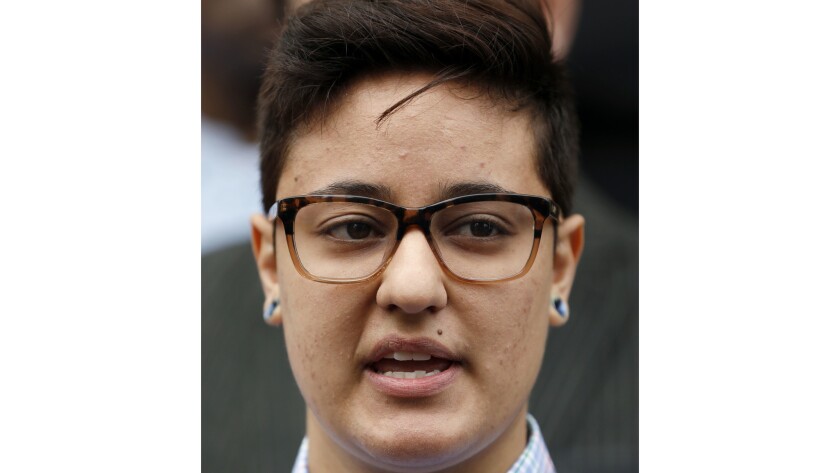 Reporting from Atlanta —
Immigrant and civil rights advocates celebrated Friday as Daniela Vargas, a Mississippi "Dreamer" who was detained by federal agents minutes after speaking at a news conference about her plight, was released from custody.
The 22-year-old, who was brought to the United States from Argentina when she was 7, spent more than a week at the LaSalle Detention Facility in Jena, La., following her arrest in Jackson, Miss.
"Daniela is really happy to be out right now, understandably," her attorney, Abigail Peterson, told reporters. "She was very surprised this morning, when all this happened, and very relieved. She was told to get her things, and she was given about five minutes to get out, and she took it."
Vargas' case drew nationwide attention in part because she had been accepted for the Deferred Action for Childhood Arrivals program, or DACA, an Obama administration measure that allows so-called Dreamers, young immigrants brought into the country illegally as children, to obtain work permits and protects them from deportation.
She also won publicity because her attorneys claimed she was targeted by Immigration and Customs Enforcement officials in retaliation for speaking to the media about her hopes for immigration reform and the effect of enforcement raids on her family.
"This is a moment for celebration in what has been a terrifying set of months for the immigrant community and their families," said Karen Tumlin, legal director for the National Immigration Law Center in Los Angeles. "Today shows you what happens when a brave young woman stands up — stands up and expresses her rights, the rights of her family and community — and fights back."
After she was released at around noon, Vargas was driven back to Mississippi by a friend.
The deportation order against her has not been rescinded, however, and she is required to check in with her local ICE office in April, her attorneys said.
"One of the worries is they could enforce it at any point," Peterson said, noting that the decision to release her seemed to be the result of prosecutorial discretion, based largely on community pressure and media attention.
At the beginning of the week, a coalition of civil rights and immigration attorneys filed a petition in federal court alleging that enforcement agents violated Vargas' constitutional due process rights and her right to be free from retaliation for protected speech. The petition sought her immediate release, as well as a hearing before an immigration judge to challenge the decision to deport her.
On Friday, the U.S. District Court for the Western District of Louisiana issued an order transferring that habeas petition to the U.S. 5th Circuit Court of Appeals.
According to attorneys, Vargas has two pending applications for immigration relief. First, although her DACA status expired in November 2016 while she says she was trying to save up the $495 needed to renew it, her attorneys filed a renewal application in February.
She also has a pending 2014 petition for a non-immigrant "U" visa based on her status as the child of a victim of a serious crime who has suffered mental or physical abuse and is cooperating with the investigation of criminal activity.
"We will continue to challenge the unconstitutional actions of ICE agents in this case and will not rest until she is no longer under threat of deportation," Naomi Tsu, deputy legal director at the Southern Poverty Law Center, said in a statement. "It is counterproductive and harmful to our communities for ICE to be targeting aspiring young people in this country."
Jarvie is a special correspondent.
---
Must-read stories from the L.A. Times
Get the day's top news with our Today's Headlines newsletter, sent every weekday morning.
You may occasionally receive promotional content from the Los Angeles Times.