Impeachment looms after woman says Missouri governor coerced her into sex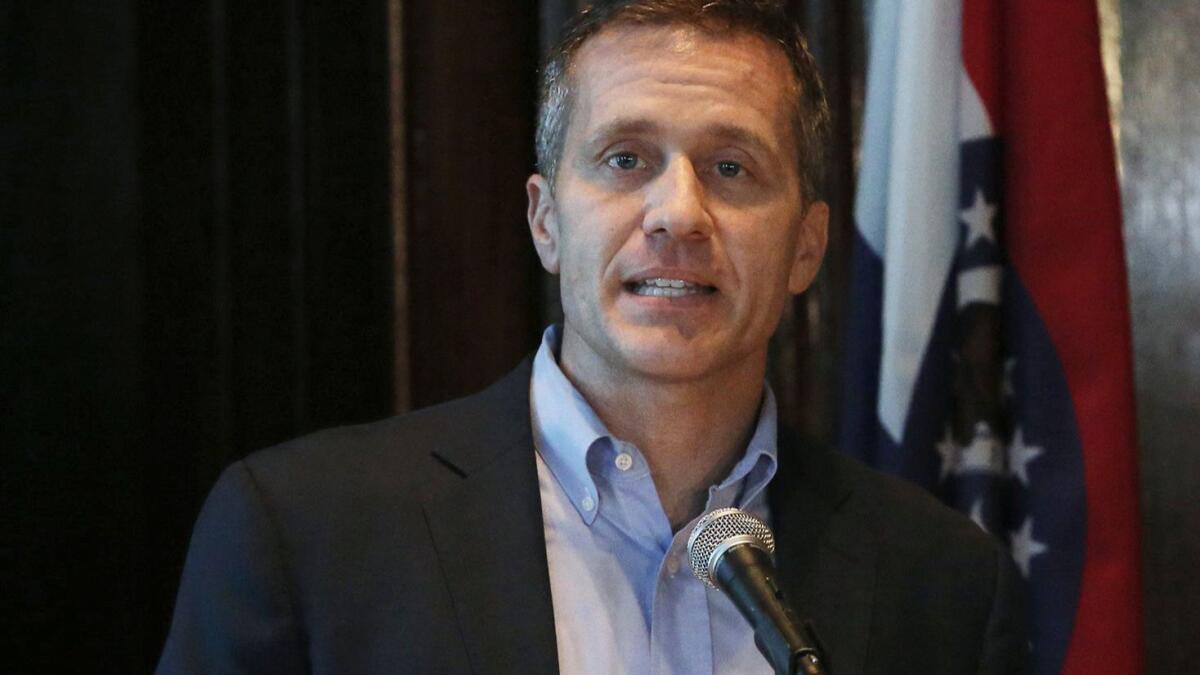 Missouri's governor faced calls to resign and a threat of impeachment Wednesday after state legislators released a bombshell report in which a woman testified he slapped her, ripped open her shirt and "coerced" her into giving oral sex against her will.
Republican Gov. Eric Greitens — a former Navy SEAL whose outsider 2016 campaign for governor made him a rising star in the GOP — already faces an upcoming felony trial in St. Louis over allegations he photographed the woman naked against her will during an affair in 2015.
But after a special House of Representatives investigative committee — commissioned to examine the pair's extramarital affair — released a much-awaited 24-page report, legislators expanded the committee's mission to include discussing whether Greitens should be impeached.
"The testimony outlined in the report is beyond disturbing," Republican House Speaker Todd Richardson said in televised remarks.
Republican state Atty. Gen. Josh Hawley, a candidate for U.S. Senate, called on Greitens to resign, saying the report "contains shocking, substantial and corroborated evidence of wrongdoing by Gov. Greitens." Hawley said the behavior was "impeachable."
In a defiant statement given to reporters before the report's release, Greitens called the inquiry "a political witch hunt" and said the report included "lies and falsehoods."
Greitens has acknowledged having an affair with the woman, a St. Louis-area hairdresser, but has denied that he threatened, photographed or struck her.
"This was a private mistake that had nothing to do with governing," Greitens said of the affair.
The affair, which occurred during the gubernatorial campaign, exploded into public view in January after the woman's ex-husband leaked audio of a private conversation in which she told him how Greitens had treated her.
The Times is withholding the woman's identity because the recording was made and released against her will, and she has declined to speak publicly about her allegations of sexual misconduct.
As controversy grew, legislators in the Republican-dominated Missouri statehouse impaneled a committee to examine the woman's claims.
Their report, which was based on testimony from the woman, her ex-husband and two of her friends, recounted the allegations against the governor in such detail that lawmakers branded the front page of the document with a "sensitive content warning."
The legislative committee said it found the woman to be "an overall credible witness." Greitens declined to give testimony or evidence.
The woman said she first met Greitens in 2013, when he became a client at her hair salon.
During an appointment on March 7, 2015, Greitens moved his hand up her leg and groped her crotch without her consent, the woman told lawmakers.
The pair later made plans to meet outside the salon, though the woman said she was hesitant about an invitation from Greitens to come to his house while Greitens' wife was out of town. She said Greitens told her he could not be seen in public with her because he was running for office.
The woman said that when she came over to Greitens' house, he shushed her at first, and then patted her down head to toe to look for recording devices, and then peeked outside to see whether anyone had seen her come in.
The woman said she felt nervous, and that Greitens said exercising might help her calm down, offering to teach her "how to do a proper pull-up," which the woman interpreted as being "some sort of, like, sexy workout," the report said.
The woman then told legislators that, after the pair went into the basement, Greitens taped her hands to a set of pull-up rings with "this gauzed tape stuff" and put a blindfold on her.
Then Greitens tried to spit water in the woman's mouth, then began kissing her and ripped her shirt open and pulled down her pants to her ankles without her consent, she testified.
"Then I hear him kind of, like, step back — take a step back and I hear — I can hear like a, like a cellphone — like a picture, and I can see a flash through the blindfold," the woman testified.
Then, according to the woman, Greitens told her: "You're not going to mention my name. Don't even mention my name to anybody at all, because if you do, I'm going to take these pictures, and I'm going to put them everywhere I can. They are going to be everywhere, and then everyone will know what a little whore you are."
The woman said, "I just didn't answer at all, and then he spanked me and said, 'Are you going to mention my name?' And I said — I just gritted through my teeth and I said, 'No.' And he's like, 'Good — now that's a good girl.' "
When the woman tried to leave, she said Greitens grabbed her in a bear hug as she was "uncontrollably crying," and "he was trying to, like, fondle my body," the woman told legislators.
She said Greitens then pulled out his penis and put it near her face. "I'm like — so this guy literally just wants me for this, and this is all he wants, and then he'll let me — because at this point too, I also know I have to be at work, and he's not going to let me leave, because he's obviously still horny," she testified. "So I gave him oral sex at this point."
The committee asked the woman if she consented. "It's a hard question, because I did it — it felt like consent but, no, I didn't want to do it," she testified. "Coerced, maybe. I felt as though that would allow me to leave." She added that she was "definitely" in fear for her "physical self."
The report says the woman talked to two friends about the encounter afterward, and they recounted their stories to legislators.
About three weeks after the encounter at the house, the woman decided to tell her then-husband about the incident. He recorded the conversation without her knowledge. The pair later divorced.
"You've been half-raped and blackmailed," her then-husband told her, and she responded, "Yes," according to the committee's transcript of the recording.
The conversation with her husband, who later leaked the recording to the media, was consistent with her testimony, the committee said.
The woman saw Greitens again, and the pair kissed and had sex consensually, she said. But on another evening when the pair were about to have sex, she said Greitens asked her if she'd had sex with anyone else since seeing him.
When she responded that she'd slept with her husband, "he slapped me across my face," she testified. "It wasn't sweet and gentle; it was forceful."
During another sexual encounter, she said Greitens "kind of smacked me and grabbed me and shoved me down on the ground.… It actually hurt, and I know that I actually was really scared and sad when that happened."
As fears grew that Greiten's wife might find out about the affair, the pair broke it off, the report said. The woman wrote Greitens an email: "Please think of everyone involved and just leave me alone. Don't come in at all."
Greitens was indicted by a St. Louis grand jury on suspicion of taking a picture of the woman against her will. His trial is set for May 24.
Matt Pearce is a national reporter for The Times. Follow him on Twitter at @mattdpearce.
Sign up for Essential California for the L.A. Times biggest news, features and recommendations in your inbox six days a week.
You may occasionally receive promotional content from the Los Angeles Times.