National Enquirer's biggest investors include California taxpayers and state workers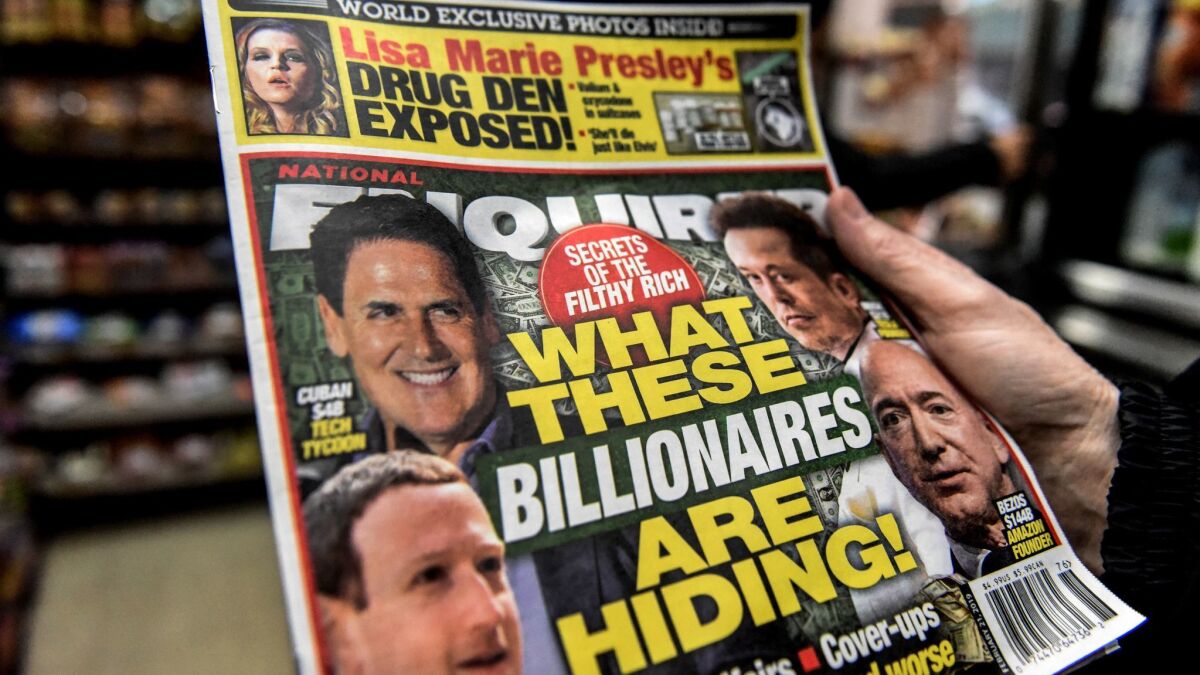 The National Enquirer has been one of President Trump's most controversial allies, delivering scathing coverage of his opponents to supermarket checkout lines and funneling $150,000 to one of his alleged mistresses to buy her silence.
So it will probably come as a surprise to many California state employees and taxpayers to learn they were helping fund those efforts.

For the record:
3:05 p.m. March 1, 2019This article mentions that the CalPERS investment was first reported by the news organization Maplight, but should have said that the same article was simultaneously published by Fast Company and Capital & Main.
During the 2016 presidential campaign, California's massive public pension fund, CalPERS, was one of the biggest investors in the debt-laden owner of the National Enquirer, according to public records reviewed by the Los Angeles Times.
Through an investment managed by a New Jersey hedge fund, California's public pension fund appears to have owned as much as one-third of American Media Inc., the National Enquirer's parent company, in 2016. It is not clear whether CalPERS continues to hold a major stake in the tabloid publisher.
Fewer than a third of California voters cast their ballots for Trump, who remains deeply unpopular in the state.
Informed of the investment, Jeremy Bulow, a professor of economics at Stanford University, laughed in disbelief.
"I'm sure lots of CalPERS [plan holders] will be happy to know they were paying hush money to help get Trump elected," he said. "That's going to make them feel real good about their pension fund managers!"
The news organization Maplight reported last year that California was one of three states whose pension funds had invested in the privately held publisher, although it did not detail how much of the company the state fund controlled.
California's pension fund, the largest in the nation, runs on contributions from taxpayer-funded state agencies and their employees. It has long drawn scrutiny over whether its mandate of seeking strong returns meshes with liberal Californians' expectations of ethical investment. Some of its investments drawing recent scrutiny have included oil pipelines, retailers that sell semiautomatic rifles, Russian sovereign debt and coal-producing companies.
Joe Nation, a pension expert and public policy professor at Stanford, said he was surprised to learn about the investment in American Media Inc.: "It's a little bit strange that a pension system that is so concerned about socially responsible investing would invest in AMI, directly or indirectly."
Megan White, a spokeswoman for the pension fund, said in an email that "CalPERS does not align itself with American Media's business actions."
She added: "Our investment or ownership does not represent an endorsement of a particular company or product."
She declined to answer questions about the pension fund's current stake.
The publisher, whose holdings also include Men's Journal, Soap Opera Digest and several other magazines, has not been required to publicly disclose its investors since 2016, and it did not respond to requests for comment.
American Media Inc. has faced a barrage of bad headlines recently over its management practices. The company cooperated with the federal prosecutors in New York and reached a no-prosecution agreement over its hush-money scheme to help Trump, which resulted in a conviction for his personal attorney, Michael Cohen.
But federal prosecutors have since started examining whether American Media Inc. violated its promise in the agreement not to break the law after Amazon mogul Jeff Bezos published a blog post earlier this month alleging that representatives of the tabloid publisher threatened to blackmail him with intimate photos with a mistress. The company has denied wrongdoing.
Its problems also extend to its balance sheet, where the publisher reportedly carries more than $1 billion in debt. And its continual need for cash is exactly how CalPERS came to be invested in the National Enquirer's parent company in the first place.
Starting in 2009, CalPERS invested $607.7 million with Chatham Asset Management hedge fund's Chatham Eureka Fund, which is a "fund of one" — a type of investment created and managed for a single institutional investor rather than for a pooled group of investors.
In a recent disclosure, Chatham Asset Management said that its Eureka Fund technically has two investors. One is the hedge fund itself, which holds a 1% stake, suggesting that the other 99% is held by CalPERS.
Chatham Asset Management snapped up a majority stake in American Media Inc. in 2014, when the publisher was struggling to emerge from a 2010 bankruptcy and needed a financial lifeline.
In its most recent public filings, from July 2016, American Media Inc. reported that four Chatham-controlled funds together owned 78% of the company. The largest single owner, by far, was the Eureka Fund, with a 34% overall stake — suggesting that CalPERS in essence owned one-third of the tabloid publisher.
The Chatham hedge fund has said it is not involved in the day-to-day management of American Media, Inc., though it reportedly holds two seats on the company's board. And when the company's chief executive, David Pecker, attended a dinner with Trump at the White House in 2017, he was accompanied by the head of Chatham Asset Management, Anthony Melchiorre.
White, the CalPERS spokeswoman, said that "as a large institutional investor," the pension fund has a broad array of investments, including stakes in more than more than 10,000 public companies.
"Our primary mission is to invest on behalf of our 1.9 million members in order to deliver the benefits they were promised after a career in public service," she wrote.
The pension fund has been winding down its investments in hedge funds since 2014 as part of a plan to cut costs and simplify the state's investments.
As a result, CalPERS is "ending our relationship with the [Chatham] hedge fund," which represents 0.0006th of the more than $350-billion pension fund, White said.
CalPERS' most recently available public disclosures, from 2018, indicate that the pension fund has closed out a majority of its investment in the Chatham Eureka Fund, with its remaining stake valued at a little more than $200 million.
White told The Times to direct further questions to the hedge fund that manages CalPERS' investment, Chatham Asset Management, which did not respond to requests for comment.
Bulow said that CalPERS had seen an unimpressive 2.3% rate of annual return out of its original investment in the Chatham Eureka Fund in 2009 — far less than if the money had simply sat in an index fund that reflected the aggressive rebound of the stock market since the 2008 financial crisis.
"It seems like the decision to exit from that sort of investment is a good one," Bulow said.
A state pension in New Jersey has also invested in American Media Inc., through investments with Chatham's other funds, drawing some complaints from union representatives on the pension's board of trustees.
After examining New Jersey's stake, officials decided "it actually would harm the fund were we to divest," said Tom Bruno, a trustee who represents New Jersey public employees on the pension's board.
He added: "If it gets to the point where it gives us a black eye ... we'll have to take the hit and get out."
Matt Pearce is a national reporter for The Times. Follow him on Twitter at @mattdpearce.
---
Must-read stories from the L.A. Times
Get the day's top news with our Today's Headlines newsletter, sent every weekday morning.
You may occasionally receive promotional content from the Los Angeles Times.