This elite team's job: Eradicate a bug you've never heard of from trees you've never seen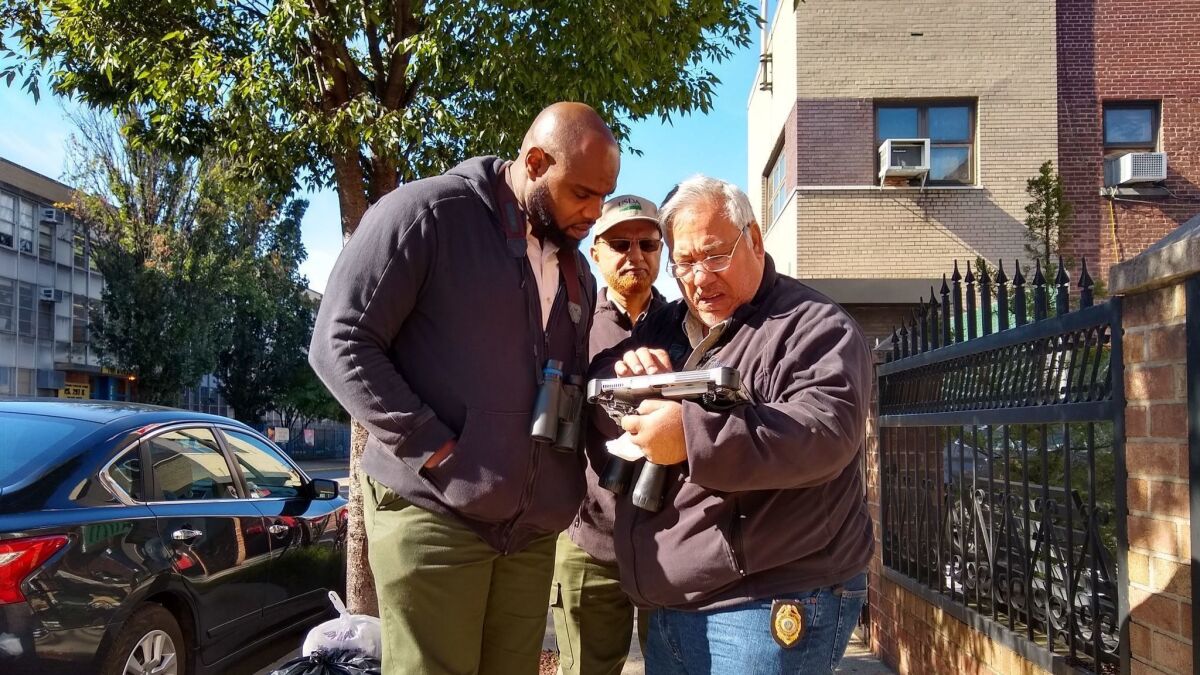 Reporting from New York —
Most New Yorkers think Antony Massop's badge is fake. A tree inspector in Brooklyn just sounds like a scam, which is why the job requires the savvy of a homicide detective, the agility of a cat burglar, and the tenacity of a pit bull.
"Access is a problem, so you gotta be creative," the U.S. Department of Agriculture Animal and Plant Health Inspection Service supervisor explained as he boosted himself atop an abandoned television in an overgrown yard in Bedford-Stuyvesant one recent morning. He vaulted over a bramble and shimmied behind a full-sized Chevrolet van and up an ivy-covered fence, where he raised his Nikon binoculars to inspect a particularly thorny patch of New York's urban jungle.
"We saved a lot of taxpayer money just now," he said.
Part urban arborist and part social worker, Massop has spent the last 18 years hunting the Asian long-horned beetle, an invasive, wood-boring pest that first appeared in Greenpoint, Brooklyn, in 1996 and looms as an existential threat to the state's timber industry.
The insects, which like to hitchhike on shipping pallets, have been found in Chicago's O'Hare Airport and warehouses in Los Angeles, and Ohio, Massachusetts and New York all host active infestations. Last year alone, inspectors in New York City and Long Island visited more than 80,000 properties and checked more than 117,000 trees, all in an effort to evict the transplants before they can relocate to upstate New York and its lush forests.
Other beetles, in particular bark beetles, have ravaged drought-stressed forests throughout the West in recent years. The U.S. Forest Service estimates that since 2010, more than 129 million beetle-ravaged trees have died in California alone, mostly in the Sierra Nevada.
The process of spotting an infestation is at once quick and meticulous, requiring an encyclopedic knowledge of local tree species and a sharp eye for signs of infestation, like oozing sap and pitted bark. A site is generally inspected three times before it can be cleared, as Manhattan and Staten Island were in 2013. With Queens just days from total eradication, Massop's elite crew of ground surveyors have turned their attention to Brooklyn, where about 500 properties remain. Door by door, block by block, they clamber through unfinished basements, up fire escapes, over fences and under barbed wire to eradicate a cockroach-sized insect no one's ever heard of from trees they don't know exist.
"The common creed here is that a tree doesn't grow in Brooklyn, but it's a lot of trees in those courtyards," Massop said. "You'd be surprised how wild it is."
Such unlikely arboretums can easily harbor infestation, which is why Massop and his crew returned to Bed-Stuy, a neighborhood better known for brownstones than flora. An ad hoc memorial for a recent murder victim marked the spot where Hasidic Jewish mothers bundled their kids on the bus to yeshiva, while construction workers scaled a new luxury tower across the street. Technician Ramkarran Singh noted locked key boxes swinging from the window bars, a sure sign that Airbnb was spreading.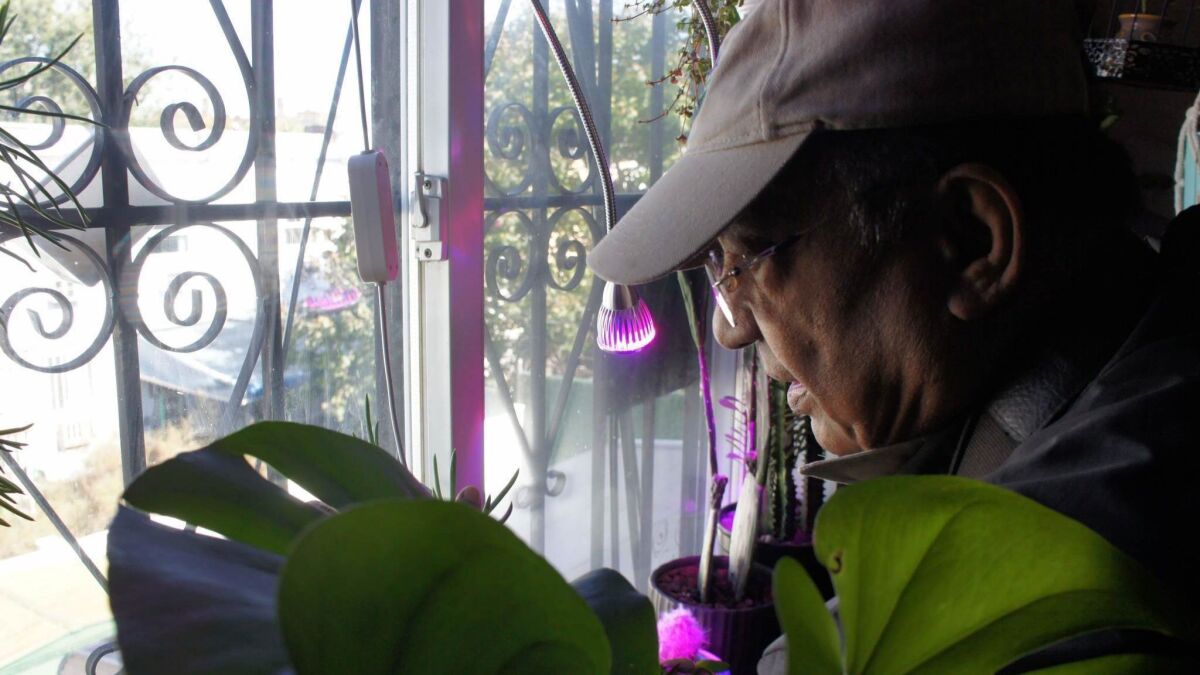 Singh is something of a closer, the man the cleanup crew leans on to work their tough cases. He carries a pair of the beetles in his backpack, their long banded antennae framing their black-and-white wings, and uses them in lieu of the badge to convince New Yorkers his work is legitimate.
"We emphasize the importance of one missed tree," he said on the road between cases. "We tell them it's a precaution, like inoculating your kid."
Singh's charm had already gotten the team past a teenager with a maple shading her kitchen garden and an artist whose rear window overlooked a copse of suspicious trees, but he struck out with a Hasidic woman in a blue velvet robe and matching turban, who insisted her apartment had neither rear access nor foliage. Construction workers gutting the bodega next door said there was no back exit either, so the crew headed to Engine Co. 230 around the corner, where Massop flagged down a firefighter half-dressed in his turnout kit.
"You guys from the Parks Department?" the firefighter asked.
"USDA," Massop said.
"You said there's trees back there?" the firefighter asked, incredulous, but then shrugged and let the team past. Massop and his colleague Amir Ahmed charged ahead, winding their way to a yard dominated by bags of aluminum cans and biohazard bins, where Massop spotted a crevice barely wide enough to sneak in sideways. Through ivy and over barbed wire they went, around the back of the building to the side, where Massop and Ahmed scaled a rusty chain-link fence and peered across four yards to the tree they'd have needed six months and a warrant to reach.
"It's laughable to get a warrant and go through the whole legal process just to get access to a property with no trees," Massop explained as he marked the results on his government-issue Panasonic Toughpad. "We don't have the luxury of time. We need to be finished."
While New York City teams haven't spotted a beetle since 2010, just a few miles away on Long Island, infestation is raging. More than two dozen villages, towns and hamlets are under quarantine. Worse, Massop said, is an emerging infestation of spotted lanternfly, which could wreak havoc on cash crops like cherries, peaches and almonds if it were to reach Western states. Ground survey teams are rushing to clear the five boroughs' last Asian long-horned beetle cases by spring so the department can move personnel to where they're most needed.
For Massop, who began his career just a few blocks away, the end is bittersweet. The borough is home turf, and the project has defined his tenure at the USDA. But being an eradicator means "you're basically working yourself out of a job."
"For this to last 18 years, it's a blessing," the exterminator confessed. "It's sad to see Brooklyn coming to an end, but we need the wins."
Sharp is a special correspondent.
Must-read stories from the L.A. Times
Get the day's top news with our Today's Headlines newsletter, sent every weekday morning.
You may occasionally receive promotional content from the Los Angeles Times.