Obama on deadly police shootings of black men: 'We can do better'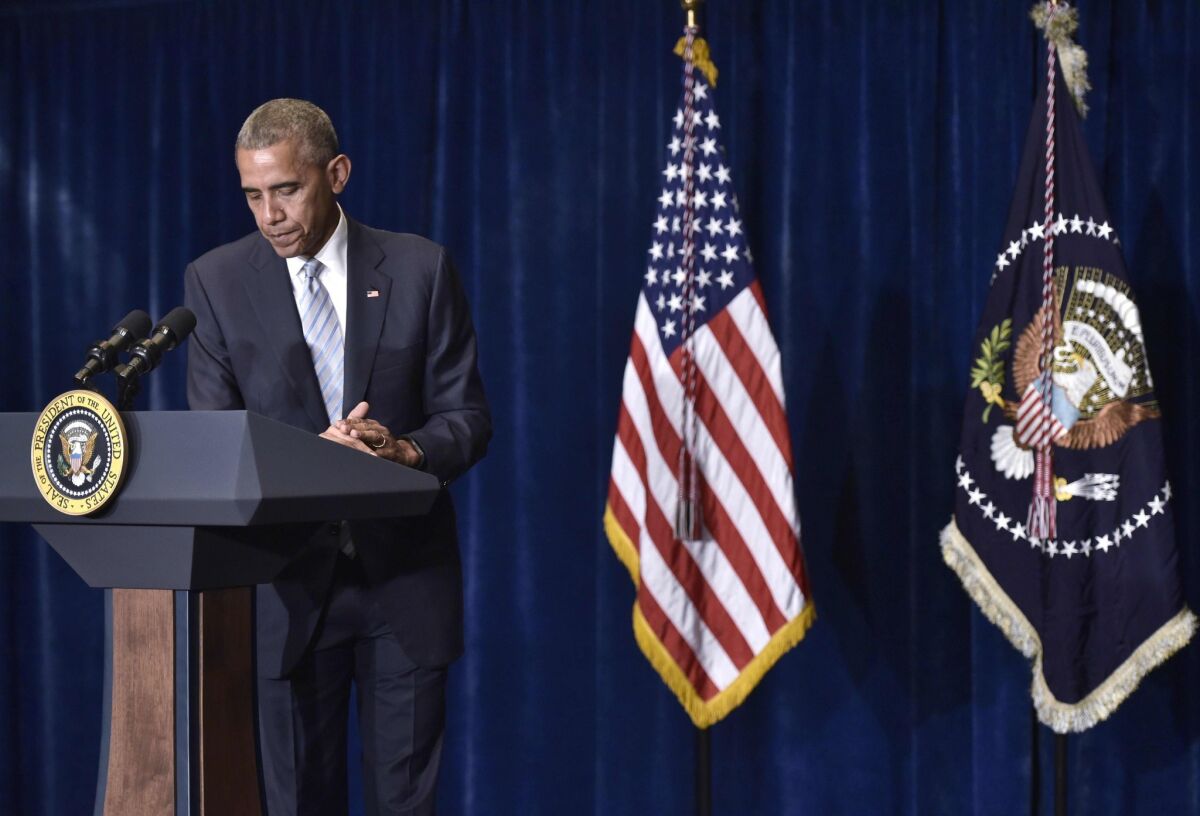 Reporting from Warsaw —
President Obama decried the deadly shootings of two black men by police this week, citing a litany of statistics showing blacks are more vulnerable to such violence, but he also spoke at length about the difficult work of law enforcement and asked that divided communities try to rebuild trust.
"This is an American issue that we should all care about," Obama said to reporters shortly after landing in Warsaw early Friday for a NATO leaders summit. "… We can do better. People of goodwill can do better."
Obama set aside his notes to ruminate on the hottest issues of race in the U.S. as protesters lined streets back home.
"I would just ask those who question the sincerity or the legitimacy of protests and vigils and expressions of outrage, who somehow label those expressions of outrage as quote- unquote political correctness, I just ask folks to step back and think, what if this happened to somebody in your family? How would you feel?" Obama said.
He urged Congress to keep working on bipartisan criminal justice reform and called on communities to consider recommendations of a bipartisan task force.
But he also asked Americans to set aside old habits of thought and debate, like the fight over the name of the Black Lives Matter movement spurred by the killings of black men by white police officers.
"When people say black lives matter, that doesn't mean blue lives don't matter," Obama said, referring to police officers. "It just means all lives matter but right now, the big concern is the fact that the data shows black folks are more vulnerable to these kinds of incidents."
Even as Obama traveled to deal with global security, he was once again forced to confront the troubles in U.S. cities and the ongoing tension between police and black communities that erupted into violence twice this week.
In a video that has shocked viewers, Alton Sterling was shot to death while he was pinned to the ground Tuesday by two white police officers in Baton Rouge, La.. The graphic video ignited anew the longrunning debate about race and the use of police force.
As protesters and community leaders demanded answers, a second shooting one night later in Falcon Heights, Minn., was also caught on video. Philando Castile was killed by police Wednesday in a traffic stop, the aftermath of which was broadcast via a Facebook Live video by his girlfriend, Diamond "Lavish" Reynolds.
Police have offered few details on the shooting, but Reynolds says she and Castile were pulled over on a traffic stop and then told to produce IDs. As Castile reached for his wallet, she said, he told police he was carrying a gun. Then Reynolds heard four or five shots.
The videos captured Americans' attention, and as Obama prepared to leave Washington, his White House was caught up in the images being broadcast.
Obama went before the microphones with statistics in hand: Black drivers are more likely to be pulled over for traffic stops. After being pulled over, blacks and Hispanics are three times more likely to be searched. Last year African Americans were shot by police at more than twice the rate of whites, he said.
"These are facts," Obama said. "And when incidents like this occur there's a big chunk of our fellow citizenry that feels as if because of the color of their skin they're not being treated the same. And that hurts."
Memoli reported from Warsaw and Parsons from Washington.
For more White House coverage, follow @mikememoli and @cparsons on Twitter.
ALSO
The Justice Department will investigate the police shooting of Alton Sterling in Louisiana.
Minnesota's governor has condemned the shooting of Philando Castile by police
Must-read stories from the L.A. Times
Get the day's top news with our Today's Headlines newsletter, sent every weekday morning.
You may occasionally receive promotional content from the Los Angeles Times.