A Texas oil town goes bust. Would housing immigrants for the feds solve its problems?
Alice, Texas —
The derricks along Highway 44 were still this month after the price of oil tanked and two dozen oilfield companies vanished. The booming tax base that buoyed the town of Alice evaporated, unemployment surged above 10% and county government cut 21 jobs, with more layoffs on the horizon.
Then an unexpected savior appeared: A British correctional company offering to turn an abandoned nursing home on Highway 44 into a family immigrant detention center. It would employ 200.
Immigrant families have been pouring into Texas during the last two years, with no sign of slowing: 6,788 family members were caught crossing in May, 44,524 since October, most from Central America. Since 2014, the federal government has contracted to open two of the country's three family immigration centers in South Texas.
Jim Wells County commissioners held a public meeting at the fairgrounds, inviting representatives from Serco, the company hoping to contract with the government to run the center. The stage was set for the powerful emotions driving the national immigration debate nationwide to play out: worry about jobs, compassion for the downtrodden, fear for public safety. Which would win out?
See more of our top stories on Facebook »
The county is not alone. Another heated public meeting unfolded recently about 300 miles west in Dimmit County, where a property owner proposed opening a detention center at a former oilfield worker camp. He tried to dispel rumors the facility would house Syrians who could escape and murder residents. Concerned commissioners rejected that proposal, despite the promise of 400 jobs.
Jim Wells County, population 41,000, is about 80% Latino, sandwiched between Republican areas to the north and the more liberal border region.
Commission meetings are usually sparsely attended, but this evening, June 9, about 50 people drove past cornfields to the fairgrounds, some from 200 miles north in Austin, with handouts and a homemade sign that warned, "Putting kids in prison is child abuse."
Two representatives from Serco sat near the commissioners at the front of the room. Although they didn't wear suits or ties, they stood out in their dress shirts and slacks.
Some in the crowd were open to the idea of a detention center if it meant jobs.
"The whole town is hurting really badly," said Ramon Perez, 62, a retired beer distributor.
Beside him, his wife nodded. "I'd love to see a business come in," said Anna Perez, 56, who works for the county and had seen nine coworkers laid off days before.
Kelly Thurmon said she and her neighbors were interested in the proposal, but wanted more details.
"We're wondering if Serco is going to bring their own people in, or is it going to bring jobs?" said Thurmon, 47, adding that she worried, "With so many immigrants, they bring diseases."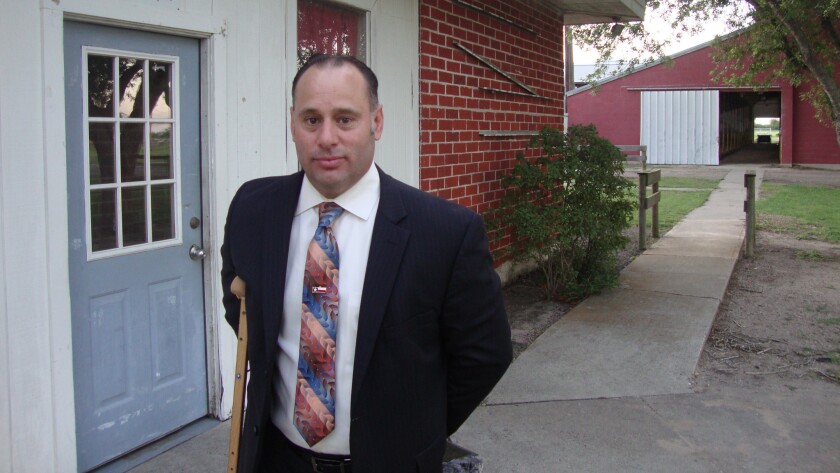 County Judge Pedro "Pete" Trevino Jr. had convened the meeting by noting that he and the other four members of the commission wouldn't make a decision until after the meeting.
"We're looking for all the resources we can get to diversify our economy," Trevino said, assuring the crowd that if the center opened, it would be secure.
"We want to make sure they're safe and sound," he said of detained migrants.
Then a Serco vice president, Carlo Uchello, made his pitch. The other immigrant family detention centers were "prisons," he said, but Serco's would be "more residential," without locked doors or fencing. Serco's facility would not house single men or criminals, he said.
In the U.S. Serco already employs 10,000, and it would add at least 200 jobs locally. The county would get a cut of the profits, about $100,000 a year.
After Uchello finished, the superintendent of a local school district got up to speak.
"My level of excitement is up," Samuel Bueno said, but added: "Several people have reached out to me with concerns. You said no single males. Are there complete families with men?"
About 75% of the families would be headed by women, 25% by men, Uchello said.
Bueno questioned the conditions at other Serco facilities, especially those in Australia, where there had been news reports of employees mistreating detainees.
"We have had some problems there," Uchello conceded. "Things tend to escalate when people see no way of getting out."
"Those were your employees," a man said from the audience.
"Yes, they were," Uchello said.
Brenda Sellers rose to speak. A retired administrative assistant and former gun store owner, she was worried about the immigrants' educational, medical and social service costs.
"Is Jim Wells County going to be responsible for paying for those things? Because we're broke," Sellers, 68, said with a dry laugh.
Uchello said those costs would be covered by Serco and the federal government. He cited a book which he said found Serco did a better job of detaining people than the government. "Corporations are held accountable where government is not," he said.
"Will there be a fence?" Sellers asked.
No, Uchello said.
"So it's very possible they could just wander off into the community?" Bueno asked.
"Will there be guards?" Sellers asked. Before Uchello could reply, she asked what would happen if detainees attacked the guards.
Olivia Lopez, who had been shaking her head at the discussion, was shocked.
"These are mothers and children!" she shouted.
"He said 'men,' " Sellers insisted.
Uchello finally managed to get a word in. "We're not going to have dogs and guards handcuffing people," he said.
Sellers gave him a skeptical look.
Now it was Lopez's turn to speak. She had been employed as a social worker at one of the immigrant family detention centers in Karnes County, about 90 miles north, but quit after witnessing what she said was neglect and abuse.
"I understand that it's jobs," she said, "But there's a cost. A cost to your soul. I still can't sleep after being at Karnes."
Lopez, 58, likened the facility to a prison, and said the new center would be the same, even as the Serco official shook his head and murmured, "It's not true."
The more Lopez spoke, the more Commissioner Margie Gonzalez frowned.
Gonzalez was wearing a large rhinestone cross necklace. She's a Catholic, a mother. Before the meeting, the bishop for surrounding Corpus Christi Diocese emailed her, urging her to vote against the center. She had not made up her mind.
As the meeting progressed, the American Civil Liberties Union and a half dozen immigrant advocacy groups railed against the center. Eddie Canales of the South Texas Human Rights Center rushed over after spending the day placing water barrels on nearby ranches for stranded migrants.
Alejandro Caceres, of the Austin-based advocacy group Grassroots Leadership, warned that Hillary Clinton has vowed to close family detention centers.
"They're trying to sell you a box that may be worth nothing in a little while," he said. "I'm from a small town in Texas, and stupid we were not."
Uchello tried to address the criticism.
"Your argument is with the federal government, not with Serco," he said. "We have a broken immigration policy in this country. I don't see anything being passed any time soon."
He noted that the number of migrant family members crossing the border illegally has climbed this year above levels in 2014, when the president called the influx of Central American families and children a "humanitarian crisis."
"These people need to go somewhere," Uchello said.
Finally, the last speaker stood in the front row: Newell W. Atkinson III, a gray-haired local developer, turned to address both crowd and commissioners, spreading his hands.
"Why is the county of Jim Wells getting in the middle of this thing?" Atkinson said.
"What happens if Serco goes bankrupt?" he said, raising his eyebrows.
When the Serco official tried to respond, Atkinson waved him off, muttering, "I don't care what this guy says. He's selling something."
In the audience, a few elderly women in purple blouses nodded their approval, whispering, "He don't know."
And Atkinson wasn't finished. "Let's just say a thousand of them decide they want to come out and visit with us," he said of the detainees. "What do you do?"
The audience applauded. After an hour and a half, the meeting was over.
Commissioner Gonzalez was still frowning as she left.
"We're not here to make a quick buck. I know we're in a bad financial situation right now," she said, and sighed. "Not at a cost to my soul."
Trevino, who grew up here and went on to become dean of the local community college, was disappointed. Trevino, who lost his leg in a tractor accident, stood on crutches outside, with the twilight glinting off his "Texas under God" tie pin. He said he understood the opposition. But the county needed those jobs.
At their next meeting the following week, the county commission decided against the immigrant detention center. The vote was unanimous.
molly.hennessy-fiske@latimes.com
Twitter: @mollyhf
ALSO
Orlando gunman was HIV-negative, likely a long-term steroid user, autopsy shows
Congress releases previously secret allegations about Saudi connections to Sept. 11 attacks
Donald Trump misses a big opportunity to promote his running mate pick
---
Must-read stories from the L.A. Times
Get the day's top news with our Today's Headlines newsletter, sent every weekday morning.
You may occasionally receive promotional content from the Los Angeles Times.